These three drop dead gorgeous flight attendants still can't believe that the passenger they met on the plane invited them all over to his Miami mansion to have some fun. The sexy blonde, brunette and chestnut attendants haven't even taken off their flight attendant suits. After all, the girls have a feeling their passenger will love seeing them in their sexy outfits, of course, that is, before seeing them totally naked! He greets them with a big hug and invites them in. It's the first time the girls accept an offer of this nature, to hang out with a passenger, but he's just so charming, witty and hot, how could they say no? The sexy chestnut babe makes the first move, crawling between his legs down on all fours while asking if he was ever taken care of by three sexy professionals like them. Of course not! Her horny friends join her as she reaches under his pants and boxers and pulls out his big throbbing member. The young girls can't believe it! He's charming, witty, handsome, wealthy and huge! The chestnut girl pops his dick in her wet mouth and sucks it while her friends watch, their mouths watering with anticipation. That big dick looks so fucking juicy and tasty! He grabs her head and pushes it down his rod so she can deep throat it. It makes her gag and she spits a thick load of warm saliva on his crotch while her brunette friend takes over. The girls give him a nice, wet, sloppy blowjob with lots of saliva. He lets the girls know how bad he wants to fuck all three of them while the blonde is slurping his beefy member. He makes the girls stand on the tip of their toes while leaning against the windowed balcony doors and takes turns pushing his dick into their gushing cunts and fucking them from behind. The young naked girls love watching how he fucks each and every one of them.

YOUNG NAKED TEENS IN A THREESOME, FOURSOME AND MORE-SOME SEX: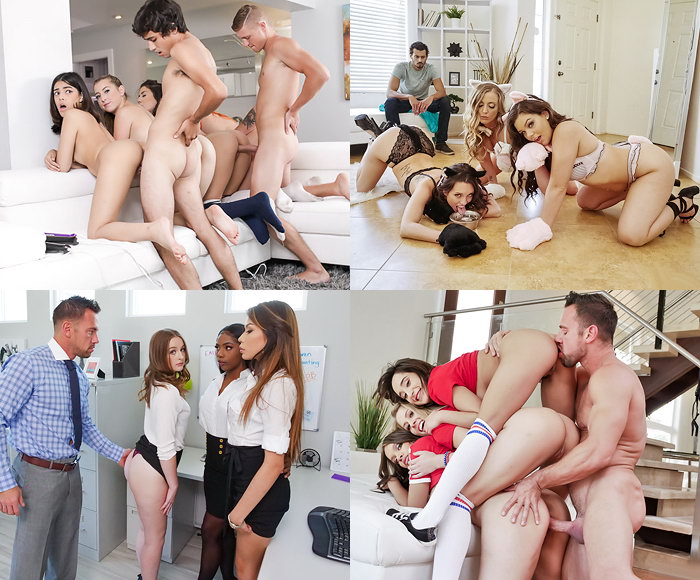 Next, they lie down on their bellies on the living room rug and he fucks them from behind, starting with the lovely brunette. He moves on to the naughty blonde and finally the sexy chestnut flight attendant. He lies on his back and the brunette straddles herself on top, riding on his big dick in cowgirl position, with her outfit pulled over her big tits and her sexy friends licking and sucking on her perky nipples. He makes the three naked girls sit on the couch and spreads their legs, fucking them and rubbing their wet cunts. The beautiful flight attendants get down on their hands and knees against the couch back rest and get their tight pussies pounded hard doggy style from behind by their beloved passenger. The girls hope he has enough hot cum to satisfy all of them. He's taking care of all three of them just like they took care of him so well during his flight. These sluts are going to have plenty of stories to tell next time they are coasting smoothly at ten thousand feet!