It's Black Friday and the people are lining up in masses to wait for the stores to open. This one sexy brown girl came to the store she likes and found a big bunch of people waiting in a big line to get inside when the doors open. It immediately dawned upon her that she'll have to wait for hours with a good chance that she won't get in on time. So, she thought of another way. She found a dude who was the first in line and asked him to join him in his tent. The man, of course, refused but the girl was really determined to get it. As he was talking, she moved her hand to his crotch and made him really hard. He was surprised but also bored to death so he decided to have some fun with her in exchange to let her stay with him in the tent. First, the slut shoved her hand inside his pants and pulled his huge dick out. The man started to sight as the girl threw herself on that dick and began shoving it deep inside her throat. Little did he know that that was going to be one of the best and most exciting blowjobs of his life. Her big ass hanging out of her miniskirt and she was sucking some stranger off, right there in public! The girl was going all the way and opened her throat very wide to gag on it hard. She was a little slut that would do this for no reason whatsoever. She really enjoyed it. A crowd started to form to see what was going on, but the slut continued to deepthroat the dude without shame. The man was overwhelmed and wanted to fuck her so bad. After a while, they both moved out of the tent and the mass around it began watching them with faces of pure surprise. After a long blowjob, the man decided to bend her over and start pounding that perfect butt.

SEXY GIRLS IN THE CRAZIEST AMATEUR HARDCORE SCENES: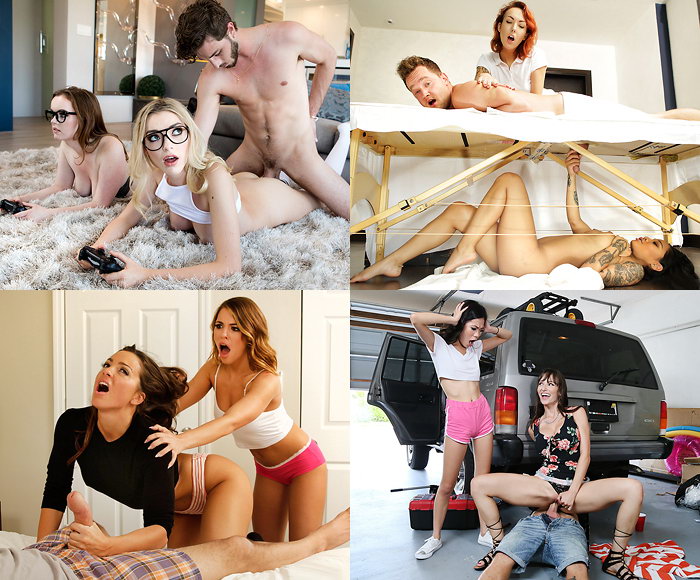 The girl began screaming and everyone tried so hard to conceal their excitement. He penetrated her really deep and enjoyed each time his cock came inside her pussy. He didn't even take her panties off, he just moved them aside and pounded her like a horny madman. The crowd watched as the girl got fucked but she didn't care, she was on a mission and willing to go all the way to get what she wants. The girl wanted to show him everything she can do, so she made him sit down and began bouncing on that cock really fast. He grabbed and slapped those perfect butt cheeks as she was climbing higher and higher to a great orgasm. Everybody watched mesmerized as the half naked girl rode the dick. After riding him for a while, he laid her down, lifted one of her legs in the air and began doing wonders to her little pussy. He also felt that he's seconds from orgasm. The girl went through an orgasm and the contractions of his pussy speeded up the process and he was there. He just couldn't resist to fill her up with a huge load of cum! In the end, she got the big screen TV she wanted. This is probable the best public porn I have ever seen.