This guy was a marine who came home from a long absence and found his stunning wife rubbing her pussy while wearing some sexy stockings on the bed. He stood at the door for a couple of minutes before he yelled that he's home. She got really excited, came close to him and jumped in his arms. They were both so happy to see each other, but also both very horny. The little bitch put on his blue marine hat on and started obeying all the orders he gave her. ALL HANDS ON DICK! The young naked girl jumped on his bed, pulled his pants down and started sucking his stone-hard cock like a whore. She enjoyed it very much, gaged on it really hard and licked his balls passionately. She was so happy to have his cock inside her throat while he fingered her pussy in the meantime. She was so horny that she couldn't wait to have his prick inside her. The cute naked girl got on top of him, placed his dick just below her pussy, lowered herself onto it, letting his hard dick slip through the folds of her wet pussy. She started riding his cock slowly with picking the speed up. She was now bouncing on his cock so hard that she was screaming incredibly loud. His cock felt so good that she wanted to suck it again, so she got down and gagged on it until it was all inside her throat. He got above her and started doing push-ups with his hard cock going very deep inside her little throat. She could hardly take it, but she was so horny that she didn't mind. He sat on her face, placing his dick on her cute face and putting his balls into her mouth and his horny wife can't stop sucking them. After teabagging for a while, it was time for him to show her a good time.

SEX CRAZED GIRLS GET THEIR HOLES DESTROYED IN THE BEST SEX SCENES: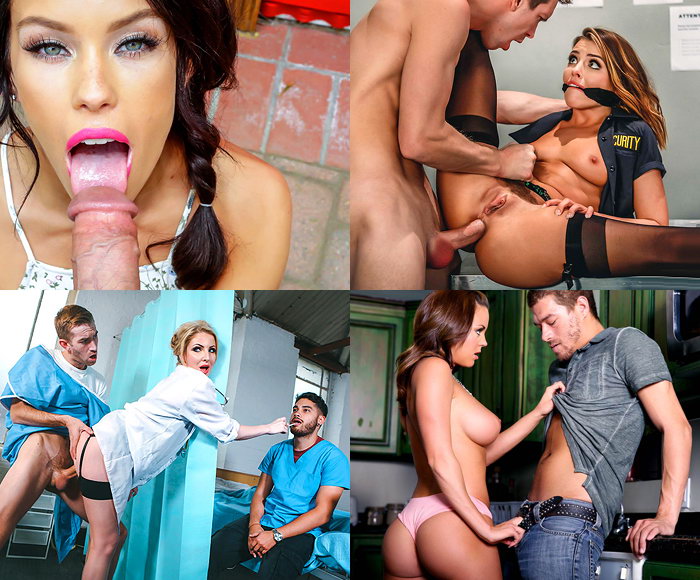 He got below her, grabbed her butt cheeks and started pounding her so hard that she could hardly take it. That huge cock penetrated her deeper and deeper, and she screamed so loud like she's being rapped. The naked girl placed her head on the pillow as he drilled her harder and harder from below. She turned around once again and rode his schlong at an incredible speed with relying on those sexy legs. Her sexy ass is out of this world… The look on her face was as if she's just about to fall asleep from tiredness, that's how hard he fucked her. He put her legs behind her head and kept slamming deep into her cunt, his balls were slapping against her asshole and the hot teen even fucked her anus with her finger. He decided to finish her off, bent her over and began pounding that incredible ass so hard from behind that he pulled it out and filled her mouth with his cum!