This lucky bastard has got one of the wildest girlfriends who's anyone ever had! She actually convinced one of her sexiest friends to become her boyfriend's birthday present, so she came to their place, and the girls both waited for him to come home from work. He comes inside and finds two of the most beautiful and sexy babes in sexy lingerie in the bathroom. The girls look stunning! It didn't take him long before realizing that all of this was his birthday present, so he came over and started kissing them both. They all got in the right mood after just a couple of seconds, and the show was on. The girl was so sexy and juicy that he just couldn't wait to have his cock inside her little pussy! He lifted one of her legs, put in on the counter, put the leg of his girlfriend above it and started fucking both of their miraculous pussies. The girls started climbing to the highest peak of pleasure as his stone-hard cock made its way to the insides of their little cunts. The bitches started moaning as they felt him come inside, taking turns on both of them. It was time for some licking to be done. He put the naked girls both on the ground and stuck his cock inside his girlfriend's throat while another one licked his balls from behind and even his asshole to make him crazy horny. Then he got the girls both in front of him and fucked their little throats as hard as he could. One of them continued licking his balls while the other one choked on his prick so hard that she could hardly breathe. She knew that her boyfriend fantasized about anal sex and now was the time to make that a reality. His sexy girlfriend really wanted to try anal sex, so she laid him down, impaled her ass on my throbbing cock and started riding his cock while the newbie girl rubbed her cunt and produced a squirt every couple of minutes. His girl really knowes how to do his husband's birthday special, how to keep her man happy and keep the relationship exciting – a threesome with a friend, anal sex and a squirting orgasm! The gf's friend pulled his dick out of her ass and sucked it, then he fucked his gf's ass some more driving himself balls-deep into her ass. They were all having lots of fun, especially when the newbie girl started licking her cunt as that hard dick was penetrating that horny little asshole. Then he laid his girlfriend down and started fucking her asshole very hard with her friend licking up everything that was coming out of her pussy! The felling of his dick deep into her ass and her friend's mouth on her clit sent the girlfriend over the edge, and with a yell, she kept squirting high in the air. He ripped his dick violently out of her tight ass, leaving a gaping hole in its wake and let the friend suck his dick. The both naked girls bent over, one above the other and both got fucked very hard anally in a doggy style.

YOUNG NAKED GIRLS WITH TIGHT LITTLE BUTTS GET THEIR LITTLE HOLES FUCKED HARD: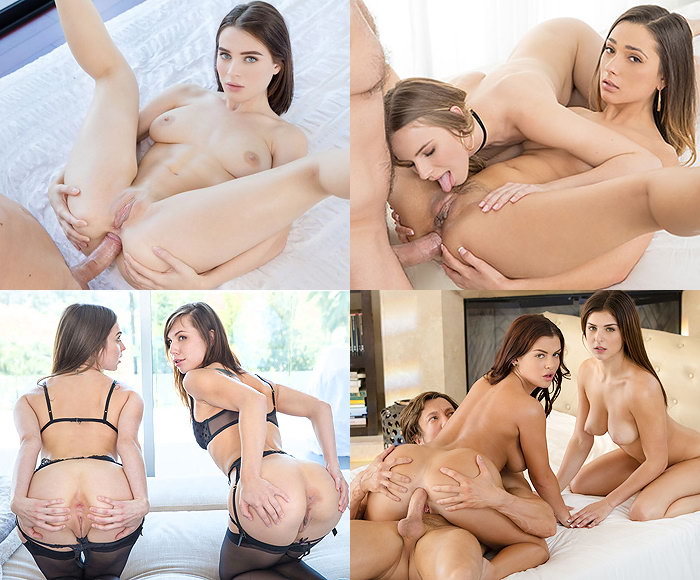 The girls were now screaming loud and wanted to reach their orgasms fast. He licked and fucked their anuses as good as he could. The girls lay on top of each other in a 69 position, the dude rammed his dick into the gf's ass, his heavy balls on the friend's mouth and nose. His horny girlfriend moaned in the pleasure of having her man pound her spincter, while her friend sucked on her clit. He finger fucked her both holes making her squirt all over her friend's face. Her cunt dripped down into her mouth. The friend was next. The girlfriend spread her ass cheeks with her hands and he rammed her ass with one hard thrust, making her squirt from anal too! After fucking and fingering the girls for a while, with a roar he came into her ass. She felt his cock throbbing as he emptied his load into her ass. He pulled out and his crazy girlfriend began licking the leaking cum out of her ass. With all these squirting orgasms and butt-fucking, what an incredibly Happy Birthday it was. Sliding an erection into a woman's asshole has become so prevalent in porn, but only Tushy does so with a remarkable degree of sophistication, elegance, and eroticism.