Dudes have been doing this type of shit for ages. I had a sexy girl wearing all pink on me, we were kissing, and I was rubbing her pussy at times while she was losing clothes progressively. She know her big booty looked amazing in her new pink bodysuit, and she couldn't wait to show it off to me. The tight spandex hugging her curvy ass had an immediate effect on me and I could't help burying my face between her cheeks and she spread her naked ass in my face! We were about to bang. And this was good news for me, but something terrible happened soon. Just when she was about to suck my cock, a knock on the door made me panic! My girlfriend busted into the room and thought it was funny as fuck to come on in and just ruin everything. While she did get what she wanted in the end (we both lost all of our clothes, and I was grabbing her ass, too), the entire thing was awkward, because my side hoe was right under the pillows. I have no idea how she didn't notice though, and that kinda bothered me. My girlfriend pulled out my dick and started playing with it. My girlfriend didn't want to stop, she took off her panties and sat on my face! She was grinding her pussy against my mouth, filling it with her pussy juices… At the same time I felt that someone was starting to suck my dick! The side bitch was really persistent. The crazy slut sucked my dick right behind my girlfriend's back! I swear to God, I must be some second coming of Jesus or some weird shit like that, no one manages to pull off shit like this, on God. I was going to cum in her mouth when my girl was ready to cum in mine, but my girlfriend wanted to ride my dick. Every other chance my side hoe got she got out and stripped her clothes bit by bit, and this resulted in her being naked and kissing me while I fucked my girlfriend. She got a bit too cocky, and this shit started getting out of hand. The naked girl sat on my face too, with her back to my girlfriend and made me eat out her cunt when my girlfriend rode my dick next to her! Her pussy in my mouth and the whole situation made my cock hard as never before, my girlfriend didn't know the reason why my dick was so hard, she just had one orgasm after another, and didn't want to stop. She pulled her naked ass in the air and told me to keep fucking her from behind. Meanwhile, the bitch actually jumped on top of me, I picked her up and started eating her pussy while she was in the air.

REALITY PORN WITH THE HOTTEST, SEXIEST AND HORNIEST YOUNG GIRLS EVER: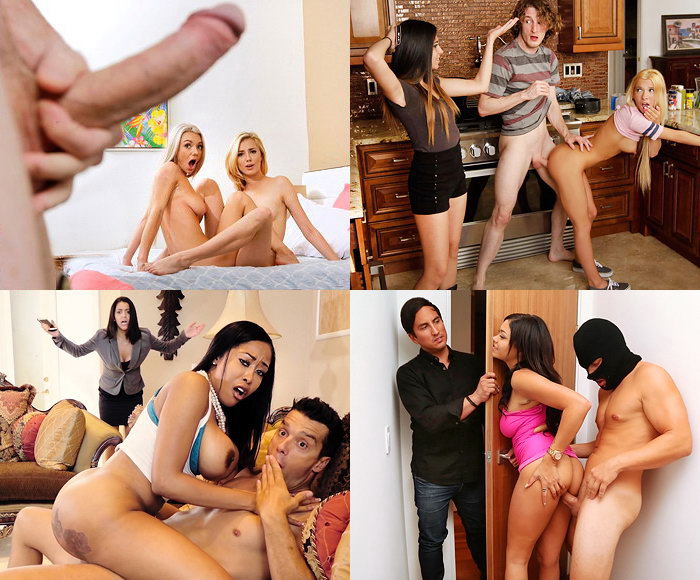 But I couldn't keep the slut hidden forever… after she spanked my girl's ass a few times, my girl turned and saw that some whore was right there in our bedroom and all hell broke loose! The naked girls began to fight, I fell on my back and my sidechick grabbed my dick, my girlfriend grabbed her hair and pushed her head onto it, making her gag on it, but the bitch liked it! My girlfriend decided to show her she was better in sucking my dick. Though they didn't go down to killing each other, but rather they decided that if they both fucked me that it would be the best kind of punishment. In a word, two super hot naked girls started sucking my dick together! And then my girl wanted to see me fucking another girl. The girls rode my face and my cock all at once. The girls were a perfect pairing. Loved to see what these horny girls did with one another and with my dick! At the end they shared my cum, kissing as they tasted my load.