The teens were fooling around on the couch, waiting for his dad and his second wife to go on a trip. His dad makes one last reminder to him: no disturbances, no parties, and above all–no sex! Good thing his girlfriend looked as sweet and innocent as she did–because these two horny teens couldn't wait for the old folks to get the fuck out so that they could start banging! After they've said goodbye, he immediately started kissing his girl and wanted to fuck her so bad. He started kissing and undressing her and the things were just getting wormed up. The horny teens were naked in a matter of minutes, so he grabbed his dick and started to shove it into her tight little pussy the second his parents were out of the house! But, there was a problem! The skinny girl just couldn't take it and started feeling a lot of pain. They had to do something about that. She decided to make his cock wet so that it could slide easier, so she went down and started giving him a blowjob. The girl had never done it before, so she just gagged on his huge pecker. Just when things were getting hot, his step-mom walks back into the living room to pick up something that she forgot! A tall and busty blonde babe, her massive natural boobs barely covered by a bikini top! The kids started panicking and the guy quickly took a blanket and covered them both. His busty step-mom comes close and sees that something is going down! The MILF pulled the blanket off and there they were, sitting completely naked on the couch! By the way, his sexy step-mom is the biggest slut and she immediately started asking him if he got her wet yet. Shocked that his stepson and his sexy girlfreind were virgins, the MILF decided to help them with their sexual inexperience. This experienced cougar decided to give the teens a little boost to their genuine surprise. She got in front of the couch, spread the girl's legs, told her stepson to get closer and lick her pussy very passionately! The girl was now completely wet and super ready to have that little cunt fucked very hard. The mom spread her legs very wide as his tongue was drilling her pussy and going in and out. That's when the girls felt so horny that she jumped to her feet and started sucking his huge dick!

THE HOTTEST MILFS SHARE THEIR SEXUAL EXPERIENCE WITH YOUNG TEENS: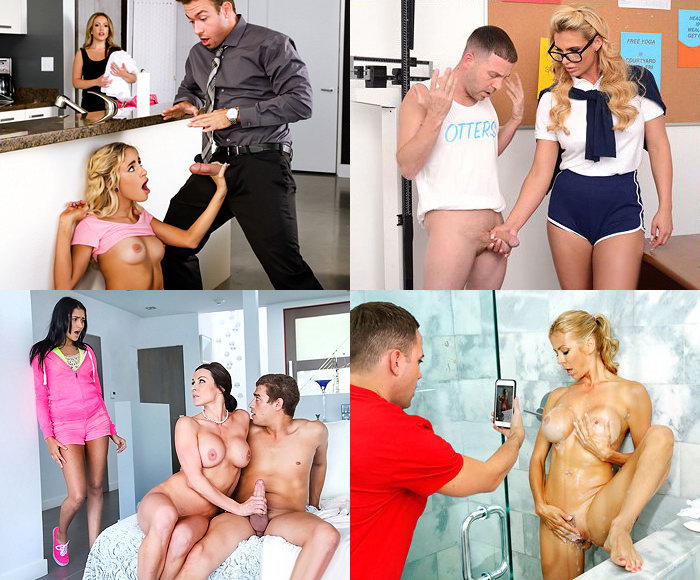 The crazy step-mom blonde wanted in on the action, so she grabbed his prick and started licking and sucking it hard. His horny girlfriend kept admiring her huge knockers, so she got down and started licking her nipples with her horny little tongue! The teen girl was now ready to fuck more than she ever was! The guy laid down on the carpet and the naked girls started riding him together, the teen his big dong and the mom his face! The teen girl was now wide and that cock slide into her just perfectly! The blonde bitch wanted some action too, so she pushed his girlfriend away and started bouncing on that huge prick like a fucking queen! That's when he decided to finish his girlfriend off! He bent her over and started fucking her amazing round butt very hard from behind! That doggy-style made her free crazy, especially with his step-mom licking and fingering her pussy from below! He was extremely horny and wanted to shoot his cum all over these two horny bitches! He kept going, strong and hard until he finally felt like he's ready to give those two naked girls the juiciest stream of cum! He made them both very satisfied and they both thanked him in their own way!