This crazy milf sure knows how to punish a kid! Her son and his friend had taken her car for a joyride and she ordered him to go upstairs and start cleaning the room. The boy answered that he can't do it because he's got a friend over, but she gave a bucket to the friend and ordered him to clean the bathroom! The dude was just feeling like shit when he started scrubbing the bathroom, but then – that milf came into the bathroom! Apparently, this was her plan all along, She came inside and started taking off her bra! The boy was in a state of shock as those tits were suddenly out in the open! Those melons were huge and she shoved his face between them. The boy knew that he can't embarrass himself and has to perform at the highest level. She started taking off the rest of her clothes and suddenly, there was the hottest milf on the planet right there in front of him. He immediately came close to her and started licking her pussy and her burning asshole. She lifted one of her legs and placed it in the bathtub as he licked her cunt from the bottom! This woman drives me crazy. Her body is impeccable! I'd lick her butthole so quick and fuck her silly! It was time for this bitch to return an oral favor! The MILF got down on her knees and started blowing his cock and shoving it really deep down her throat. The way she blew him is not something you get to experience every day. She skillfully used her hand to massage that prick and then the boy felt it as she pushed it really deep down her throat. She squeezed his dick with her boobs and fucked him with them. POV titty fuck and BJ and my balls are swollen with cum as my throbbing cock couldn't possibly get any harder. This woman has the perfect body. Absolutely perfect. She's gorgeous, killer body and great at her job. That's when the experienced women decided to show the boy how the things are done! She told him to get inside the bathtub, and he did so. That's when the beautiful naked woman positioned her pussy just above his young hard cock and started to move up and down on that thing. She started moaning as her long hair was suddenly bouncing all over the place. Her cunt got already from how fast she was riding him. The hot MILF didn't stop riding his dick even with her dumb-ass son vacuuming right behind their backs! This sneaky scene is fantastic. His prick was really huge and it went all the way inside that tight pussy. Once again, she came close to him and shoved her asshole in his face. The boy licked that but like never before and enjoyed making her horny like she never was before. Damn she has a fine body. I could spend the entire weekend in that pussy.

MILFS CAUGHT FUCKING IN SNEAKY, RISKY AND CHEATING SCENES WITH TEEN BOYS: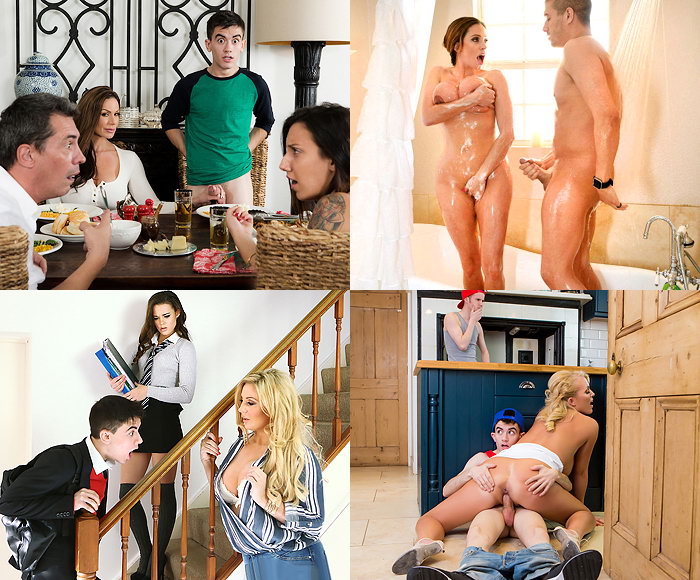 The crazy friend's mom now decided to ride him in the opposite direction. Her huge round ass was now facing the boy as he slapped it and fucked it hard from below. He was definitely getting a ride of his life and she was doing it faster and faster. The MILF decided to try one more riding position, so he went and laid on the floor as she bounced on his cock skillfully. That's when he lifted one of her legs and started pounding her while choking her with one of his hands. I loved watching him bone her fuck hard, and put his finger in her asshole countless times. Ms. Lust. Kendra gets me so worked up with her running dialogue of sexy soothing sultry voice saying the dirtiest things! He felt that he's about to cum, so he went on the ground and came all over those amazing round tits! Luv the way she get her pussy pounded an licks all the nut of her amazing tits luv this brazzers thanks! She the best milf for all time i can just dream about her she so hot and pretty.