Just walking down the street when I notice this hot brunette on the roof calling for help. She is stuck there and needs my help. While I help her down, she tells me this is her ex's house and how she knows that he is cheating on her. I notice while she is climbing down the ladder what a great tight ass she has and wonder if she is going to reward me somehow. Fortunately, she was pissed at her ex and wanted to get revenge, and that is where I came into play. We went inside his house, and she immediately went down on her knees, telling me how we are going to fuck all around his house while unbuckling my pants. My already hard dick popped out of my pants and I loved it when she was telling me how much bigger my cock was than her ex's. She started slowly licking it, then sped up a bit going with her tongue all along my long shaft. I couldn't believe how lucky I got today to have a gorgeous random chick suck my cock like it was a lollipop. I moved her shirt a little so that I could take a look at her small tits, and I have to say they were firm and amazing. Then the hottie started going up the stairs, and I saw her beautiful pink pussy just ready for the taking. I lifted her skirt up and penetrated her tight pussy right then and there in the middle of the stairs. Her big ass jiggled as I was pounding her hard from behind feeling her squeeze my cock from the inside. Suddenly, she started crawling up the stairs, beckoning me to follow her and her gorgeous pussy. We went inside her ex's bedroom where she pushed me on the bed and eagerly climbed on top of me. The beautiful young naked girl slowly lowered herself on my huge dick, and I just let myself enjoy the ride. What made it even better were her beautiful, small but firm, tits bouncing up and down following the rhythm of her perfect body. She rode me like a pro, fucking me intensely all the while keeping that cute kinky expression on her face. Then, we switched to doggy where I got another look at her gorgeous ass. This time she twerked on my massive cock with ease, shaking her tight butt up and down my dick, making me love her every stroke.

THE HOTTEST GIRLFRIENDS IN THE BEST POV, SNEAKY, CHEATING AMATEUR PORN: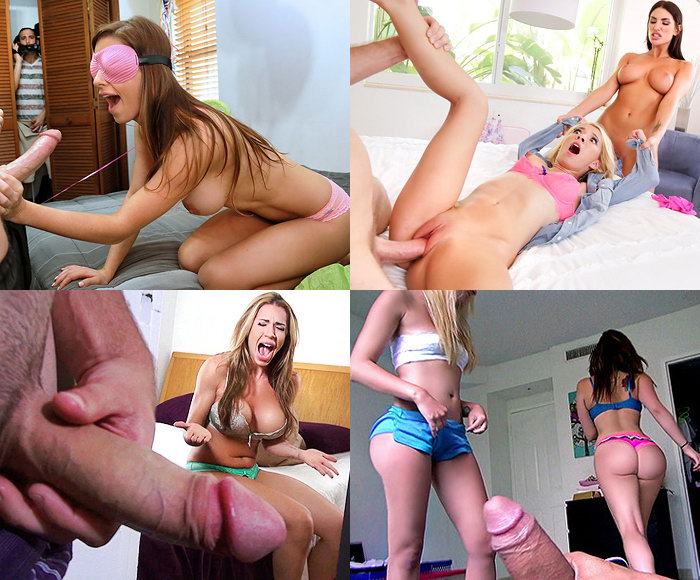 I loved the way the babe sometimes went fast, really impaling herself on my dick hard and then she would switch to slow and sensual where she made sure her pussy went from the tip of my cock all the way down to my balls. That move made me go crazy, so I started fucking her really deep and fast trying to get as much of that tight pussy as I could. After that, I picked her up and threw her back on the bed, this time I was going to fuck her brains out. Her body is perfect… lean, but her proportions seems right and she got the greatest little round ass and nice titties. She has an absolutely fabulous figure and face. The sexy naked girl looked up at me with those big green eyes knowing she was about to be fucked like never before. I spread her long legs and slowly put my throbbing cock inside her gorgeous pussy, but then I shove it all the way till the end, which makes her scream. I keep pulling out slowly, then shoving it back in cause I love seeing her face of anticipation. This hot babe wants my dick so badly and I wasn't about to let her go without it, so I give her my all, fucking her until I couldn't take it anymore.