Is it Natalie Portman getting fucked by a black guy with a huge black cock? This girl just really looks like her. This black bodyguard is intrigued by this amazing babe and her cute body. He was hired by her husband to protect her but she has other things in mind as well. Her husband hasn't been treating her right and she wants some of his huge cock inside her. She tried to seduce him while she was swimming naked in the pool but it didn't work, later he confronted her about trying to get in his pants even though she knows that it could cost him his job if her husband finds out. She didn't let up though and soon enough she was trying to get inside his pants yet again and so he had to resist her again. This slut has grown accustomed to getting what she wants! Certainly there are limits of freedom of temptation. This proved to be too much for the bodyguard though and soon enough they were naked in her bedroom. The sexy white girl was sucking on his black cock like a total whore and she loved the taste of it. She was licking it like it was a chocolate ice cream and she seriously didn't know how much cock she could take until this guy showed up. His cock was much bigger than her husband's and she was about to try it out for every inch that it has. After sucking on his big cock while on her knees, she started sucking on his dick while she was over him on the bed and getting ready to ride him. So the naked babe then climbed on top of him, impaled her pussy on his thick cock and started riding him like the bad slut that she is. His cock was too big for her little pussy! But she was riding him really hard cowgirl style and she was looking how deep she could put his giant dick inside her. She knows that she can barely put all of it in her mouth if she deepthroats him, but now it was time to find out how much she could take in her tight little pussy. She went halfway in but then started going deeper and deeper with every bounce on his dick. She was taking it all by the time she was done with riding him and she was being pounded by his cock while she was riding him. Then the black guy decided to fuck his boss's horny wife from behind. He put the naked girl into doggy style and started ravaging her pussy from behind. She was taking his huge black cock so hard and she really didn't want to waste time so she told him to go as hard as he liked with her. He took this as a green light and started fucking her insanely hard.

INTERRACIAL SEX WITH THE BIGGEST BLACK COCKS YOU'VE EVER SEEN: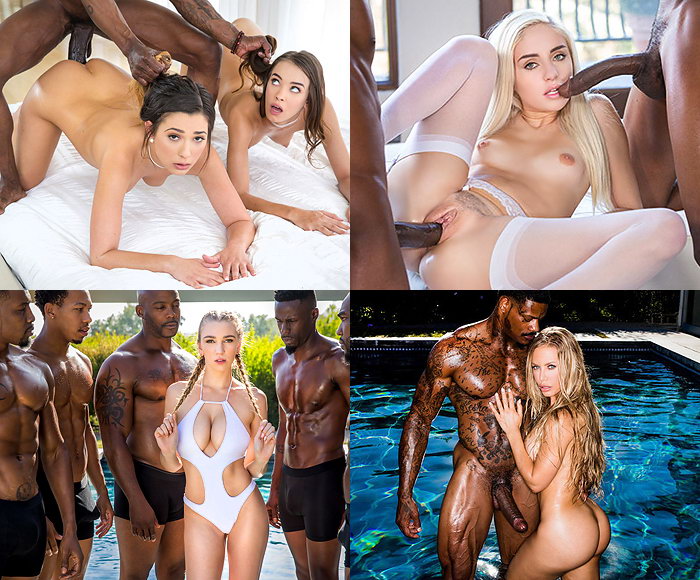 The sexy naked girl was moaning and gasping as he was drilling her white pussy with his giant black dick and her husband was completely out of the picture at this moment. She then started riding him again but this time she went into reverse cowgirl mode and in this point, the only things she cared about was this black guy's cock and him penetrating her as hard as he could. He started to fuck her from below and she was taking it and enjoying every thrust that he put inside her. They then decided to get into missionary and get a bit more passionate with their fucking. She started taking his cock and he was fucking her missionary, deep and hard! They were kissing and all that and she couldn't even think about her husband at all. He started fucking her from behind afterwards yet again and the slut was loving every moment of it. Her husband just can't compete against the massive endowment of her ebony lover! In the end, he came all over her face and she licked it all off. These girls were unsatisfied with their sex lives but now they're blacked! Blacked is tons of crazy passionate interracial sex with huge black cocks and beautiful white girls.