My girlfriend had her cute best friend Halle over for a sleepover. The girls were just waking up and putting their faces on when I peeked in on them in the bathroom. After a while, my sexy girls went back to the bedroom where we decided to talk about their sleepover, and that's when I found out that my girlfriend had cheated on me with her hot blonde friend! The girls had to do it in front of me, kissing, taking off their panties, touching each other pussies! It was the first time I saw my girlfriend eating a pussy! She licked her friend's cunt and then she did the same to my girl. I'd never seen two naked girls making love before, it was exciting. Then my girlfriend decided that she would repay me by blowing me hard. Her beautiful blonde friend watched from the side as my girlfriend sucked me off. My girlfriend invited her to suck the cock too but she was a bit hesitant at first. It didn't take long for the little slut to be convinced though once she saw the size of my cock. At that point both of the girls started sucking me off and I enjoyed their slutty little mouths on my dick. The naked girls licked my cock, slurp it, they have a lot of fun with my balls too. It felt amazing when you have two cunts pleasing you at the same time and I couldn't believe my damn luck with how beautiful these bitches were. It turned out that my girlfriend cheating on me might be the best thing to happen to me all fucking day. I got my girlfriend to spread her legs and I slid my cock inside her little pussy as her blonde friend was above her having fun with her tits. I started drilling my girl really hard from the very start and her friend was there enjoying the view. She could really feel the force of my dick and body going all the way inside her and rocking her body back and forth as I was destroying her pussy. My horny girlfreind was so glad that I was okay with this threesome and she was being pleased by both me with my dick inside her and her friend who was kissing her and sucking on her tits. After giving her a good dose of dick fucking, she was ready to switch with her friend. I thought that she would take issue with this but apparently it was completely okay. So I got to score two pussies at one time which was simply unbelievable for me and I simply couldn't wait to fuck her hot blonde friend. She had so inviting little ass, small pussy and titties. I was already imagining myself banging that sexy petite naked girl. I bent her over and my girlfriend spread those buttcheeks far so that I could see exactly where that pussy was so that I could destroy it. The blonde babe was waiting there in anticipation because she just had to feel that cock inside of her.

THE HOTTEST, SEXIEST AND CRAZIES GIRLFRIENDS FUCK ON CAMERA IN AMATEUR PORN: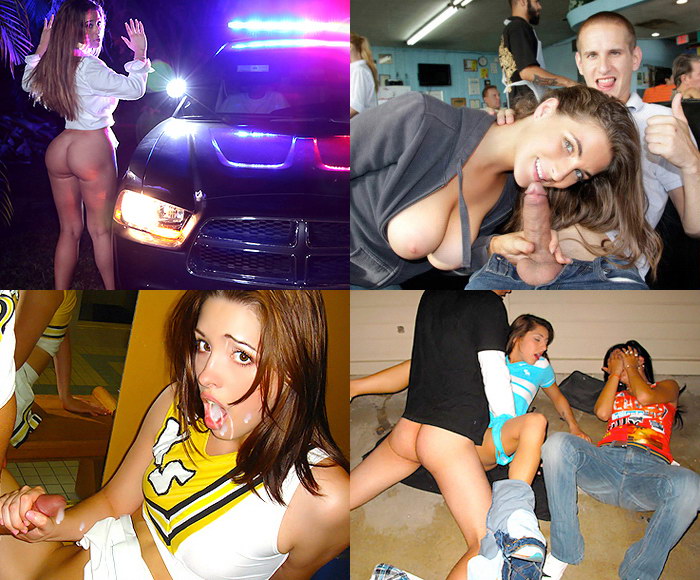 The girl was simply stunned with how big my dick was and she really needed it at this point. I shoved my huge cock inside of her little pussy and started ruthlessly destroying her from behind. The naked girl was bent over and taking my dick so hard that I couldn't believe just how hard she could take it. I immediately started testing her limits and I was pounding her so hard that I felt my girlfriend getting jealous too. I kept fucking this blonde babe like a complete whore and I have to admit that I enjoyed her pussy even more than I enjoyed my girlfriend's pussy but I didn't tell her. I fucked both girls, then they impaled themselves on my dick. The two girls were both really turned on. I had never seen my girlfriend turned on so much, she had orgasms continuously. At the end I was gushing cum like crazy, all over the girls, their mouths were soaked of hot cum, the girls were kissing and licking each other.