I have the naughtiest step-sister ever! This one day, she drove my dad's jeep in the yard and I noticed that it has a huge scratch on the side of the car. She already snitched on me once and it was payback time. She knew I had her, so she did whatever she could to get out of this mess. She begged me not to tell anyone and that she could get grounded forever. Then my sister realized that I was looking at her tits and didn't even try to deny it. She came close to me and started grabbing my cock. I was really surprised by how I can take a pass on this hottie. She's got the perfect body, the kind I always wanted to bang. The little slut begged to come close to the car, opened one door and hid behind the door while she pulled my pants and started licking and sucking my erect dick. Man, that felt great and enjoyed every second of it. I constantly turned my head to make sure that no one would see us do it. My slutty sister started giving me the sexiest stare that made me horny as I never was before. I could never have guessed that she's this good at doing blowjobs. She started to gag on my dick and to get it really deep inside her throat. I noticed that I stopped looking if someone will see us, that's how great this blowjob actually was. I could wait to have my prick inside this hottie, and none of my friends will believe me, for sure! I wanted to take some action too, so I put her on the front seat and started to lick her wet pussy which tasted so fucking good. She spread her legs and moaned away as my tongue was going deeper and deeper inside her hole. She couldn't last for much longer and wanted my cock inside her. My hot naked sister pulled me in the car, laid me down, pushed herself against the car roof and started riding me with that sexy bum bouncing all over the place! I loved watching those buttcheeks slide up and down on my rod and she rode me faster and faster. She would occasionally throw her head back with her hair waving just below my face. She was standing on her sexy legs and jammed herself on my prick as hard as she could. It was then when she turned around and rode me with her stunning tits facing me. I would never regret something like this, and I wouldn't be sorry even if my father himself found out about this. As she was riding my dick, I started pounding her from below, and there were some loud sounds of our bodies crashing against each other. Her pussy was on fire and my cock went throw a couple of staggering sensation. Her pussy was constantly contracting on her journey to the most amazing orgasm.

HOT YOUNG SISTERS IN SNEAKY AMATEUR SEX SCENES YOU WON'T SEE ELSEWHERE: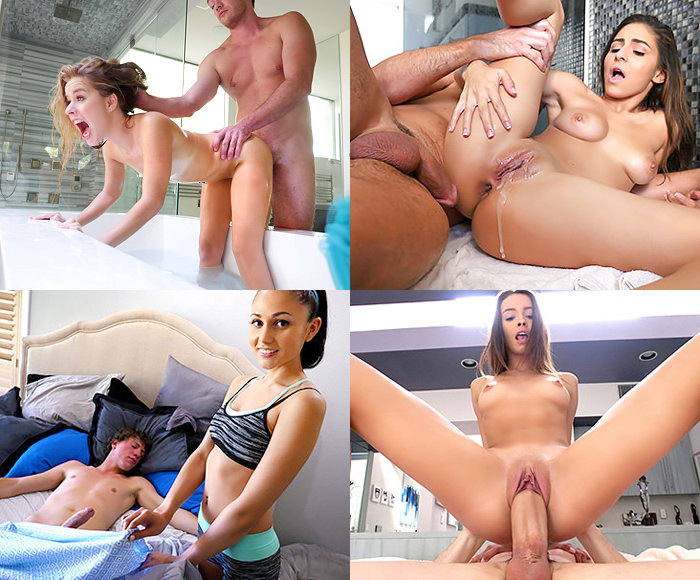 My slutty sister just wanted to ride me, so much so that she wouldn't let me choose a position. She turned around again, placed her palms on the car roof and started jumping on my dick once again. I wanted to take over the control so bad that I grabbed her, pulled her hair, put her on the floor, spread her legs and started fucking her little pussy as hard as I could. I was grinding faster and faster into her pussy. She was staring at me with those beautiful blue eyes which made me go faster and stronger. I felt her cunt squeezed my dick, a warm tingling sensation spreading through my body and I began to cum right into her cunt! I grabbed her hear and slammed my dick deeper into her, filling her pussy with sperm. My horny sister moaned from her own orgasm feeling me cumming in her. Finally I made one hard thrust into her and held my cock there, sending the last load in her. "Do you like to see a creampie and cum oozing out of your sister's pussy?" she asked.