This shy geek girl is meeting up with some of the lead girls in her new sorority. She is so excited. They are going to study a lot.. but she comes through the door and gets greeted by two sluts, Welcome to the Pussy Palace! She is going to have to make sure she follows the rules if she wants to get approval from her peers. Rule number one is to get fucked! The teen girl has to remember the rule number two, not suck the dick if he does not lick the clit! And the main rule in this Pussy Palace is ABSOLUTELY NO CONDOMS! The girls all drink a bit, playing a classic game of beer pong and then the innocent girl is offered to take part in one of the sexiest foursomes. She has a boyfriend but it doesn't matter. Then comes in the human dildo who will lay waste to all of their pussies. Three naked girls het on their kness with their naked asses in the air towards him. The guy has to eat out all the girls one by one as the girls are bent over on the couch. They all bend over and he comes behind them and starts licking their sweet and tight college pussies one by one. He starts with the new girl, licking her young pussy from behind, then sucking the redhead's sweet cunt and finally eating out the sexy brunette's pussy. Have you ever eaten three pussy at once? The beautiful teens are getting really horny at this point and the shy girl seems to be ready for some dick as well. The dude has a huge cock and the girls are simply amazed by the scale of it. The babe that was shy in the beginning is now thirsty as fuck for some cock while the other two sluts want it as well. First, the naked coeds all kneel in front of him to suck on his cock at the same time. The lead girls get to suck on his cock first to get it super hard and the shy girl watches and learns from them while the sluts show her what they know. They all start sucking, first one by one, and afterwards they all take a bit of that dick. After these two sluts have shown her everything that there is to know it's her turn to get that cock inside of her mouth. And she does so. She takes the entire thing in, deepthroating it hard as it goes inside her mouth. She sucks harder and harder and soon enough the guy is rock solid and can't get any harder than he already is. After that is completed, the babes start sucking and licking his cock at the same time. They all enjoy his dick as they lick the shaft and suck on the tip. Just imagine three young and horny naked girls sucking your dick and your balls together! We get a wonderful view from his perspective as all three sluts suck on his hard cock and give him oral pleasure. Once he feels that they should get even dirtier, the three naked girls line up against the staircase and he comes up to each one of them to fuck them personally. It's time to practice one of the rules which is absolutely no condoms! He starts off with the shy babe as he slides it in her virgin pussy and starts fucking her hard as the other two stand next to them and wait for their turn while shaking their sexy asses in the air. She has lost her virginity on her first day in the sorority! After he's done with the shy one, he takes on the redhead teen and starts penetrating her. He fucks her harder than the first one and she gets a really nice pounding. Finally, the black haired slut with the long hair gets her share and it's simply savage. She feels so much pleasure from it and soon enough she feels as if she wants more than just that from him.

YOUNG NAKED TEENS IN A THREESOME, FOURSOME AND MORE-SOME SEX: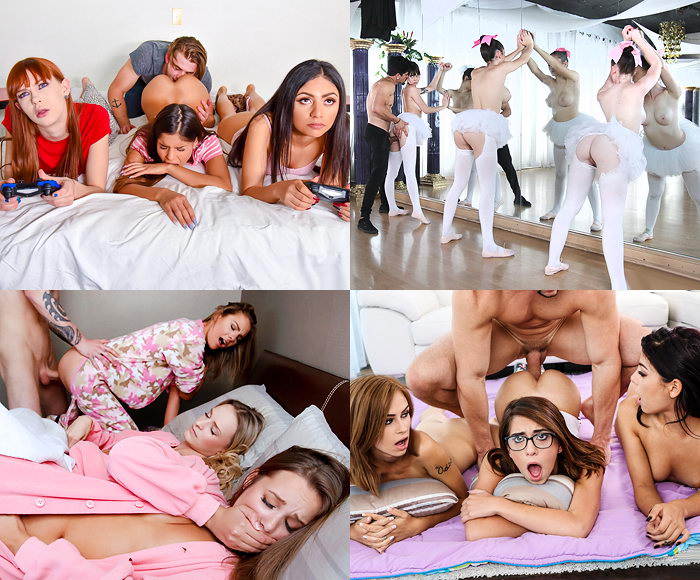 The horny naked girls lie him down on his back and get on the couch with him. The sexy naked brunette goes above him and slides it in while she's on top. She starts riding him hard and enjoys every second of it while her two friends grope her and watch them fuck it out. The other two are a bit jealous that she's getting all the action and want to get some of that cock for themselves as well. The shy one gets extremely thirsty so she's the next one up to get fucked from below. Rather than riding him though, she'll let him control the movements as this will allow her to get fucked harder than she can ride him. All three young naked girls get fucked hard and it all ends with some beautiful facials all over the sluts' faces in the end. The final rule is to swallow the kids bitch! Suck that cum leaving no trace of any risky behavior and you can now call yourself a legit Pussy Palace Princess. You go girl!