This dude goes over to his friend's place to borrow a textbook he needs for an upcoming test. While his friend's hot cougar mom is taking a relaxing bath in the hot tub, she can hear the doorbell ringing, but no matter how hard she screams at her son to go get it, nothing happens. This sexy blonde is playing with herself, fondling her big tits with sexy tan lines and stimulating her pussy under the hot water, but the relentless bellringing doesn't let her concentrate. With her masturbatory session interrupted, the MILF gets out of the tub and covers her hot naked body with a bathrobe. She can't possibly imagine who could be at the door. When she finally greets her son's friend at the door, she's definitely not in the best of moods. This asshole is interrupting her "me time" and that upsets her. He's looking for her son, but she has no idea where she has and doesn't care. The sexy blonde tries to shut the door and get back to her business, but he is insistent. He has a college midterm coming up and he really needs to borrow that textbook. He asks if he can look for the book in his room and promises he will be out of her way as soon as he gets his hands on it. The mom can't wait for this dude to leave, so she lets him take a look in her son's bedroom. She decides to help him look. Maybe that will get him out of the way faster. As she crawls on her son's bed in search of the book, her robe hikes up her back, revealing her fully nude bubble butt. More precisely, she did it on purpose, this MILF just likes to play with teenage boys. She's wearing the skimpiest red thong and the g-string digs deep into the crack of her fabulous ass as she moves. He knows he should be looking for the textbook, but he can't keep his eyes off his friend's hot cougar mom. Her long legs and tight ass are really turning him on. The friend's sexy mom gets tired of looking and tells him he can keep searching by himself and show himself out after finding the book. She can't wait to get back in the hot tub so she can continue playing with her big tits and her wet pussy. He finally finds the book, but gets lost on the way out. The house is so damn big and there are so many doors. As he passes by the bathroom door he can hear his friend's mom's moans from the other side as she masturbates herself with the shower massager. He sneaks a peek, he just can't help himself. The beautiful naked woman looks so hot, masturbating her cunt with the shower massager! The moment she spots him spying on her, she orders him inside. The horny MILF notices the huge bulge under his pants. She's so fucking turned on and being spied on by her son's pervy friend has pressed all her buttons. She invites him to hold her big tits in his hands while sucking on her perky nipples. Her big breasts feel so damn hard, fully erect while stimulated by his slick tongue. Don't miss this amazing scene if you prefer ladies with big natural breasts. The dude has never seen such beautiful boobs and now he's licking, kissing and sucking her tits and her erect nipples. The hot naked woman tells him to get on his knees while she spreads her legs wide open, exposing her delicious pink pussy burger. She wants him to take a bite! He darts his tongue in and out of her gushing slit, tasting the exquisite juices that flow from her snatch as he eats her out. The hot naked woman grabs his head and pushes it against her crotch, moaning so loud, making the boy tongue fuck her vagina. It's been a long time since a young stud serviced her pussy.

THE HOTTEST MILFS SHARE THEIR SEXUAL EXPERIENCE WITH YOUNG TEENS: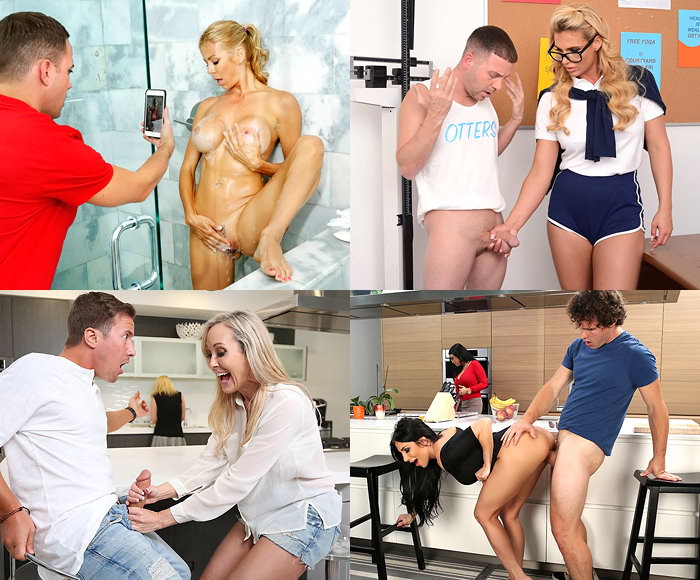 The naked blonde gets on her knees while he whips out his huge throbbing erection and she wraps her fingers and her sultry lips around it, giving him an incredible blowjob. She can feel that cock getting even bigger in her mouth as she gets it ready for a hard-core fuck. First she lets him fuck her tits, massaging his boner with them. Any scene with some hot titty-fucking is a good scene in my book, and this girl and her big boobs is super-hot! Then the horny friend's mom sits on his lap, feeling that big young cock buried inside her cunt. I love the way her tits bounce when she's being fucked! The son's friend is doing his best, pounding his hips at her, his cock driving in and out of her pink cunt at high speed. Her big tits are bouncing with each thrust. This MILF is fuckin gorgeous! The dude can't stop cumming all over his friend's mom, all over her beautiful tits even when his friend comes back home.