This year, we have a special April Fool's treat for you! When two hoes are looking for some sexual deviancy, they can be sure to find a motherload of guys who are willing to play along in the gym. These two hot babes went to the gym to workout but ended up fucking some unsuspecting guys who were there. The girls started things off by simply pranking the gym goers. They would make it so that while they were doing their exercises the machine would reveal their amazing tits to everyone around to see them. Eventually even this wasn't enough for these hoes so one of them went to the men's locker room and her slutty friend got on the stationary bike and flashed her tight pussy and firm ass to whoever happened to be exercising behind her. The blonde babe was waiting for her first available victim in the men's locker room while wearing a towel and nothing else. She wanted to show her entire body, pussy and all to the first guy who came into the locker room. One dude eventually came and the bitch turned around and showed him everything. He couldn't believe his eyes but he couldn't say no to her offer. The bad bitch immediately grabbed his cock and went down to her knees to start sucking on his cock. She sucked on it like a pro and the dude enjoyed it thoroughly. He got really turned on by her sucking and his dick got really hard. The babe couldn't believe that she nailed the guy with the biggest dick in the entire gym. First, the crazy slut just wanted to pleasure him with a blowjob, but now she's thinking of several other things that she would like to do with the guy. The guy is thinking about it as well and you already know that they'll be a perfect fit together in every way. Before the dude serves her some hot dick inside her pussy, he has to repay her for her oral services. He has no problem with this as the beautiful naked girl spreads her legs and he starts licking and sucking on her shaved pussy. He gives her head like she had never got it before in her entire life. The babe enjoyed it and we could see the pleasure draw itself on her slutty face. After he stopped licking her pussy he started fingering her to prepare her vagina for some cock. His dick was already lubed up with her saliva so she was ready to take it inside her. The naked babe bent over and the guy was more than happy to take her invitation inside. He got behind her and grabbed her by the hips and pulled her in close. The babe knew what she was in for and she spread her cheeks to allow him a better way inside. Her cunt was so wet that it would be no problem for him to penetrate her. He shoved his dick inside and the babe just started moaning immediately. The guy started savagely boning her from behind doggy style and the whore couldn't hid her excitement for a single second. She couldn't help but enjoy his big monster cock inside her and she kept asking for more. She wanted to get more of that sweet cock inside her so the guy started pounding her really deep inside as he sped up his thrusts.

THE HOTTEST GIRLS CAUGHT FUCKING IN SNEAKY, RISKY AND CHEATING SEX SCENES: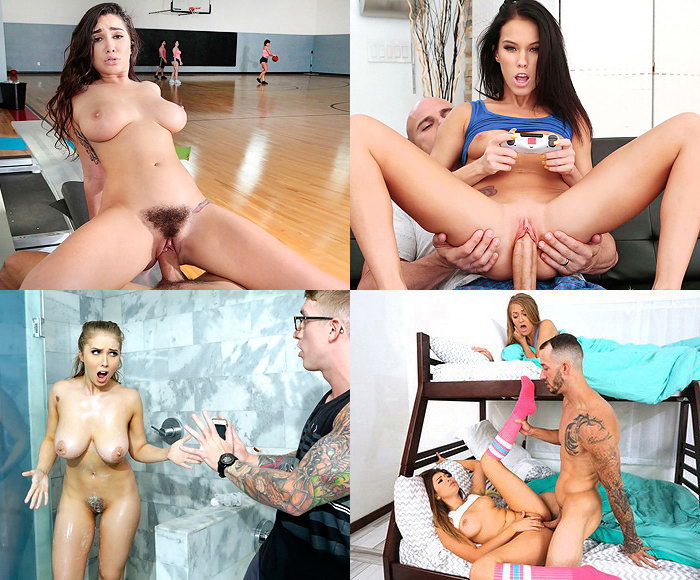 With every single thrust her went in harder and faster and the whore was smiling like it was the best feeling of her entire life. The guy wasn't done either so he got her on top. The naked girl started riding him and bouncing on his cock like it was her job and she wasn't' stopping for anything. Her hips were sliding back and forth on top of him, moaning, pushing herself down onto his dick, forcing it deeper into her wet throbbing cunt and enjoying the orgasm. The guy gave her a bit of rough sex, slamming her pussy with his cock. The slut was hungry for his cum and she knew exactly how to milk him dry with her mouth! She jerked him off with both hands, sucked and moaned, covering her face and swallowing his cum, hungry for every last drop. Don't miss the whole video, featuring more the sexy brunette who gets her hairy pussy fucked by some gym goer.