I saw my girlfriend getting water from the fridge and I decided to prank her, sneaking up behind her and spooking her, making her drop her water all over her blouse. The only problem is, this wasn't my girlfriend, but her sexy blond roommate! I apologized profusely, and she said it was okay as we went back to the living room, where my girlfriend was, sleeping on the couch. Since her shirt was drenched, her roommate unbuttoned it right in front of me! Man, I could see her big tits under her skimpy bra and it gave me a boner! The gf's slutty roomie noticed and reached over, feeling my hard cock over my pants! Man! I wasn't expecting that! I mean, my girlfriend was sleeping there just a few feet from us, but she didn't seem to mind. She's her roommate after all, and she knows that when my girlfriend is asleep, almost nothing short of an earthquake will wake her up! She told me it was all okay as she got on her knees, pulling my pants down. My cock sprang up like a Jack in the Box and she took it in her hands, stroking it and saying my girl was right, my cock was huge! She told me to stay quiet and that this would be our little secret, as she licked and sucked my raging erection. She removed her wet shirt and continued giving me head, rubbing her tits. She got bolder yet, and decided to fuck me right next to my sleeping girlfriend! She stripped down to her lingerie, popping her big tits over her bra and pulling her panties to the side, lying back on the coffee table with her legs spread wide open and motioned me with her fingers, showing me her pink pussy. I guided my erect cock slowly between her thighs, feeling her wet vagina with my dick head. I wasted no time and slid my throbbing cock inside her wet cunt and started to pound her hard in missionary position. I thrusted harder, deeper and faster, pausing for a moment to ensure that my girl was still asleep. I was cheating on a girlfriend for the first time. Sneaky sex turned us both on even more. I was fucking my girlfriend's hot roommate right next to her as she slept and it was so damn hot! She rubbed her juicy snatch while I was drilling her and covered her mouth with her hand so her screams of joy and satisfaction wouldn't wake my girlfriend up, we didn't want to have to deal with that at all! The babe kept her legs spread while I banged her and I stimulated her clit with my fingers, making her gasp for air as her bogy squirmed and trembled with passion and lust for my hard cock. We went to the kitchen so we could have more privacy but suddenly I saw my girlfriend sleepwalked to the kitchen! Oh shit oh shit oh shit… I thought. Fortunately she did not see us naked and fucking right next to her.

THE SEXIEST AND HOTTEST BEAUTIFUL GIRLFRIENDS CAUGHT FUCKING IN CHEATING, SNEAKY SEX SCENES: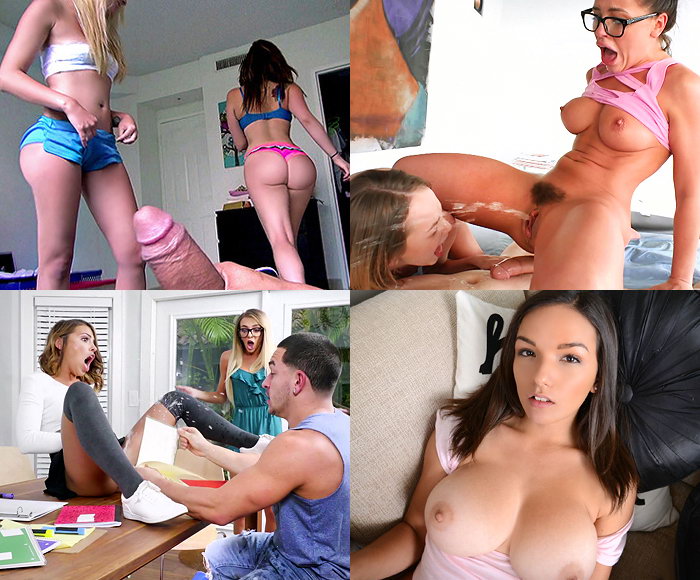 I lied flat on the kitchen floor as the naked babe straddled herself on top, pushing my hard cock inside her pussy and riding me in cowgirl position, with her big tits bouncing up and down. I began to pump my hips, sliding my cock in and out of her hot cunt. The room was quiet and I could only hear the sound of flesh slapping into flesh as my hips slammed into her round ass. From my position on the floor I could look into the living room where my girlfriend was sleeping. I grabbed her roommate's big tits with my hands, ready to blow my creamy load on her face. "Mmmm! Mmmm!", is all she could get out as spurt after spurt of my cum pumped into her sweet mouth. Since my girl didn't wake up, we continued fucking all night long!