While sitting in the toilet, my sexy stepdaughter thought it would be a good idea sending her boyfriend some really hot nude pictures of her, the only thing is, instead of her BF, my step daughter sent her nude photos to me! She was really worried of what I would think about her for doing this, begging me not to tell her mom about what happened. I told her it was okay. I wouldn't tell her mom, and by the way, I actually thought her pictures were very hot and sexy. While telling her this, she noticed I was pitching a big tent under my pants and gave me a coy smile. The little slut reached over and started massaging it, totally turned on by the fact that I would get so hard from watching her naked pictures! She told me she would in mind giving me a handjob if I promised to keep this our secret! She grabbed my big dick and my hard erection filled her cocksucker mouth. She began stroking and sucking it while down on her hands and knees on the couch, fucking hot! I love her mom, but she's much hotter than her! I closed my eyes and tilted my head back. She was pretty good at it, maybe she was a 18 year old teenager but she seemed to know what she was doing. These teens of today know how to swallow cocks! She looked like a shameless whore, her tongue was all over my shaft, and then she circled the head while she played with my balls. After a few minutes of sucking my dick I came inside her mouth "What's this horrible sticky stuff on my mouth?!!!" but she swallowed every single drop. A few hours later, I found her in the bathroom, half naked and masturbating herself on the toilet seat while looking at her phone. She was watching some boy on girl and hard-core porn and just like that, I was hard as a rock again. She told me she could take care of that for me, so I dropped my pants and let my sexy step daughter suck and stroke my cock one more time. "I want your cock in my pussy so bad!" Well you can see why I dreamed of a chance to fuck this young pussy, these young naked girls drive me crazy! She quickly pulled down her panties, quickly stepping out of them. Then positioned herself on her knees with her naked ass facing me, spreading her flawless ass cheeks with both hands. Her young pussy was completely exposed to me! I grabbed my dick and rubbed the tip of it between her ass cheeks. As I thrust deep into her young, tight pussy, she flinched. There I was, fucking my own stepdaughter doggy style on the toilet! As my cock stretched her teen pussy she went crazy, panting, squirming, begging me to fuck her harder from behind! I felt myself in a dream. I'd never had a young pussy like this before. Have you fucked an 18 year old before? I grabbed my horny step daughter around the ass and lifted her onto the bathroom counter. She spread her sexy legs wide open and pushed my dick inside her gushing cunt. Her pussy was nice and tight, she must have shaved just a few days ago and her pubes were just growing back, unlike her mom who keeps her pussy unshaved like a fucking jungle. "Pamela, I'm going to cum in your pussy baby, I'm going to cum hard! Fuck baby, fuck!!!"

YOUNG GIRLS SACRIFICING THEIR VIRGIN PUSSIES FOR A SWEET TASTE OF PAPAS PECKER: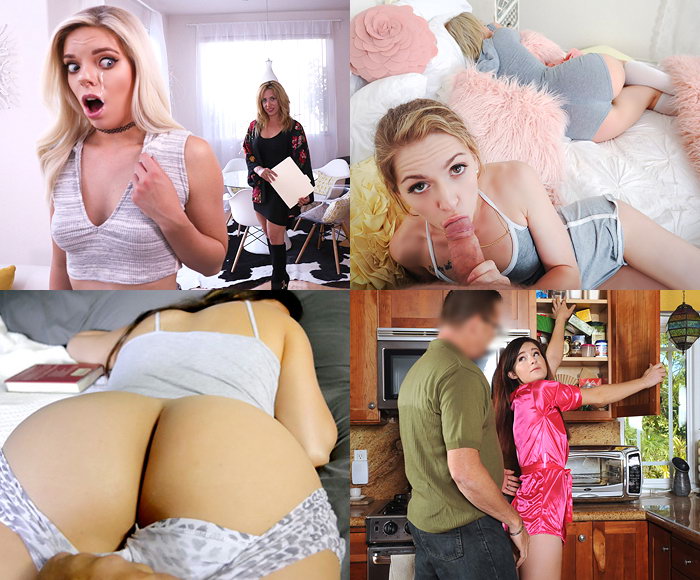 I was cumming in her and I didn't want to stop, it felt so fucking damn good. I felt her pussy contract again and again as I squirted my cum in her body. A few days past after our bathroom encounter and I saw her napping on the couch and started fondling her, since her mom was not home. She woke up and without saying a word, grabbed my fat sausage and latched onto it, sucking and stroking. She pulled her top up and her tits over her bra, playing with them as I fucked her in missionary position. Her nipples were perky and erect and she pinched them with her fingers. She told me she wanted to ride my dick, so I let her climb on top and push it inside her, bouncing up and down on my meat pole, telling me how much she enjoyed getting fucked by her step daddy! It didn't take me long to spray hot cum all over her face and her hot naked body and now we fuck whenever we have a chance!