My sexy stepsister gets up early every single morning for her morning run, followed by a hot shower and I love spying on her. She's a drop dead gorgeous brunette, with big tits and a juicy bubble butt. As she takes off her sweaty gym clothes, I can feel my dick getting hard under my boxers. She gets under the hot water and soaps herself up, lathering her gorgeous tits and her perfect ass and while I'm jerking off to her, I'm also snapping pictures of her naked with my phone. I can see her pink pussy burger covered in soapy suds as she washes the crack of her ass, so damn sexy, baby! Yes, she has an absolutely amazing body! Her nipples get hard as she washes her bubble tits and I get back to the living room couch, so I can jerk off while watching the pictures I took. Unfortunately, I'm so concentrated on this that I failed to notice my stepsister standing behind me, covered up in a towel and watching her stepbrother jerking off to pictures he just took of her naked in the shower! She sat down to talk with me, to explain that I shouldn't be doing this, that after all, she's my stepsister. All I could think about were those big tits, so I pulled her towel down, setting them free! She has the biggest, the most beautiful tits ever! She has HUGE natural tits with a large areola and hard nipples. I was obsessed with them. I loved them so much! My step sister seemed surprised by this, but not upset, her eyes were locked on my still throbbing erection. I couldn't say anything. I couldn't believe what was happening, she took it in her soft hands and popped it in her wet mouth, sucking and stroking my cock while I caressed her silky dark hair. The loud sucking noises she made while blowing my dick were so fucking sexy! We both stripped naked and she got between my legs, lubing up my hard cock and my balls with her warm saliva. Fuck, she was so good at this! She slid my hard and throbbing cock between her tits, slowly squeezing both with her hands. She pressed them around my throbbing cock and started to really tittyfuck my dick hard and fast, causing her boobs to bounce and ripple as I pounded my dick between her melons. My naked step sister stood up and turn her back to me, pushing her juicy bubble butt back up against my crotch, spreading her butt cheeks with her hands as she sat on my cock and buried it deep inside her gushing cunt. Big tits, round ass! I grab that juicy ass while she rode me in reverse cowgirl position, moaning and grunting with pleasure, totally turned on to have her stepbrother's huge cock inside her. She leaned against my body, spreading her legs wide open, massaging her big tits while I rubbed her muff and fucked her very hard.

THE HOTTEST GIRLS IN THE BEST SNEAKY PORN VIDEOS: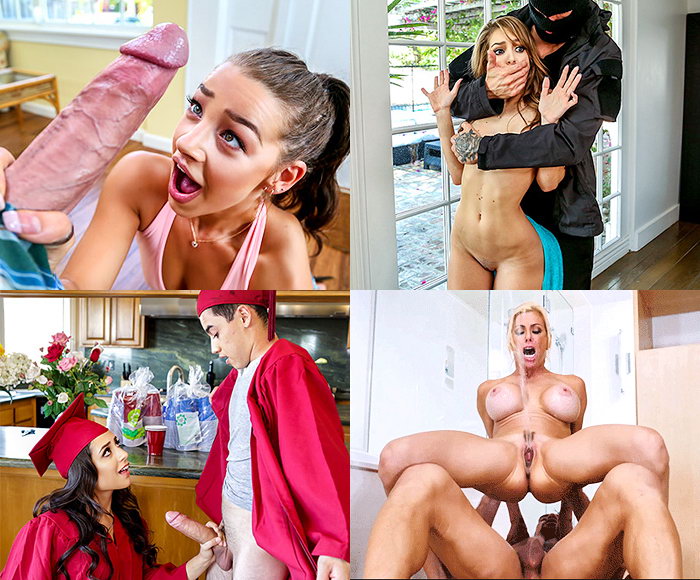 I sucked on her puffy nipples and she played with herself for me, letting me know she wanted me to fuck her ever since she first laid eyes on me. Her big tits bounced up and down like basketballs while we fucked and I grabbed them hard and squeezed them, kissing my stepsister's lips and pushing my tongue inside her mouth. I fucked her laying down on the couch, then with her shoulders pinned to the floor in a pile driver position, finally spraying lots of hot and sticky cum all over those big tits! She arched her back, cupped her big tits in her hands and moved her amazing tits in front of my dick as a thick wad of cum poured from my cock onto her nipples. "Cum all over my tits! Cover them with your hot cum!" UHHOHH! FUCK! FUCK! She squealed and thrust her tits up at me as I shot the rest of my load across her beautiful breasts.