The sexy blonde in the pink dress is this guy's girlfriend's sister, and she receives him at the door, while her sister is getting ready to go out on a date with her guy, who is rumored to have a really big dick. The blonde is so intrigued, ever since her sister told her about his huge cock, it's all she's been thinking about and knowing that her sister takes forever to get ready to go out with her guy, she knows this is the right time to make her move, and see if she can get a close up look at that mythical erection! Being the absolute slut that she is, it doesn't take her long to have her sister's boyfriend sitting on the couch, while she sucks and strokes his marvelous sausage. Yes, it's as big and as thick and hard as she was told and she's enjoying every single fucking inch of it, balls included! After all, watching her sister be so selfish to enjoy such an exquisite treat all by herself and not share with her? In the middle of their blowjob, her sister shows up, she's almost ready and fortunately, she doesn't manage to realize that her boyfriend is already being taken care of by her sister. She tells him she'll hurry up, and he tells her she can take her time, and probably for the first time ever since they started dating, he's actually not lying about it! LOL! He spanks the blonde's tight ass while she deep throats his thick rod and he spreads her legs wide open over the couch, pulling her panties to the side so he can lick and finger that gushing pussy. Her sweet pussy tastes so good. She moans a little louder. While eating her out, they hardly manage to not get caught by his girlfriend, who is still looking for the right shoes to take on this date. The blonde drags him to another room so they can have more privacy. His cock is huge, this sexy blonde is trembling from excitement! Her pussy is dripping wet, juices run down her legs. She pulls down her cum soaked panties and leans over the wooden sliding doors, getting her sister's boyfriend's gargantuan erection rammed deep inside her dripping wet pussy and fucked hard from behind. He starts to push and pull slowly, as more and more of this huge cock penetrats her tight pussy. He is really big baby! Her ass jerks and shakes as he forces his cock deep into her vagina until his groin is banging against her pussy, and his balls touch her ass. He grabs her waist with his hands and pulls her down even tighter as he drives his dick in deep and then out and then in again. We get some some close up views of his huge cock and her pussy as he pounds her from behind. Will these two get caught or will they get away with it? Once again, her sister shows up, now she's ready and can you believe she can't find her boyfriend?

HOT SEXY GIRLS CAUGHT FUCKING IN SNEAKY, RISKY AND CHEATING SCENES: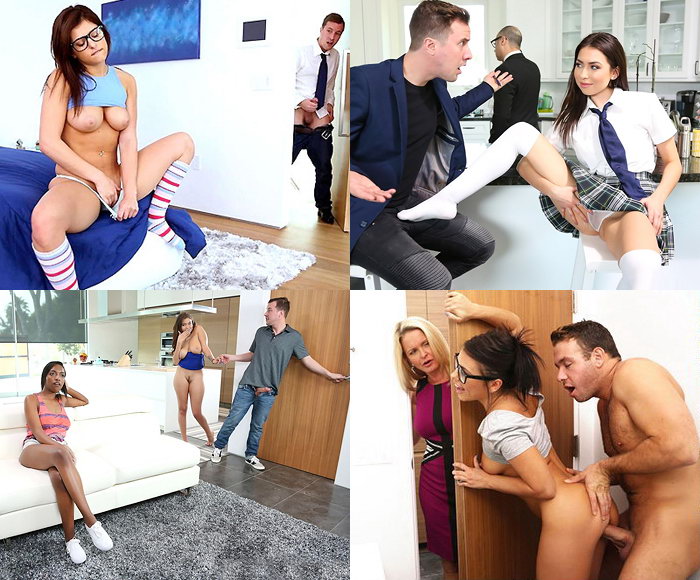 If she only knew he's behind the door, banging her sister! She leaves and he bends the blonde over the counter and raises one of her legs up, straddling it over the counter while he keeps pounding her muff from behind. Her pussy I so much tighter than her sister's and she's definitely sluttier than her! She straddles herself atop his hard cock and rides it in reverse cowgirl position, both of them totally naked by now. She's always been rightfully proud of her ass and her fucking skills. Thin and young, this blonde is so hooot! "Ohhh!" He's pounding balls deep into her body, as her tight pussy is stretched around his thick cock. He is pumping his whole thick pole balls-deep into her. Awesome, I even can feel the warm friction of her sensitive pussy! The naked babe sucks and strokes his dick some more and he sits her over the counter and fucks her hard, slamming her against the mirror until he's ready to cum all over her and finally meet up with her sister for that date! Don't miss more sneaky sex videos!