This sexy brunette slut found out about this sex bus that let you roam the city and look for random guys to fuck and she got herself a ticket! While cruising through town, she leans over the backseat, pulling her denim shorts down her thighs, showing off her juicy bubble butt in a sexy thong that digs into the crack of her ass, showing off the contours of her puckered little asshole and her meaty pink pussy burger. While sucking on a lollipop, she pulls her thong aside, so she can finger and rub her sexy little fuck holes while talking to the driver. She's definitely in the mood for getting her little pussy fucked today by some total stranger picked up from the street. In the meantime, she practices with her lollipop, popping it into her butt hole and licking it, tasting her sweet little asshole on it. She gets on the passenger seat, leaning against the dashboard, legs spread wide open, playing with her pussy while waiting to find just the right guy. She finds a hot blonde guy and approaches him. This guy can't believe there's this totally hot naked chick asking him if he wants to hop on the bus and fuck her! "Are you gonna watch or are you gonna feed me your cock?" Of course he can't let an opportunity like this pass him by, so he gets on board and sits in the back, letting the sexy slut pull his pants and boxers down and gain access to his already throbbing sausage. She swallowes it in one motion, sucking and stroking it like a pro. The drool flowing out the corners of her mouth. She lifts his cock, jerking it while licking and sucking on his balls, polishing them and drenching them with her drool. He spreads her legs wide open on the backseat and rams his hard cock deep inside her, pounding her in missionary position while the bus rolls down the city streets amidst the traffic. It doesn't take long before he feeds her his load. He's so fucking turned on by this experience, he only lasts a couple of minutes before blowing his load, cumming in the slut's open mouth. She looks up at him, pushes the cum on my cheeks and forehead into her mouth and swallowes every drop. He steps back, breathing hard and fast. She gives him back his clothes and drops him off on the next stop, maybe the next guy will last longer. She finds this hot guy that's eager to hop inside and fuck her brains out! He lays flat on his back and she straddles herself atop, sweat pouring down her naked body while she rides his hard cock in reverse cowgirl, turning him on with that fabulous bubble butt. She stands over him and leans, sucking his dick while he plays with her pussy. She sits on his lap and rides him in cowgirl, pushing her butt up and down and pressing her sweaty naked body against his. The crazy bitch sits between his legs, jerking his delicious member as he blasts thick ropes of hot and sticky cum into her mouth. She's not done yet, and a third victim takes the last one's place on the fuck bus! The naked slut gets on her kness, spreads her ass cheeks, pussy juice is dripping from her well-fucked cunt. Without losing time he starts to fuck her with long, hard thrusts.

YOUNG NAKED GIRLS GET THEIR SMALL PUSSIES DESTROYED BY BIG COCKS: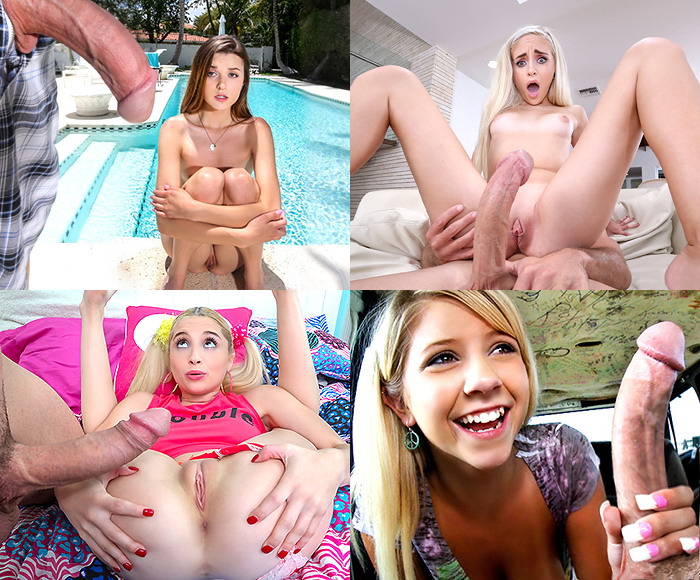 "Fuck me. Fuck me harder. Ohhh, thank you! Thank you!" He's getting what he wants. He is fucking her with all his raw power. He is like a primal animal while fucking her doggy style from behind. He is pumping his cock in and out of her cunt fast and hard. "You are such a dirty whore." This dude pumps in and out her throat for about a minute before he feeds her another load. She looks around to see if anyone else is coming. This crazy slut is able to convince a few guys to pound her pussy. One guys is able to bang her decently enough while the other guy busts in 30 seconds. She gets her pussy slammed by several different dudes and makes all of them cum. How many guys have been in this cunt already? How many guys have unloaded their spunk in her face and mouth? How many guys will be there and fuck her and cum on her tits and body?