I was cruising around town when I saw this petite blonde teen standing in the corner of the street in skimpy shorts and a tight crop top with a big sign between her hands that read "Hollywood". This sexy bitch was Hollywood bound and I thought it would be a good idea to give her a ride. Her dreams were to be a big star and when I told her I was in the film business her eyes opened so wide, I knew I had her in the palm of my hand. I told her I was a talent scout and I had no problems in scouting her out… She knew what I meant and gave me the green light, lifting her crop top and showing me her fabulous tits, tiny yet firm, crowned by big puffy nipples, already fully erect. I imagined her panties were already drenched in her pussy juices and I couldn't wait to get a taste. When I told her I would take her all the way to Hollywood and beyond if she gave me a good blowjob, she didn't even give me a chance to finish my sentence before she was already stuffing her wet mouth with my hefty sausage, swallowing it all the way down to my balls. Man, I thought she was going to swallow them too! She definitely sucked dick before and she was pretty damn good at it and she knew it. The little slut grabbed my dick with both hands, deepthroating it, running both hands all around it, moving them up and down in a twisting motion. Driving while getting a blowjob isn't easy, so I drove back to my place, parked in the garage and let her keep sucking my cock right there! Man, I made her sit over the driver's side window, her cute little ass dangling out so I could fuck her from the outside! That little ass looked so sweet! Damn she was hot! Such a nice pussy! I love skinny petite girls… "Are you going to watch, or are you going to fuck me?" My hard dick was more than ready, I brought my cock right to her opening and I slid my erect dick into her once more. I thought I would cum in her hot, tight vagina right there and then. She was so tight around me and I felt so much pressure, I was working my dick deeper into her body with each push. Best pussy I fucked, the girl was amazing. I spanked her tight ass and she got the upper part of her body out, grabbing on tight while I pounded her hard from behind. Her young fat pussy lips wrapped tightly around my cock. We moved to the backseat, I lied flat on my back and I let this sexy blonde bitch climb on top, using my cock as a gearshift on her tight pussy, riding me in cowgirl position. She looked so fucking hot and sexy squatting on top of me, sweat dripping down her hot naked body. I knew we would probably get the expensive leather upholstery staying with her sweat and my cum but I didn't mind, this bitch was well worth it! She could pay me off with her first paycheck once I turned her into a porn star!

YOUNG GIRLS GET THEIR LITTLE PUSSIES DESTROYED BY BIG COCKS: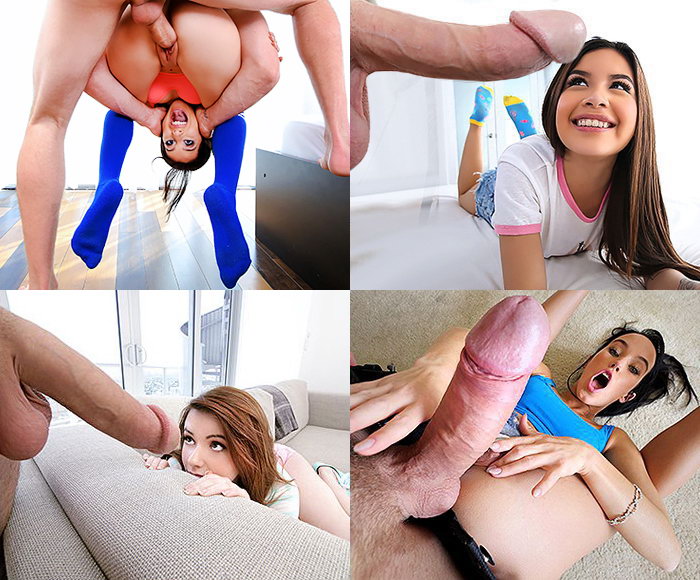 I made her perform a split over the driver and back seat, plowing that delicious gushing muff. She opened her mouth, closed her eyes, her head was thrashing from side to side, gritting her teeth tight as I was working my dick in and out faster and faster. She was moaning and her legs were shaking from an orgasm. Her hot pussy was convulsing around my cock. She turned over and rode me in reverse cowgirl, grinding and twerking her ass on my dick while looking over her shoulder with the sexiest look on her slutty face. The little slut was now breathing heavily and pushing her petite body down onto my cock, faster and faster. This little bitch had star material written all over her body and I didn't stop fucking her until I filled her with cum!