I met this girl at the college library a week ago. She started flirting with me, she had these big blue eyes, a sensational figure, particularly her perfect-handful breasts. After chatting several days I finally asked her out on a first date, taking her to a nearby restaurant I know. She seemed like a good girl on the outside, but even good girls have secrets. I knew she was very open minded, exhibitionist and was into dogging, but I had no idea how far she was willing to go on a first date… and in public! Well, I was just about to find out! I could feel her feet playing with mine. Then they started moving up, all the way to my crotch! She was massaging my cock and balls with her feet and giving me a massive hard on! Obviously she wanted something that was not on the menu – a hard cock! She "accidentally" dropped her fork and got under the table to pick it up. Imagine my surprise when she pulled won my pants under the table and started sucking and stroking my hard sausage right there! "Ahhh." I couldn't help myself as the nympho swirled her tongue over my cockhead then sucked it deep into her warm mouth. I had never been in a situation like this, I wasn't sure quite how to react! This was a crowded restaurant! She lifted my cock, popping my balls in her mouth, licking and sucking them. I loved the way she sucked my cock. The waitress brought our order, I prayed for her not to notice what was going on under the table. Her mouth was now bobbing up and down my cock. She was drooling all over my dick and I could not take this anymore! Fuck the people around us, I wanted to fuck! I took her from under the table and sat her on top of it, she lifted her legs together in the air adn let me pull off her panties that was soaked in her juices. Her wet cunt was now fully exposed under the little skirt she wore. My cock was dripping and her pussy was begging. Begging to be fucked hard. I was going to fuck my crazy, horny college girlfriend's pussy right here for everyone to see! The people on the other tables got up and left as I rammed my cock deep inside my date's pussy and began fucking her right there! If dogging was what she wanted, dogging was what she was getting! I pulled her titties over her top, playing with them and stimulating her nipples while I fucked her hard over the table. I so they were going to come any moment and throw us out of the restaurant, but I guess the employees were voyeurs! They were probably having the time of their lives watching us fuck while they jerked off to us! They didn't even have to worry about the customers, everybody had left the place! I grabbed her legs and continued pounding her harder. I just had to taste her, she was so hot and sweet that I wanted to run my tongue all over her puss candy.

SEXY GIRLFRIENDS IN THE BEST LEAKED SEX TAPES YOU HAVE EVER SEEN: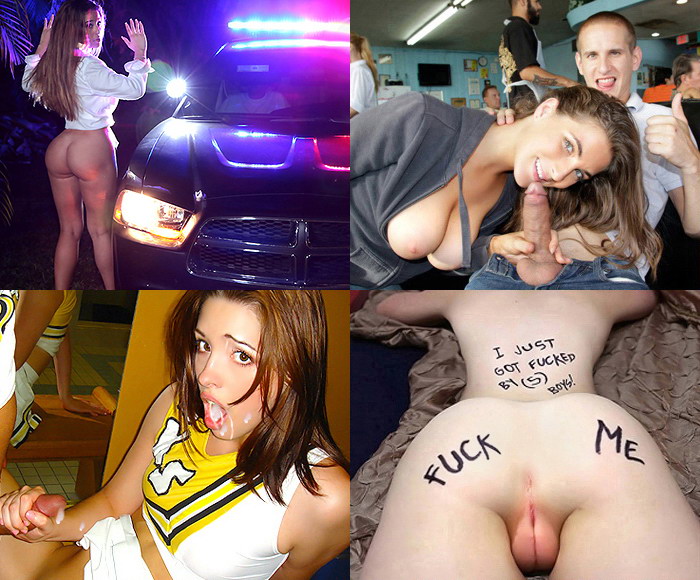 I fell to my knees in front of her, spread her legs with both hands and shoved my tongue deep inside her pink slit and ate her out while she fondled and squeezed her tits. She told me she wanted my dick back inside her, so I popped it back in and continued fucking her in missionary position. We were having amazing sex! I fucked her hot pussy in all the positions and I used my mouth and tongue so well on her breasts, nipples, pussy, even in the asshole. I blew my creamy load all over her tits and her face! Her perky tits and her tight pussy were more than enough to satisfy me. But if the waitress had sticked around, I would have given her a big tip too! We sat back down and ordered dessert and drinks! While my sexy date cleaned the cum dripping from her lips and chin, she told me this had been the very best first date ever and she couldn't wait for the next one, just to find out in which public place I was going to fuck her brains out! Man, I think I'm in love!