My stepsister was getting ready to go on a date with this guy she met online and she really wanted to cause a good impression so she was asking for my opinion on her dress, a beautiful red outfit that hugged every curve in her delicious body. The dress was perfect, but I explained to her that any guy would want to make sure she was also wearing sexy lingerie, otherwise, the dress wouldn't work at all. Of course, this was just a lame excuse to see my sexy stepsister in her lingerie, but hey, it worked. She took off the tight red outfit and showed me the sensual lingerie she was wearing underneath. Fuck, I was already pitching a tent under my pants. The more we talked, the more I realized my stepsister was really feeling insecure about her date, especially the sex part. Since I'm her big stepbrother, I told her I could help her out, prepping her for her date. After all, practice makes perfect. First, she had to learn how to give head, so I told her to get down on her knees, pulling out my throbbing erection and making her suck and stroke it. Believe me, her date was going to thank me after we were done! Of course my stepsister was amazed with how big my cock was and she looked really hot licking and sucking, looking at me with those big brown eyes. She was actually pretty good at this, and with just a little bit of practice she was already managing to deep throat my dick almost all the way down to my balls. So good, in fact, that she made me blow my load in her mouth and swallowed it all! I held her head still and pumped my orgasm into her, she knew what to do, she opened her mouth and showed me all of my cum juice inside. She closed her mouth and swallowed, then opened her mouth and stuck out her tongue! To my surprise, the next day I heard my stepsister calling me out from her bedroom. When I got in I find her tied up to her bed. WTF? Her date had tied her up, she got scared, and the asshole ran away! Well, at least he left her pretty tied up for me! I spread her legs wide open and began rubbing my fingers up and down the soaked fabric of her lace panties, massaging her pussy underneath. I took the panties off, she was so wet! "Mmm, I like it! That is one of my fantasies. I would love to get hard fucked like that. I would love to come into a place and have a guy just rip my clothes off, fuck me hard, cum all over me and leave me like that! Would you like to do that to me?" My step sister smiled very wickedly at me. "Would you think about just ripping my clothes off, fucking me, cumming all over me, my face and then just walking off?" I rammed my hard cock deep inside her, grabbed her legs and began fucking her so hard and deep, faster and faster, in missionary position. I lifted her naked tied up body up, I saw excitement and unbridled passion in her eyes, I increased my speed, fucking her faster and faster, my powerful strokes breaking her screams into shreds, as I held her there, her eyes rolled back into her head, her titties were shaking and bobbling all over her chest. I pulled her top over her delicious tits, untying her, filming her while she sucked my cock and licked my balls, drenching them in drool. Totally naked, she straddled herself atop my lap and pushed my fat cock inside her, riding me in cowgirl position and telling me she didn't care that her date left her all tied up because she really wanted me to fuck her anyway!

SLUTTY SISTERS WILL DO ANYTHING TO KEEP FROM MOMMY AND DADDY FROM FINDING OUT: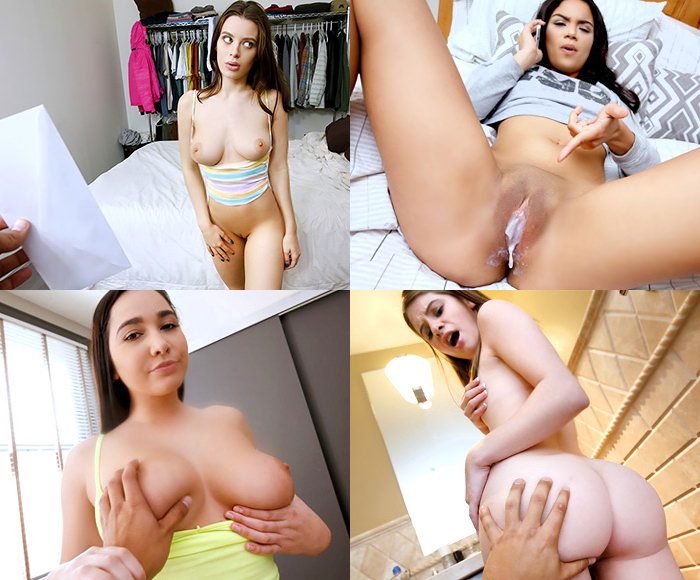 "I love it when guys cum all over me! I want your cum! Give it to me!" My cum splattered across my her face as another spurt of cum erupted out of my prick and landed on her hair. I then blew several wads of cum onto my step sisters' tits, making sure to cover both nipples. Then I quickly moved closer to my sisters face as I kept cumming. Her eyes were so glazed over with incestuous, lustful delight as she watched me continuing to blow my load all over her. "I want you to cum in my mouth too!" I got up, taking my sticky, cum covered cock and ramming it into my sisters waiting mouth. She sucked it so hard, licking up my cum and swallowing every drop of cum. Just as I finally stopped blowing my huge cum load all over her face and tits we heard the garage door going up; our parents were home! Lora let out a loud, 'oh shit! Mom and dad are home!' I jumped up as did my sister. She quickly grabbed her top and ran out of my room with my cum still all over her face and tits.