I've been dating this beautiful blonde girl for a couple of months now and I'm really into her, so I decided to take her on a romantic trip, showing her some of my favorite childhood places, in particular, a nice quiet spot in the middle of the woods, where I used to come as a child to play. I could tell she was appreciating me sharing such intimate moments, places, memories and emotions, I just didn't expect her to get turned on by that! When I asked her what she wanted to do, she gave me a dirty smile, reached over and started massaging my cock over my pants! She whipped it out and began sucking and stroking it. As it turns out, fucking outdoors was one of her fantasies! While she deep throated my cock I played with her pussy and ass, pulling her panties to the side, spreading her ass cheeks with my fingers and watching her delicious, tender little asshole. She leaned back against her seat, spreading her legs wide open, pulling one of her tits over her dress and masturbating herself for me. That's when I noticed something in the rearview mirror, but before we had a chance to react, we had a woman aiming at us with a shotgun! She was a blonde country girl with a cowboy hat and sunglasses and I guess we had trespassed on her land. Once she realized we were just the horny couple and weren't a threat she turned around and left. I will still trying to catch my breath, when my girlfriend called her back! Not just that, she asked if she wanted to join us! Okay, that I did not expect! The sexy blonde got on the backseat with us and my girlfriend started eating her out! I'd never seen two girls eat pussy before, at least in real life. My horny girlfriend spread the blonde's pussy lips and slowly pushed her tongue into her, until it was as deep as it would go. She was smiling at me, kissing and licking her clit. "Do you want to see me suck my bf's big cock?" she said to the country girl. She pulled my shorts, freeing my big, hard, beautiful cock. Then she started sucking my cock with the sexy country girl watching her, feeling a little embarrassed of what she was seeing. My cock was rock hard, standing out like a pole. "Touch it, if you like." my girl tempted. The naked blonde reached out a hand and grasped me, making me flinch. She looked first at my GF, then at me, and slowly placed my cock into her mouth. She sucked the end, making me close my eyes at the sensations I was feeling. My girl continued to suck my cock, their lips pressing together hard, moving up and down my cock. "Do you like having two naked girls suck your big dick?" This was so erotic! I must have been in heaven by now! They were licking my dick and balls together! My girlfriend wanted to watch me fucking with her so the blonde straddled herself on top, of course, riding my cock in cowgirl position! My girlfriend caressed her naked body and rubbed her pussy, totally turned on by watching us fucking in front of her.

THE HOTTEST TEEN SLUTS IN THE BEST AMATEUR SEX VIDEOS YOU HAVE EVER SEEN: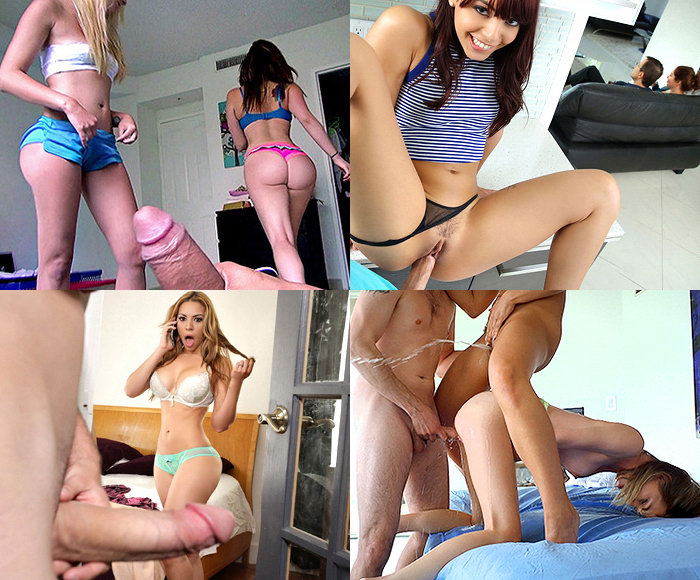 I laid motionless so that I could enjoy the incredible sensations, letting the young naked girl slowly move up and down, her vagina was squeezing my cock, my girlfriend's hands were rubbing my balls. Her hands were caressing my balls, her clit and her nipples. The sexy blonde had a nose piercing and small titties and she was drenched in sweat from riding my dick by the time my girl took her place, riding me in reverse cowgirl while she played with her beautiful bubble butt. The naughty blonde massaged her tender asshole with her fingers while she got stuffed on my cock. She told us she didn't get many visitors so she was happy to find a hot couple to fuck! We moved to the back of my truck, where the naked girls had hot lesbian sex, one on top of the other, swapping saliva as I took turns fucking them hard from behind! The girls shivered with delight as my hot hard dick fucked their pussies. "I want you to cum in her! cum in her! fill her with your cum and I want to lick your nasty cum from her fucked cunt." Within minutes she felt the spurts blast into her pussy, filling her to overflowing. My hot girlfriend really wanted to lick the cum out of her cunt, she wanted to clean up that mess for her. Now we have threesomes every week!