My sexy stepsis was being real nice to me, which is kind of not usual, I figured out something was going on. She was wearing a sexy pink top with matching shorts and she looked really hot. After bidding around the bushes for a couple of minutes, she finally came clean, asking if I could loan her $300! Now that's a lot of money, so she was going to have to do a lot to earn it. She said she was willing to do anything for it, and believe me; I took her on her word! She was looking so sexy in that pink outfit, it made me wonder how she would look naked, so the first thing I asked her was to strip naked for me. At first I didn't think she was going to do it, but there she was, taking off her top and shorts for me. She was wearing sexy red lace lingerie underneath. I made her turn over, the G string of her sexy red thong dug into the crack of her juicy round butt. Her ass cheeks were as gorgeous as I had imagined, too. I just wanted to kneel there and eat her pussy and ass! I wanted to see more, so I told her to take off her bra. The money was for front stage tickets for her favorite band, so I knew she was going to go as far as I told her before missing them. My stepsister has tiny breasts, nice and firm, her nipples were already perky and erect. I think she was beginning to enjoy getting naked for her step brother. I made her take off her thong and her precious pink clam gave me a big hard on. Her pussy was nice and shaved and I whipped out my hard cock and told her to suck it! Yeah, baby! She didn't want to do it, yet was persuaded to give me the suck off I was asking for. She took my dick in her tiny hands and gave me head, slurping my sausage and licking my balls while jerking my rod. I told her she would get her $300 after letting me cum in her mouth! She really didn't want to swallow it, but I left her no choice. I held her head there until I shot my warm, oozy cum in her mouth, it was awesome! I pulled my cock out, a river of white sperm ran out of her open mouth. "swallow it!" I told her, her tongue went out to lick it off. I filled it with hot semen and watched her swallow it all like a good girl! I gave her the money, she earned it, and thought that was it, but as it turned out, my stepsister came around a couple of hours later in a sensual outfit, looking for more cock! I stripped her naked, she looked amazing! My hot naked step sister was smiling at me as she spread her legs wide open on her bed! Her young wet pink pussy begged to be fucked. I rammed my hard cock deep inside her tight pussy, fucking her in missionary position! I began slamming her as hard as I could. "Oh fuck yeah!" she screamed as I fucked the shit out of her. I was pulling my cock all the way out before thrusting deep inside her again and she released a loud yelp each time I did. I was slamming her so hard I could feel her juices squirting out around my cock and dripping down my thighs.

SLUTTY SISTERS WILL DO ANYTHING TO KEEP FROM MOMMY AND DADDY FROM FINDING OUT: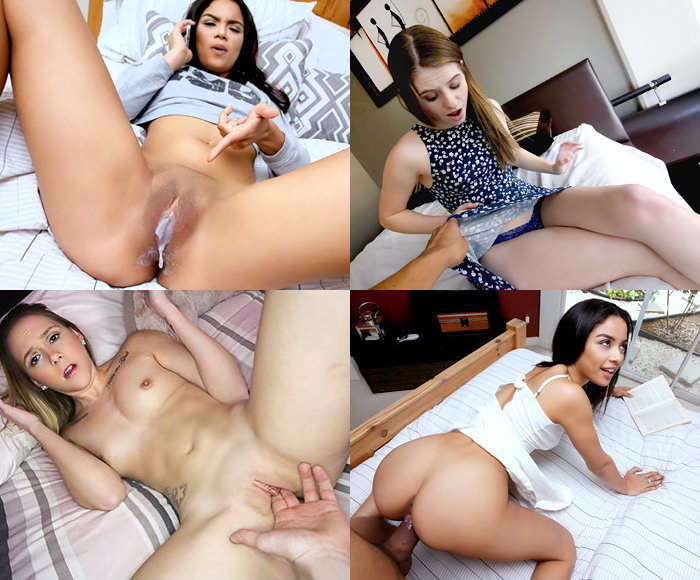 Straddled herself on my lap, the little slut began sliding her hips back and forth, riding me. I placed my hands on her hips, guiding her hips as she teased my cock with her hot pussy. Her little pussy was making wet sucking sounds every time I pulled out of her and again when I drove back in. She was riding me in cowgirl position, screaming at the top of her lungs. I grabbed her neck while pounding her hard and she flipped over, making her juicy bubble butt bounce on my lap while riding me in reverse cowgirl. She confessed she didn't expect to get so turned on with all the dirty shit I made her do, but now all she wanted was to suck and fuck my cock and eat my cum!