Our good old coach retired and I was surprised when I found out our new coach was a hot mature blonde. She called me to her office for a checkup, and after measuring and weighing me she ordered me to drop my shorts! WTF? She thoroughly examined my junk, squeezing my cock and balls until she was satisfied. At that point, I had a throbbing erection! A hot blonde with a juicy booty, big boobs and a body perfect for hardcore sex, that's the best way to describe our new coach. I left her office and told my friends all about my encounter with the new coach in the locker room. When we heard her calling us, one of my friends hid inside a locker and when the coach saw me all alone, she actually lifted me over her shoulder and put me against the lockers. She pulled down my pants, exposing my cock, kissing me while stroking it. She was so fucking strong, she actually lifted me against the lockers, making me place my feet on her muscular thighs as she popped my cock into her wet mouth and began sucking me like mad! The new coach was making me her bitch in the locker room! She stroked my cock while sucking on my balls, removing her shirt. She had the biggest and most beautiful ripe tits I had ever seen in my fucking life! My friend was watching from the locker as the cougar made me strip naked, leaning over the bench and ordering me to pull down her shorts, exposing her beautiful tight ass as I slid them down her long, toned legs. She pushed my face against her naked ass, burying it between her butt cheeks, making me lick the crack of her ass and her tender little asshole while making her butt and tits bounce. The taste wasn't nearly as bad as I thought it would be. MMM, her wet pussy tasted so good! I ate her muff, pushing my pink tongue between her tender pussy lips and drinking the sweet juices that gushed from her slit. She grabbed my head and shoved it between her thighs, she shoved her big clit in my mouth and made me suck on it. Why didn't all three of us take our chance of fucking her in all of her holes? After eating her out and finger fucking her cunt she took me in her powerful arms, putting me in a pile driver, sucking on my cock as I continued eating her out! Love the standing 69s. So hot! Our naked coach gagged loudly, her face becoming more red as my balls pressed against her nose, my cock was even deeper in her throat than before. I was ready to cum in her mouth but she controlled all at that moment. The hot naked woman made me lie flat on my back on the bench, straddling herself on top, pushing my cock into her tight pussy.

THE HOTTEST MILFS CAUGHT FUCKING IN SNEAKY, RISKY AND CHEATING SCENES: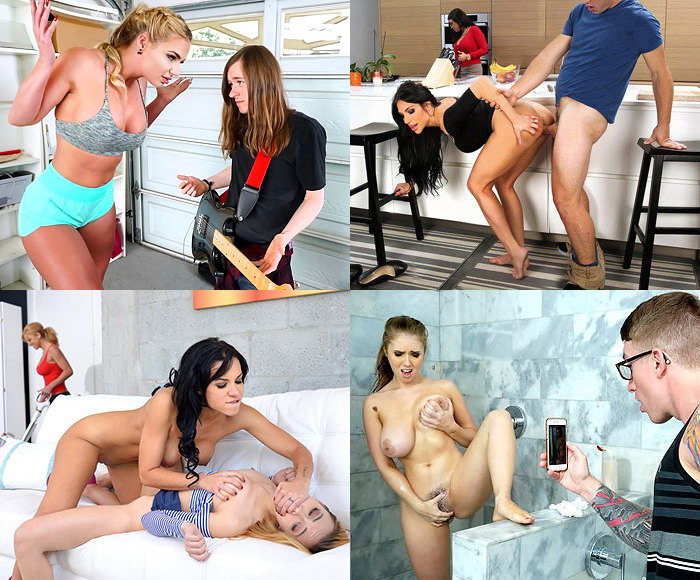 I could feel her pussy muscles clamping against my dick and I was honestly worried she was going to break my cock in half like a twig! She rubbed her muff while riding on my cock in reverse cowgirl, flipping over and riding my dick while facing me. She pressed her strong body and her big tits against my chest. I started sucking on her hard nipples and licking her big tits. I could feel her pussy throbbing and her juices spilled all over me. She pushed me onto the floor, spread her legs, and drove my tongue deep inside her wet cunt. The naked woman stood spread legged and bent over, jerking and sucking my cock while I licked her gushing pussy. Then continued riding my cock with her legs split super wide open. She got on her hands and knees, making me penetrate her doggie style from behind and then lay down all over her as if I was flying! Man, I just love the new coach! She did all types of maneuvers with me. She sucked and fucked me and she got my man juice all over her face.