My stepsister is a crazy bitch! My dad remarried some months ago, and his new wife and stepdaughter came to live with us. At first my new step sister struck me as an average girl, maybe even shy and introverted, but lately, she's started growing out of her shell, and in what a way! I was used to look at her ass and tits. She was always walking around the house just in her panties and bra on. One day she asked me about masturbation, but I was reluctant to talk a lot about it with my own step sister. Then she called me into the bathroom and when I opened the door I found her totally naked, leaning against the sink, on her tip toes and masturbating herself! She had this big smile on her face and she didn't even flinch, much less stop, when I came into the bathroom! I was standing there, looking at her titties and her pussy. It was amazing. Her nipples were hard. Her pussy lips were thick and glistening with her pussy juice. She made sure I got a good look at her naked body. I didn't really know what to do, my first impulse was to leave, but she took me by the hand, telling me that she needed more than just her fingers to get herself off. Can you believe this? My very own stepsister wanted me to fuck her! But wait, she's not actually my sister, and she's hot as hell, naked and ready to go, I would be an asshole to let this pass by! I reached out, cupping her big tits in my hands, feeling her perky nipples and caressing her soft naked body. Her titties were so hard from this lustful excitement! She got down on her knees, unbuckling my pants and releasing what by now was a raging erection! Just like that, she popped my cock in her mouth and began sucking on it. She put a towel on the floor, got down on her hands and knees, jutting up that beautiful bubble shaped ass so I could penetrate and fuck hard doggie style from behind! I couldn't believe I was actually doing this, but before I could think it twice, my cock was already rammed it deep inside her tight pussy and I was pounding her brains out! Her ass made loud smacking sounds against my crotch and I was just about to cum when we heard noises downstairs, probably our parents coming back and we had to stop! She looked at me, panicked, then pulled my dick of her cunt, grabbed her clothes, and ran to her room. A couple of hours later I found her in my bedroom, down on all fours, with her panties down her knees, her juicy naked ass high in the air and all exposed, ready to pick up where we left off! She took off her bra, I leaned forward to take her nipples in my mouth, I couldn't help myself, I had to suck on them. I played with her tits and ass and begin fucking her again, watching her rubbing her pink snatch while we did it.

SLUTTY SISTERS WILL DO ANYTHING TO KEEP FROM MOMMY AND DADDY FROM FINDING OUT: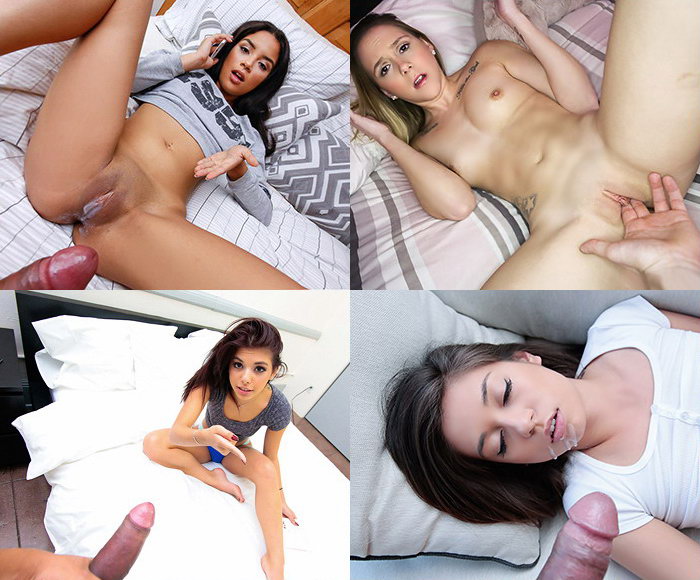 She started kissing me passionately as she lay on top of me, lowered herself over me fitting right on my dick. She began to move up and down on my shaft, ever so slowly, squeezing my dick with her vagina. Then rapidly, taking my penis all the way inside with each downward thrust. I grabbed a handfuls of her meaty tits while she rode me, sucking on her delicious nipples, kissing her wet lips and shoving my tongue down her throat. I rubbed her clit and listened to her sensual moans of pleasure as I filled her up and she rode me in reverse cowgirl, making that delicious bubble butt bounce up and down, giving me a great view of her cute asshole. My sexy naked step sister wanted me to fuck her while our parents were not at home, she rode my dick, sucked my dick and balls, got fucked doggie-style… After a while, I pulled out of her pussy, blowing creamy loads of hot cum all over her face and open mouth. The teen slut licked her lips slowly, tasting and licking off my cum. Now, every time my stepsister is feeling horny, instead of masturbating she calls me over to fuck her!