Man, I don't know what to do! My slutty step mom wants my dick every time my dad doesn't see and fucks me till I fill her mouth or cunt up! I feel bad about fucking my dad's wife, but she's a smoking hot blonde cougar with a sizzling body, big tits, juicy ass and incredible sex drive! She tells me my dad can't satisfy her and she prefers younger guys with bigger cocks like me! I'm playing video games when she sneaks behind me, putting her hand over my mouth while stroking my cock! She tells me to take her to the bedroom, she's wearing this sexy pink dress and all I can think about is ripping it off her body, until we bump into my dad! "Quick! Hide your dick" He's on his way out, and as soon as we hear the door close, I drag her to the bedroom, pulling her dress over her hips, slapping her juicy ass as I jam my hard sausage deep inside her wet cunt. I kiss her soft lips while fucking her hard from behind, reaching over and groping her big tits over her pink dress. "Yes, fuck me, harder… and never tell your dad about this…" I grab her tits with both hands, squeezing them hard, pinching her nipples hard, pulling her body against mine, fucking her faster and faster. Damn that mature mommy pussy feels good, and her whopping tits just add to how splendid of a sexual experience this is. My step mom is moaning with each thrust of my cock, she gets vocal. "Oh, yes honey! Oooooohhh, yeeeahh! That's it, that's IT!" I lie on the bed and let her suck my cock, drooling all over it as she licks my balls and strokes my shaft. The naked woman pops her big tits out of her pink dress and rubs her swollen nipples against my pre-cum soaked dick. She strips naked as she climbs on top of me, pressing her beautiful naked body against mine. I can feel her big tits on my chest and her warm crotch on top of my dick as she slowly pushes it inside her. She's wet, hot and very tight for a woman her age. She plays with her huge tits and her snatch while bouncing up and down my cock in cowgirl position. She tells me how much she enjoys riding young bucks like me. I know this dirty bitch is much more than my dad can handle, so I guess I just help him with the handling, LOL! "Hell if my dad came home now we would be in deep shit" But she does not hear. She is riding my hard cock… pumping and grinding her clit rides the length."Fuuuuckkkk!" she screams as she begins to buck with an oncoming orgasm. Her body quivers and shakes and her head rocks side to side whipping her hair across my face.

SEXY MOMS IN HOT SNEAKY SEX SCENES YOU WON'T SEE ELSEWHERE: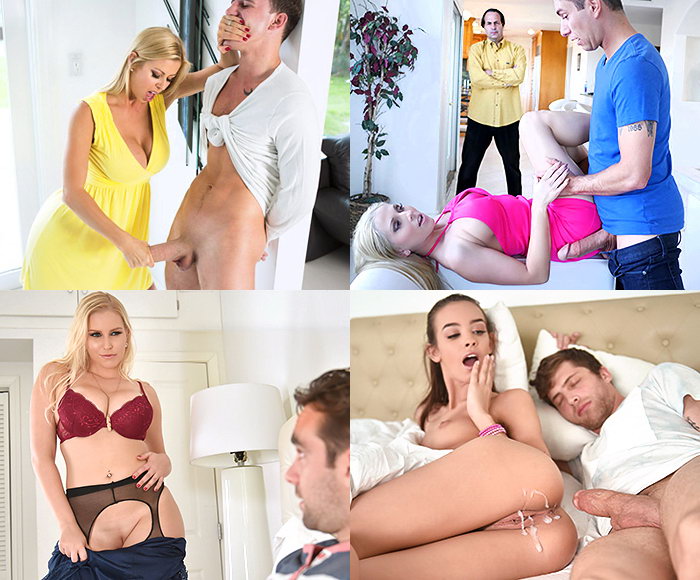 I kiss and lick her nipples, massaging her boobies with my hand. I put her sideways, penetrating her from behind and fucking her hard and fast. This bitch needs a guy that can keep her rhythm and lasting long time, until she's fully satisfied. I grab her by her golden hair, pulling on it while I pound on her muff. I look at her and my sexy step mom is looking into my eyes as my hard cock starts pumping faster and deeper now. I put her on top of me in reverse cowgirl, leaning against me, kissing her lips while banging her snatch and feeling those big tits, spreading her legs apart so I can give her the good fuck a slut like her deserves. "Harder! Fuck me fuck me fuck me! Fuck me until I come!" Her cunt grips my cock like a fist. Yes, she won't let me go till I fill her mouth or cunt up with my hot cum! My dad comes around once in a while wondering why such a hot cougar like her wants to stay married to him, and I tell him it's all about the cock, he just doesn't know I'm talking about my cock, not his, LOL!