Having sex with young petite girls is just so much fun! I have never dated tall girls, and I prefer chicks much shorter than me because with that size and weight I can put them in the kinkiest sex positions! Just like this sexy blond slut! I have her hanging upside down from behind me, legs and arms wrapped her on my body, with her head between my legs, sucking and licking my big cock and balls, isn't that just fucking hot? I change position, so all that blood doesn't rush to her head and make her dizzy, LOL! I sit on the couch and the tiny girl gets on my side, sucking and stroking my big fat cock. She is fully naked except her boots. Hot naked girls wearing the Uggs it is a turn-on for me! I love the sucking and popping sounds she does while giving me head, they are so sexy. Instantly she's swallowing my huge cock whole, slobbering all over it. I just kick back and enjoy the blowjob, catching my breath a little bit from flipping her over my head like a flapjack. She deep throats my dick all the way down to my balls, like a boss. I smell her blonde hair; I love chicks with good smelling hair, don't you? Hey, man, I have sophisticated tastes! I push her face down on my cock, making her choke and gag on it, feeling the drool dripping from the sides of her lips, down my shaft and balls. Feels good! I straddle her on top, in reverse cowgirl position and let my huge cock sink slowly into her tight cunt, stretching it out inch by inch. "Ow! please! My pussy's too little for you!" "Almost there" I say, shoving my big cock into her deeper and deeper, until it's totally in. Smaller chicks have tighter pussies and it feels awesome when you have a massive cock like mine. She opens her legs and looks down, seeing my cock sticking out of her. Her labia is spread out around the base of my cock. When my cock is all the way inside her, I can feel her vagina muscles contract inside and compressing my cock. I rub her slit while making her bounce up and down my shaft, moaning and grunting. I can tell she likes it by the way her body trembles as she takes it all in. She rubs her clit while riding my cock, placing her feet over my thighs, pushing herself up and down as I hold her hips. She pushes her crotch down onto my shaft, moaning as she feels my hot cock throbbing with life. After pounding her like that for a while, I give her what these young girls all cum here looking for: The Full Sex Nelson! It's a wrestling power grapple turned into an incredible sex maneuver that drives them crazy! The girls scream like bitches when they are in the lock and getting their tight pussies pounded hard and they always ask for more. I get up with her wrapped around my body and keep pumping that pussy with dick meat while standing. You can't do shit like that with a tall chick or a fatty! I have one of them amusement park signs on my door that reads "You have to be this short to ride my cock!" LOL!

YOUNG GIRLS GET THEIR LITTLE PUSSIES DESTROYED BY BIG COCKS: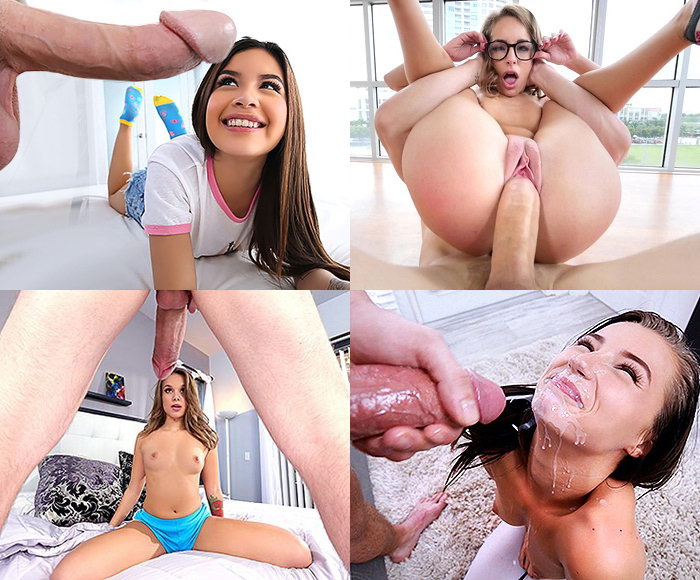 I pin her shoulders on the rug and power fuck her pussy. The long, thick, rock-hard big cock is sliding so deep into her with such force! She feels like her pussy is being stretched by my huge monster. Her only point of control is that she could squeeze my cock with her cunt. Then I place the tiny girl over the sofa's back rest and plow her in missionary, slamming my cock into her when I feel her pussy tighten so hard that I can't even push my hard cock back in. Then plow her hanging on to the wall with her feet in the air, slamming my big cock into her beautiful little body deeper and harder making her moan and cum. "I need it so bad, please please cum in me! deep in my cunt!" Yes, I'm ready to fill this bitch up with cum! With each thrust I shoot my warm semen into her womb and with each thrust she cries out in pleasure! Seconds later my cum began to squirt out of her pussy by force. One more teen nympho is satisfied!