I hadn't seen my girlfriend in a long time, so when I came over her house to visit her, I brought along a special porn stash to help us along our way. My girlfriend had a surprise for me, her mom wasn't there and she wanted me to meet her. After greeting her, my girlfriend went to fetch me a glass of cold water, leaving me all along with her mom. In that moment, the lady reached over and grabbed my stash, confiscating it! Can you fucking believe that? Luckily my girlfriend came back to rescue me and took me to her bedroom. I told her what had happened with her mom but she told me not to worry. I wanted to fuck her so bad, it had been weeks since the last time, but she was worried her mother would catch us. I had already started off on the wrong foot with her, the last thing I needed was for her to catch me banging her daughter, but I was too fucking turned on, so I took my chances! Especially when my sexy blond girlfriend lifted her top and started teasing me with her beautiful titties. Her areolas were large and slightly swollen. Her pink nipples looking so enticing. She got down on her hands and knees and let me pulled her shorts aside, exposing her sexy cotton panties. She was turned on! She took the shorts off, pulled her damp panties aside again, and parted her legs so I had a good view of her pussy. Her big meaty pussy lips were already wet! My naughty girlfriend started masturbating in front of me, rubbing her succulent pussy lips with her finger and fondling her clit. She looked so fucking hot while playing with her naked pussy! She made me lie on my back, whipping my throbbing cock from underneath my pants, taking it to her wet mouth, licking and sucking, stroking and jerking, her beautiful eyes fixated on mine. "I wish I could just suck on it forever." my girl placed it back in her mouth and sucked on it gently, licking my shaft from bottom to top with her tongue. I asked what would happen if her mom came in. She smiled and said, "Don't worry about that" making loud sucking noises as she deep throated my boner, drooling all over my shaft. I thought I would explode all over her cute face, but that was just the start of it! Taking control, she straddled my cock pulling her panties aside and lowered herself onto my erection. "I want to ride your big cock, baby" she said, holding my cock and guiding it into her soaked cunt. Slowly she impaled herself on my rock hard erection. Once her tight vagina had got used to my hard cock she began to slide up and down on his shaft, riding me in cowgirl position, fucking herself harder and harder. My sexy babe squat and made her body bounce up and down, rubbing her pussy with her free hand. She flipped over letting me watch that delicious bubble shaped ass twerking as she continued riding me in reverse cowgirl, grinding her pussy back and forth, pleasuring herself. My girl has one of the biggest and sexiest asses ever! She looked back to make sure I was enjoying the ride as much as she was, of course I was! She got down on her hands and knees, anxious to get her pussy fucked doggie style from behind. "Now fuck me doggy style." she ordered. I pumped my girlfriend from behind, enjoying the view of her plump ass cheeks. "Ohhhhhhhh yeah, that's right, fuck me harder" Nothing could ruin this moment, well, except maybe for her mom knocking on the door! Fuck that shit!

THE SEXIEST GIRLS CAUGHT FUCKING IN AMATEUR, POV, RISKY, SNEAKY, CHEATING SEX SCENES: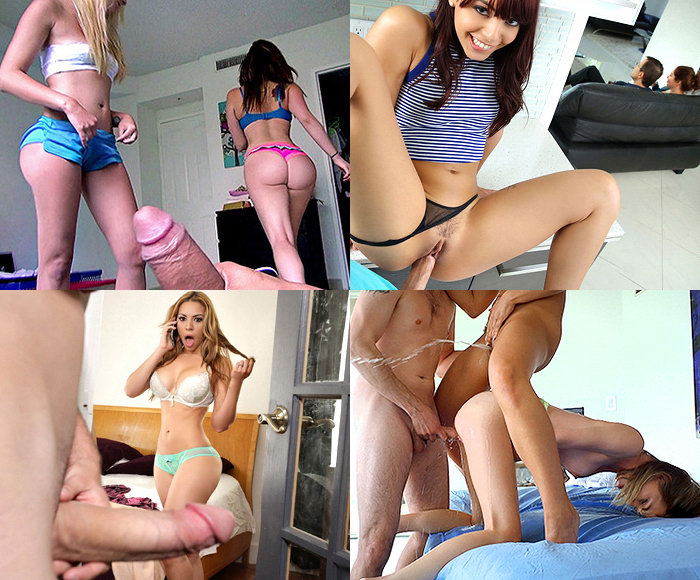 I managed to hide behind the bed just in time as she opened the door and left some stuff for her daughter. If she would have seen a naked and fucking it would have been all hell breaking loose. My crazy girlfriend got back on bed and spread her legs wide open. I did as she demanded, thrusting my dick deep into her cunt over and over, fucking her with long strokes that got faster and faster. I thrust into her, cock throbbing, eager to release my sperm. She was moaning in ecstasy, telling me she wanted my cum all over her face. "I want you to cum all over my face!" Almost getting caught by her mom definitely turned her on! I began to cum all over her lips, chin and tits when her mom came in the room! "What are you doing? Keep your dick out of my daughter!!!" My girlfriend opened her mouth in shock but I just couldn't stop cumming and began to fill up her mouth!