My boss's daughter is staying with him while his ex-wife is away on a trip, so he's been working from home and called me over, telling me to pass by his place to go over some documents. A while later his daughter got out of classes and got home. Man, she was a sexy 18 yera old teen slut and she looked so hot in her skimpy schoolgirl outfit! This girl was so smoking hot and fucking sexy dirty, that I just couldn't stop thinking about her wet little pussy and my dick got hard. She sat right next to me on the other side of the kitchen counter and while her daddy was taking a business call, she hiked up her skirt and showed me her delicious pussy barely covered by a translucent white lace thong! Looks like the boss's daughter is a nymphomaniac! After teasing me with her wet pussy, the teen slut left us to keep working and a couple of minutes later I excused myself to go to the bathroom. I got lost along the way, took a wrong corner and found myself by his daughter's bedroom door. She had left it open and she was down on all fours on her bed, still wearing her sexy schoolgirl outfit, her thong pulled to the side as she viciously rubbed and fingered her gushing pussy! Fuck! Her naked ass, her wet slit looked so inviting! I snapped some pics while checking her out and when she realized she was being observed, she gave me a coy smile, slipping her thong off and slinging it in my face! She motioned me to come over, grabbing the throbbing bulge under my pants and pulling them down, in awe at the sight of my huge cock in full erection. Slowly and very gently, she rubbed it against her cheeks, brushed it against her soft lips and began licking the tip, slowly engulfing my thick rod and sucking it. The sexy schoolgirl got on her knees, giving me a hand job and blowjob combo when I heard her daddy down the hall! When he saw me in his daughter's room I made up some stupid excuse, fortunately he couldn't see his slutty daughter sucking my cock behind the door and he swallow it whole! He left and I was free to enjoy his hot daughter! I lied flat on my back on her bed, straddling her tight body on top and making her ride my dick in reverse cowgirl. Her pussy was gushing as she rode me and I grabbed her tits and rubbed her muff. I was totally lost in the feeling of her tight pussy. I put her sideways, pounding her hard from behind, pressing her sexy naked body against mine, driving my cock between her swollen pussy lips. She turned over onto her back and was now showing me her open pussy, her sexy tits with nipples poking out and her pretty face. She spread her ass with both hands, exposing her beautiful tight little pink asshole.

THE HOTTEST TEENS CAUGHT FUCKING IN SNEAKY, RISKY AND CHEATING SCENES: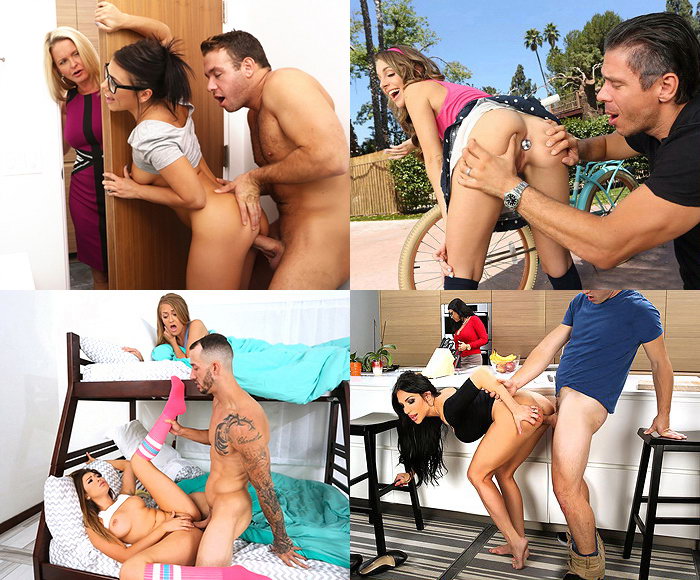 I began to fuck her spread legged in missionary position. I hold her legs and positioned it over my shoulder. With each thrust the little slut given loud scream! I put her down on her hands and knees, penetrating and fucking her dripping wet pussy from behind doggie style, placing her wrists behind the small of her back as I did so. I was a little scared we would get caught by her father but she could care less as I pounded her from behind. "I want you to fuck me like a whore till I am screaming. I want to be your fucking whore." She lied on the floor in the most enticing way, so that she was almost upside down, with her lower back and legs raised all the way up so that her ankles either side of her head. She was completely exposed to me. Her pussy gleamed with slick juices, dribbling down to her tight anus. "Fuck me like that!…Harder!…Really pound me!" I pounded her cunt and ass slapped my boss's sexy daughter and blew my creamy load all over her! Dont miss this hottie sucking and fucking like a real champ in this sneaky sex scene, smoking hot!!