We are always hanging out at our friend's place, because his mom is a hot big titted MILF and we love watching her! I took a break from playing video games and went to the bathroom, and to my surprise, I walked in on my friend's hot mom as she was showering! Man, I was the first one to see her naked! She was massaging those big bubble tits under the hot water and I snapped some pictures. I could hardly believe I was getting footage of her big tits and sexy ass! The beautiful naked woman was standing in the tub and with soap all over her body. Images of shooting my cum all over her gigantic tits was flashing before my eyes. Her tits were huge, looked like they were about to burst. I quickly pulled out my throbbing dick and held it in my hand. I was so horny! Then I stripped naked and sort of invited myself to join her in the shower! She was quite surprised, covered herself with her hands, but her boobs were too big. She was so surprised that she did not know how to act. I was standing naked in front of her with the bottle of shampoo in my hand. I saw her breathing quicken. I asked her to help her to apply the soap on her back. She saw my throbbing erection and decided it was okay for me to stay there with her and help her shower. I poured liquid soap all over her big melons, squeezing and fondling them with my hands as she pressed her hot, wet, naked body against my crotch, reaching for my big cock and balls and massaging them with her soft hands. The sexy MILF had my dick and nut sack all soaped up as she got down on her knees, sucking and stroking my member, wrapping it between her huge tits and giving me a boob job. Her tits were so big that I could just make out the very tip of my cock as it was sandwiched between her funbags. I fucked her tits and I was having the time of my life when my friend came knocking on the door letting his mom know his dad was on the phone. She told me to stay quiet as she left the shower to take the call. I got dressed and rejoined my friends downstairs, showing my other friend the hot naked pictures I took off our buddy's mom. He excused himself and went upstairs to see if he could also get lucky! He found our friends mom naked, massaging her big tits and hot body with lotion in her bedroom and started jerking off to her. It only took her a few seconds to notice him there, I guess she's used to having her sons friends perving on her! The naked woman grabbed him by his cock and dragged him to the bedroom, where she got down on her knees, sucking and stroking his member too. She made him sit by the edge of her bed, straddling herself on top, pushing his cock inside her dripping wet cunt and riding him. In the meantime, I was downstairs, playing video games with my buddy when I could be upstairs fucking his hot mom instead. Exactly what my friend was doing! I just couldn't stop thinking about her huge tits. I made up some excuse I went upstairs again and when I found our buddy's mom riding my friend, I joined in, ramming my hard cock deep inside her tight asshole!!! She was in shock when she felt her ass was being violated, but the horny mom liked one more hard cock sticking in her ass. We began double penetrating her together! We had this beautiful MILF slut sandwiched between our hard cocks, rubbing her pussy while we played with her big tits, fucking her both holes, making her ride our dicks. I began slamming her as hard as I could. "Oh fuck yeah!" she screamed as I fucked the shit out of her. I saw that my friend had already begun to cum all over her face!!! He exploded, filling her mouth with his sticky sperm. At that moment I felt her anus clenched around my cock tightly and she cried out loudly and wordlessly and humped her ass up against my pushing my cock more deeply inside her than I thought it could go! She began to wail loudly as she starting cumming, when she felt her ass being filled with my hot cum! My cock stuck in her ass spilling out load after load of cum deep in her ass. The MILF was standing on her knees with cum running out of her ass and mouth onto the bed! We quickly got dressed and returned to the living room. Now we visit our friend more often to play videos games with him and fuck his hot mom!

HOT MILFS TEACHING TEENS HOW HARDCORE FUCKIN IS DONE: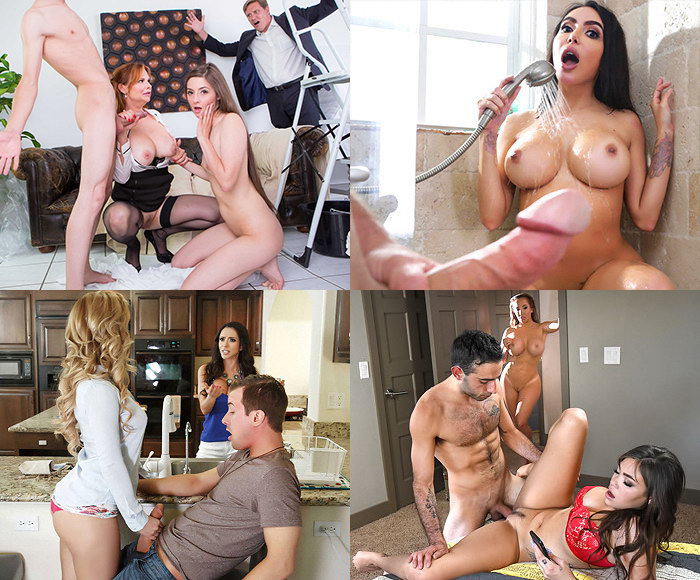 Epic Double Penetration scene! Arrella… killing smile, fucking sexy hot, perfect MILF she got everything to be the best MILF! Absolutely loved it! Not only is Ariella uber voluptuous, not only does she have a radiant personality, and not only does she give everything to a scene, DAMN DAT BITCH HAS GOT SKILLZ! From start to finish this was a masterpiece. Starting off with a little 1-on-1 action and then emerging in to a full feathered perfect DP scene. It had the perfect balance and everything you would look for in a ouble Penetration. Loads of DP action, loads of anal and seasoned with Ariella fucking and sucking cock at the same time. This MILF has the focus, the concentration, to suck one guy off to completion all the while her gaping asshole is getting just absolutely pounded by the other dude. LOVE the facial while she's getting fucked from behind, amazing! I dare even say this storyline should be its own site here on Brazzers because I will NEVER get tired of this! Dont forget to download the full scene!!!