My girlfriend and I just love to fuck I would do it all over the house. There shouldn't be any problem with that, except for the fact that we have a roomie, and it's not unusual for her to walk out of the shower and find my girl down on her knees and sucking on my hard cock. Then she was watching a movie on the couch and my girlfriend was looking sexy and hot and we were both pretty horny so I bent her over the dinner table, hiked her dress and started fucking her tight pussy from behind with my big hard cock. When our roomie got up to replenish her snack tray and saw us fucking right there she got startled, throwing those snacks all over the place, hilarious! With all that sexual tension in the house, at some point it was more than obvious that these encounters with and up in a steamy threesome. It happened in the living room. We were watching the movie with her, with a blanket covering our laps and pretty soon my girl was stroking my cock underneath it. There is nothing better than soft hands of my girlfriend stroking my cock. Soon our roomie noticed that my gf was stroking my cock. Pre-cum was leaking out of my cockhead and all over her hand, she was looking directly at my stiff cock. We knew we couldn't let this chance pass. My girl laid back over her lap and drew her close to her and just like that, the girls started making out! No doubt about it, she was in! They were kissing while I was fingering my gf's wet pussy. The girls stripped down to the tank tops, pulling them over their tits, spreading their legs on the couch and mutually masturbating their pink pussies while I watched. This was hot! I watched her masturbate my girlfriend knowing she was into it. The girls got down on their knees and my girl took my hard cock in her hands, offering it to our roomie. "Are you sure?" she asked, with a sweet and naughty smile on her face. She popped it into her mouth and gave me a sweet blowjob while my girl gave me soft kisses all over my body. She couldn't take all my fat dick, but she took in as much as she could. My girl got on her back and spread her legs so I could fuck her tight cunt in missionary position with our roomie watching us doing it. She licked and fondled my girl's breasts and kissed her tender lips. Watching two naked girls making out while I fucked my girlfriend got me so fucking hard, man! The roomie took my cock in her hands, sucking it to lube it up and spit over my girl's slit to lubricate her too. My gf's pussy had never been so tight. I was feeling her pussy become elastic and tighter with every kiss and every touch of our rommie. It seemed the more the girls made love the tighter her pussy became. We kept fucking, with my girl straddled on my cock and riding me in reverse cowgirl, with the roomie spreading her ass cheeks, caressing her beautiful ass and masturbating herself by our side. Finally, it was her turn. I knew she couldn't wait, and neither could I! "I want to see you fuck her. Climb on him and put his dick inside!" The hot teen straddled herself on top of my cock and buried it into her tight pussy, riding me in cowgirl position.

HOT TEENS SHARING BF'S COCK IN AMAZING POV SEX SCENES: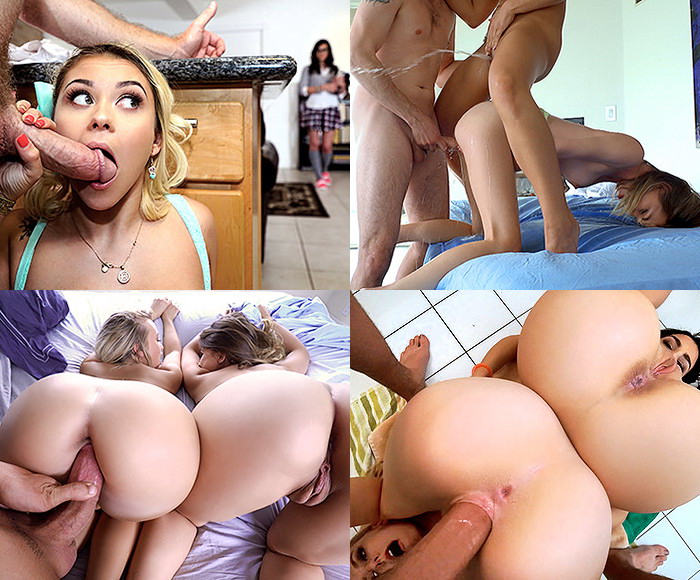 My girlfriend was as excited as she was watching us fucking! She was rubbing her clit watching my dick enter our roomie beautiful pussy. Her pussy looked so good. I could feel every inch of her tight vagina and it felt wonderful. My girlfriend decided to try something new and stood over the girl's face and began to rub her wet pussy lips over her face! What an incredible sight, to watch two naked girls riding my cock. An hour later I blew my load all over them! Naked girls continued kissing, licking and sucking my big cock and each other. Their faces were covered in a thick layer of sticky cum! Now our roommate doesn't mind us fucking all over the house all the time, as long as we include her!