This sexy girl is having some problems with her computer, and since her dad is watching TV in the living room and doesn't seem too eager to help her out, she calls a tech guy to come over and take a look. The tech guy shows up in a couple of minutes, and the first thing he sees is the sexy daughter crawling on the floor in a pink top and sexy skimpy shorts while playing around with the computer cables under the desk. Now this looks promising! He gets to work, trying to stay focused while the naughty girl teases him with her spunky body and big tits. All of a sudden, she's not as interested in getting her computer fixed as she is in the young tech guy and the bulge between his legs! The teen babe starts flirting really hard with him. She tells him to keep quiet so they don't attract the attention of her daddy, absorbed in the TV as he may be, and begins massaging his bulge with her lovely cotton sock fitted feet! She pushes his face between her legs and makes him suck her pussy over her skimpy shorts. While he is on the floor taking the computer apart, the horny teen sits up on the desk and spreads eagle her pussy right in front of his face. She pulls her wet panties aside, grabs his head and presses it against her pussy, making him fuck her slit with his tongue, suck on her clit and lick her lips. She crawls under the desk, taking his big fat cock in her hands, sucking and stroking it and drooling all over his member and his balls. She is choking on his cock like a beast all while he is trying his hardest to keep quiet. She deep throats his member all the way down to his balls, making her gag and choke on it, her saliva dripping down his dick and ball sack and all over the floor. While getting his dick blown, he pretends his fixing the girl's computer so her daddy doesn't realize something fishy (or better yet fucky) is going on behind his back, LOL! Sneaky sex turns this bitch daughter on, she leans over the desk so the tech guy can fuck her young wet pussy doggie style from behind, pounding her juicy ass real hard. Dont miss this hot hot piece of ass! She rubs her pussy while he's fucking her and she makes him sit on the chair so she can straddle herself on top, letting that big fat cock sink into her pussy so she can ride it in reverse cowgirl. She just hopes her daddy doesn't turn around, because then they would have some explaining to do, LOL! She pulls her big tits over her pink top, letting them bounce up and down while she's riding that dick. An exquisite set of breasts (natural, thank you)! Luckily, the dad takes off so she can really go to work on his throbbing cock. She always thought that tech guys with geeky and nerdy, but this dude is a total stud and his big cock feels fabulous inside her cunt. She splits her legs wide open, placing them over the desk as she continues riding that meaty pole and the tech guy gropes and fondles her big tits, sucking on her puffy nipples. After fucking her in missionary on the floor, he comes all over her face and her big tits. What a great cum shot, right between her eyes! The computer is fixed for now, but who knows, this slutty girl might just need to call the tech guy again tomorrow!

YOUNG TEENS CAUGHT FUCKING IN SNEAKY, RISKY AND CHEATING SCENES: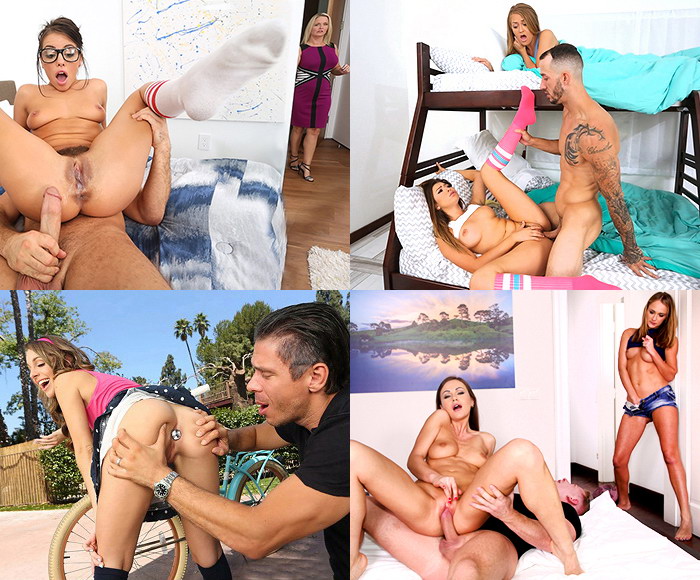 Sneaking behind somebody's back to enjoy a hot fuck is so nasty and hot, that's what you will find right here at this new RealityKings website! The danger of getting caught is well worth it for these sneaky sluts. They love sucking dick, jerking cocks, having their dripping wet pussies fucked very hard and getting blasted with lots of creamy cum right behind their lover's, boyfriend's, husband's, sibling's and parent's back! Watch guys sneaking behind their girlfriends and wives so they can enjoy a hot fuck with a sexy whore! Let's just hope they don't get caught in the act! Check it out!