My besties have been telling me for weeks how much they miss our sleepovers so I have finally decided to invite him over so they could spend the night, and I explained to them why I had put our sleepovers in hiatus, since I found out that my step brother walks in his sleep. He doesn't know it, but I had decided to get it on film, so I had proof! My besties were more than happy to help me out, and quite curious about this, since the girls had only heard about sleepwalking in the movies. A few hours into our sleep over, my sleepwalking stepbrother showed up, walking around in his tight boxer briefs and with his big hard cock showing through! You know when guys sleep they get these really rock hard erections, right? He was parading around the house like a dreaming idiot, and his hard cock was hanging out of his undies! The girls could not stop giggling, or thinking about how juicy it was. He sat on the couch and kept sleeping and my friends couldn't resist getting a closer look. After making sure he wouldn't wake up upon touching his cock, one of them took it in her hands and began sucking and stroking it. It was so wild watching my best friends blowing my very own stepbrother, but very kinky at the same time. I must confess my panties were drenched because of how wet I was! I got close so I could watch my friend sucking his cock but unfortunately he got up and sleep walked back. He threw himself on one of the couches, still totally asleep. This time, the girls decided get to work on his dick. One of my besties got it so fucking big and hard and it was glistening with her saliva, precum dripping from its tip. My friend saw the way I was looking at my stepbrother's cock and offered me to get a taste! I didn't even think twice, I just grabbed his cock in my hands and devoured it! This was the kinkiest shit I had ever done in my life and I had never felt so fucking horny, excited and turned on! While I ate his cock my friend lick and suck his balls. She stripped naked and straddled herself on top, riding it in reverse cowgirl while another one of my besties played with her big tits and rubbed her wet muff. Not even in his dreams could he get pussy this good, or conjure up a load of epic proportions like he did. Her pussy was sliding up and down "Oh fuck," I said. Of course I was getting all this on video like I promised, just the footage was turning out totally not like I expected… so much better! I wanted that cock to slide in and out until it exploded with cum and passion deep inside my hungry body. I was actually getting jealous of her. I straddled myself on top. I could feel the big head at the opening of my pussy. It was rubbing against my clit. I felt my own pussy dripping. I lowered myself down so that the head disappeared into my pussy and felt my stepbrother's huge cock inside me "Oh my god," I said. "That feels so good." I felt the big cock stretch my pussy. The girls began sucking on my nipples and rubbing my clit, it was amazing! I arched up to accept the full length of him inside me. His enormous cock was pulsing inside me.

YOUNG NAKED GIRLS IN A THREESOME, FOURSOME AND MORE-SOME SEX: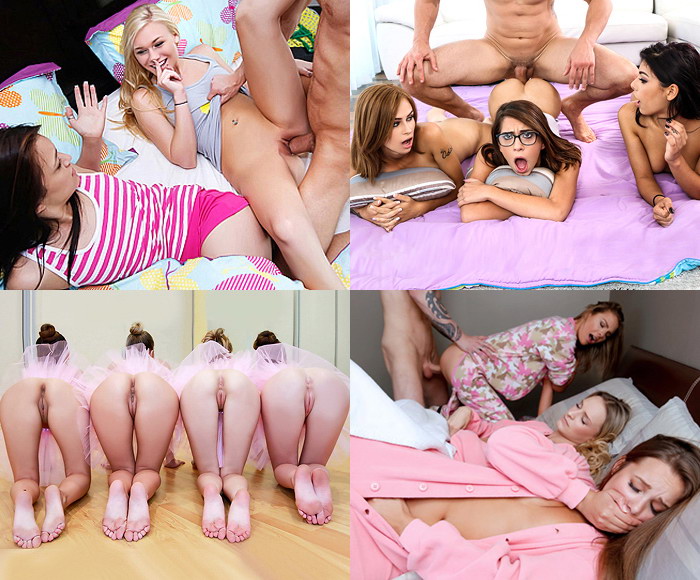 My sleeping step bro fucked all of us, rather, we fucked him! We took turns riding his cock and he even fucked us doggie style from behind in his sleepwalking trance. "I want his cum in my mouth" my girls panted. "taste, lick and suck his huge cock clean" they commanded. We pointed his cock directly at our faces and cum splashed across my face and into her mouth. Jet after jet of cum filled our mouths. I swallowed as fast as I could but I couldn't swallow all of it. Looking at my besties I open my mouth and let the hot cum run out of my mouth and in her mouth. Wew were kissing and cum swapping. I couldn't wait until the next morning so I could show my stepbrother the video and he could see how he fucked me in his sleep and blew his hot cum all over my face! Maybe he would do it again now that he was awake and could actually enjoy it!