I just turned 19 a few weeks ago and I'm on my way to college. I'm pretty nervous, I'm still a virgin and I have no clue regarding sex. I know my dad is concerned about it, and he must have touched the subject with my stepmom. Why else she come to my room early in the morning, telling me my dad wanted her to talk with me and asking what I do what I like a girl. My stepmom is a beautiful blond cougar with big tits and every time I see her I get a huge hard on. So when she asked, I had no choice but to pull the sheets down and show her this huge morning wood I was carrying. She understood that I was pretty clueless regarding sex and somebody had to teach me. Who better to teach me how to fuck than my sexy stepmom? She crawled on the bed, grabbing my throbbing cock in her hands and taking it to her mouth, sucking and slurping it like a delicious ice cream cone. I was groaning with pleasure, my hips moving in rhythm with her bobbing mouth. My stepmom's big tits and hands-on teaching methods will leave anyone satisfied and enlightened! I could see down her bathrobe, her spectacular big tits seemed ripe like grapefruits. "Want to take a look?" the beautiful woman took her bathrobe off and her huge boobs were now right in front of my face. Standing over my face she spread her pink folds, revealing her shaved cunt for me. I always got a hard on thinking how my naked stepmom looked like. I spent almost every night fantasizing about how a pussy would feel around my dick. Now I was close to experiencing it! She straddled herself on top of my lap, taking my big dick, position it between her pussy lips and rubbing it up and down the pink slit of her snatch. I could feel her soft skin and thin pubic patch grazing against my cock, sending tingles up my spine. I couldn't believe I was just about to fuck my very own stepmother! She pushed my member into her tight cunt, I couldn't believe how hot and beautiful my stepmom is despite her age, she has the midriff of an 18-year-old! I reached over and grab her big round tits, squeezing them with my hands, touching her delicious erect nipples and feeling myself inside her. She rubbed her clit while riding my cock and showed me how to stimulate her. The aroma of her cunt was intoxicating. She asked if I liked the view and I nodded yes, but she wanted to give me an even better one, flipping over while still on top of my cock, showing me her delicious bubble shaped ass, making it bounce up and down my lap. She looked over her shoulder to make sure I was enjoying this hot fuck as much as she was. I spread her ass cheeks apart and enjoyed the view of her lovely asshole. She started shaking her meaty ass, arching her back and pushing up against me, grinding on my cock. "what the fuck!?" it was voice of my dad, he came in and saw us, fuck. Still bouncing on my cock my stepmom began to argue with my father! Finally she drove him away and kept riding my cock. She was going to show me almost all sex positions and how to please a woman with my cock. My naked step mom laid flat on the bed, spread eagle.

THE HOTTEST WOMEN SHARE THEIR SEXUAL EXPERIENCE WITH TEENS: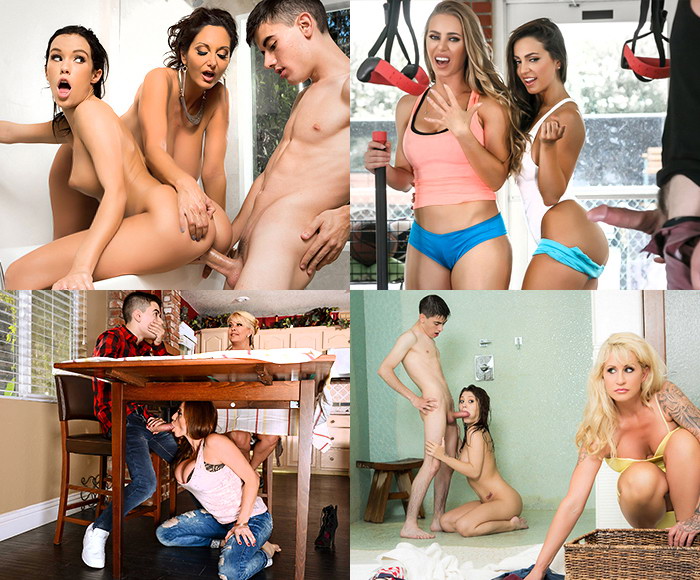 She pulled me on top of her, and told me to straddle her. I place my cock right next to her slit, slipping my head around it, rubbing and massaging her clit with my cockhead, as she said please I shoved the full length of my cock into her hot cunt, fucking her in missionary position while she rubbed her clit. She taught me so much with her mouth and her pussy. After about 40 minutes of hardcore fucking, I was about to blow my load. I felt all that hot cum boiling in my balls, ready to explode as I blew my load, spraying lots of hot and sticky cum all over her big tits! It was by far the most intense feeling I have ever experienced. She let me know that I did pretty well for my first time, but I still need of a lot of practice if I expected to get laid in college so we would have to work intensively, fucking several times in a daily basis, LOL! I love my hot stepmom! DONT MISS THE FULL VIDEO, 720p video is almost unwatchable after 1080p, 2160p and 4K!!!