It's my birthday and I'm super excited because every year my girlfriend has a very special birthday surprise for me. I can't imagine what she got me this year! When I get home she's waiting for me wearing a fabulous blue dress and I can see the garter belt and sexy lace stockings underneath. I'm thinking that's my surprise, but wait, there's more! She invited somebody to celebrate my birthday with us. As it turns out, it's her ex-girlfriend! I hear someone knocking on the door. She's here! My girlfriend tells me that for now, I'm allowed to watch, but I can't touch! She opens the door and in walks her ex-girlfriend, a stunning brunette in a tight red dress and sexy stockings and high heels matching my girlfriend's. The girls haven't even started and my dick is already as hard as a motherfucking rock! My girl is bisexual, and I knew she had a girlfriend before me, but I never met her, I just heard the countless lesbian sex stories that would make my imagination fly high! The girls start making out right there in the living room in front of me, stripping down to their sexy lace lingerie while kissing passionately and touching each other. My girlfriend was munching on her ex's tits, sucking her puffy nipples with her pierced tongue while I watched. Their breasts touched and pressed into each other. I didn't hesitate to come close and watch my girlfriend's tits crush hers. Their nipples were touching, tip to tip. I looked in amazement as my babe was making love with a girl. She got down on her knees and made her lesbian ex girlfriend lean over the counter that divides the kitchen from the living room, spreading her juicy ass cheeks apart, telling her how much she missed eating out her pussy and ass while tongue fucking her wet and tight holes with her pink tongue. Hot hot hot! I had never seen my girlfriend this way. Her hot friend quickly helped her to pull her thong off as she slid her hands all over my girlfriend body, to her now exposed pussy and her tits. They were kissing constantly. Both naked girls got on top of the counter, eating each other out in a kinky 69! I couldn't believe it. They had their arms wrapped around each other and they were eating and licking their cunts, grinding their bodies against together. God, it was an erotic sight! After seeing these two lesbians 69 on the kitchen counter my cock began throbbing with the anticipation of what was about to happen. My girl got down on all fours and finally told me to stick my cock in her mouth. It didn't take a second for me to be completely naked. I stood proudly with my erection pointing up like a flagpole. My girl loves pussies but she also loves my cock! She grabbed it with both hands and began sucking it furiously while her ex ate her out from behind. Her lesbian friend was a little embarrassed but continued to fuck her from behind with her tongue. "You can try it on, if you want." My girlfriend let her friend join us, sucking and stroking my hard cock. The girls took turns playing with my hard cock. I put my arms around both girls. I looked in amazement as my cock slid between the girls' lips. They were kissing my cock, kissing each other, massaging my balls. Then my girl spread her legs and I began fucking her while her ex licked and sucked her tits and rubbed her dripping wet cunt. I lied flat on my back and let her straddle herself on top, bouncing on my dick while her ex watched. The naked girls gave me more head, dirty looks on their faces while they devoured my hard cock and I finally got to fuck her ex! She jumped on my cock and bounced up and down, her pussy was so fucking wet and tight!

NAKED GIRLS GETTING THEIR PUSSIES FUCKED, SWAPPING CUM AND LICKING CREAMPIES: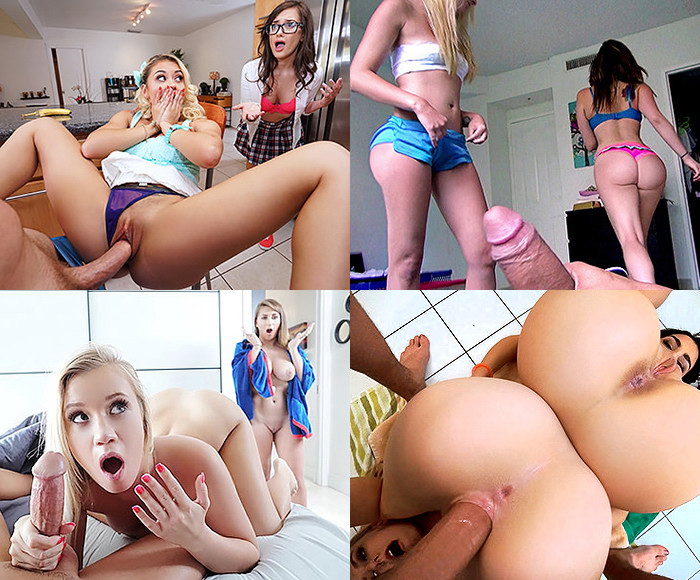 My girlfriend's lesbian girlfriend didn't only look insanely sexy. She's got a pretty sexy, hoarse voice too. That lesbian was incredibly good at riding my cock!!! My girlfriend was totally turned on watching me fucking her ex I we continued having sex all over the house. I watch the naked girls having hot girl on girl action while taking turns banging their pussies and making them suck my hard cock until I was ready to blow my load, spraying lots of hot and sticky cum all over their faces and watching them clean it off each other! It was an erotic moment, they were kissing, swapping cum, shooting it back and forth in their mouths, licking each other's face. Wow! Incredible cum swap ending! Thank you, ladies!