My sexy next-door neighbor is a spunky shorthaired blond with thick black frame glasses and she's so fucking hot. She may be small, but that's a phat ass! We share a common passion, piercings! Every time we get new ones, we share them, so you can imagine my excitement when she told me she just got her nipples pierced! I was worried it would be too intimate for her to share, but this teen slut had no problems lifting up her sweater and giving me a good look of her nice titties and beautiful pierced nipples! Man, they looked fucking awesome! I asked if it hurt and if she was nervous before getting them, and somehow, we ended up talking about huge cocks, and she wanted to see if mine measured up to some of her previous well endowed boyfriends! Now that's a challenge! She told me some of her exes were pretty well hung, but by the look on her face when she saw my fully erect throbbing member, she had never seen anything this big before! She wrapped her small hands around it, stroking it, slapping my dick against her cheeks and trying to fit it into her wet, hot mouth. I saw a smile cross her face even with my cock in her mouth. She sucked my balls, popping them in and out of her mouth. I thought I was going to pop a load when she finally pulled back. She said my cock was too big for her mouth so she wanted me to check her vagina. One look at the petite girl, and it seemed like she couldn't handle my muscled huge cock but her cock hungry pussy could! Leaning over the kitchen counter and let me pull down her sexy lace panty hose, exposing her delicious bubble shaped derrière. She had a delicious pink pussy burger and after lubing her up with my spit, I jammed my hard cock between her pussy lips, penetrating and fucking her hard from behind. She took of her glasses and grabbed on tight to the kitchen counter while I pounded her hard, my balls smacking against her butt. "Please….please fuck me…" I told her to put the glasses back on, because she looked like a sexy slut with them. She loves that shit! Great nipple jewelry, pantyhose for teen it's too sexy, I fucking love the converse also. Nothing says teen like Converse. I fucked her little pussy as hard as I could that morning. I was going to make her my fuck slut once and for all. Her butt was so fucking hot, I was banging this bitch without even taking off her top! So I pulled it over her titties so I could check out her nipple piercings while she spread her ass cheeks with her hands so I could penetrate her even deeper and harder. With her pantyhose ripped at the crotch she stood over me. Her pussy was directly over top of my mushroom. She gave me this wild look and sunk down onto my rigid shaft. Her tight teen pussy pussy felt so tight. She was sliding up and down onto my massive cock, pushing her body up and down, riding me cowgirl style. I was lying on top of the kitchen counter with the hot teen squatting on top of me. I made that bad boy of an ass bounce, then I put this bitch with her shoulders pinned against the kitchen counter, spread her legs wide open and power fucked her pussy from above!

YOUNG GIRLS GET THEIR LITTLE PUSSIES DESTROYED BY GIANT COCKS: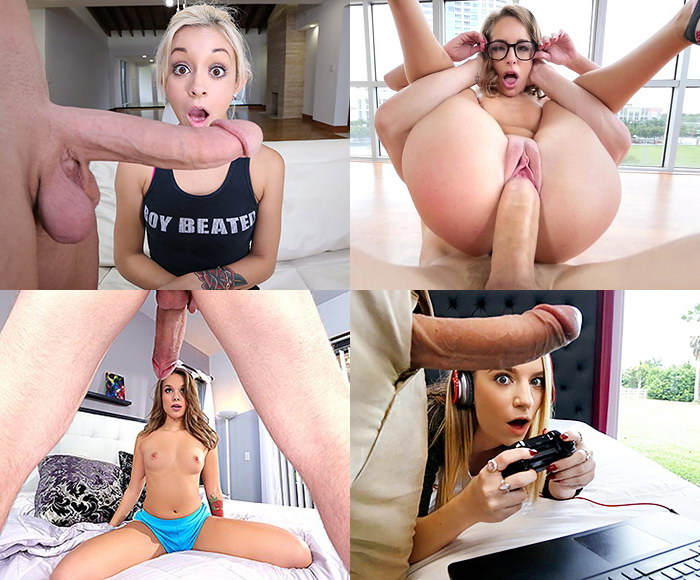 I thought that from this position, I would blow my load all over her face, open mouth and sexy pierced tits but the teen slut screamed, looking up at me desperately, "CUM IN ME! FILL MY PUSSY! I WANT YOUR HOT CUM DEEP IN ME!" I felt her pussy muscles tightening and gripping my cock as I thrust into her, pulling out and thrusting again and again, "I'M CUMMMMMING! OH! FUCK ME!" I began to cum and filled her pussy with my cum, shooting deep inside her pussy, coating her vagina with my seed. "My god it's wet, my pussy is loaded with cum!" her pussy began to squirt with cum like a geyser in return! Cum that was mixed with the sweet pussy juices was gushing out of her vagina and flooding down her body. There is nothing better than cumming in beautiful pussy and then having her suck your cock clean. Yeah all these young girls just look better with cum all over them. This was raw and wild fucking at its very best, bro! If we were going to fuck like this every time she got a piercing, I wanted her to get one every fucking single day, LOL!