His stepmom's new coffee table just arrived and his stepson promised he would set it up, so he brings his girlfriend over to help him and to take advantage of the situation and introduce her to his stepmom. He's sure she's going to love her, he just doesn't know just how much and how, LOL! He goes fetch some tools in the garage and while his girlfriend is alone, his stepmom makes her grand entrance, ready to strike and seduce his hot girlfriend! She's wearing a lace bra, garter belt, stockings and sexy fuck me heels! His girlfriend is stricken with how hot and gorgeous his stepmom is. After introducing herself, the sultry cougar doesn't waste any time, in just a couple of moves she's introducing her tongue to her mouth while stripping her naked on the couch! She spreads her legs, rubbing her pussy with her expert fingers, making her moan and grunt. She's fucking her with her hand hard and fast, not paying attention to anything else around them. This has to be one of the best sneaky scenes ever. Real nice use of hand over mouth action! I love how aggressive the mom is! She's in the middle of finger fucking the teen girl one the guy comes back. Seeing your step mom finger banging your new girlfriend? Only on RealityKings! He is delighted, he knows his stepmom well and anticipated the scenario playing out like this. Of course he doesn't mind, he loves introducing his new girlfriends to his sexy stepmom so they can both enjoy her in a steamy threesome! He sits between the girls, making out with his girlfriend while his own stepmom sucks his cock. They give him a double blowjob, sucking and licking his shaft and balls together, swapping sloppy kisses while doing so, french kissing with the head of his huge cock between them. He fucks his girlfriend's mouth hard and the MILF pushes her head down and forces her swallow it deeper. She wants him to fuck his girlfriend! The girl climbs on his lap and squats over his towering member, places the head at the entrance of her very wet cunt and lowers her body, stuffing her pussy with it. His cock is so huge, it feels like it is tearing her apart. The mom is watching with considerable interest. The girl pushes her body up and down while the beautiful cougar plays with her titties, sucking on her puffy nipples and masturbating herself while watching her stepson fucking with his girlfriend. She rubs her shaved muff while it gets pounded hard, she can actually swear that her boyfriend's cock feels bigger, thicker and harder than usual, probably the effect of having a threesome with his very own stepmom! He grabs her hips and pulls her against his body roughly with each thrust. He slams himself into her, driving his giant cock deep into her tight little hole. "Oh fuck!" mom squeals watching "That's it!" His massive balls are slapping against her with each hard thrust. Weak and exhausted the girl falls from his cock "Fuck the shit out of her! Fuck her more!" the MILF is yelling! The girl removes her top as she continues getting fucked hard by her boyfriend and his stepmom stands between them, and she reaches over so she can play with her clit and her tits.

THE HOTTEST MILFS SEDUCING AND TEACHING TEENS HOW HARDCORE FUCKIN IS DONE: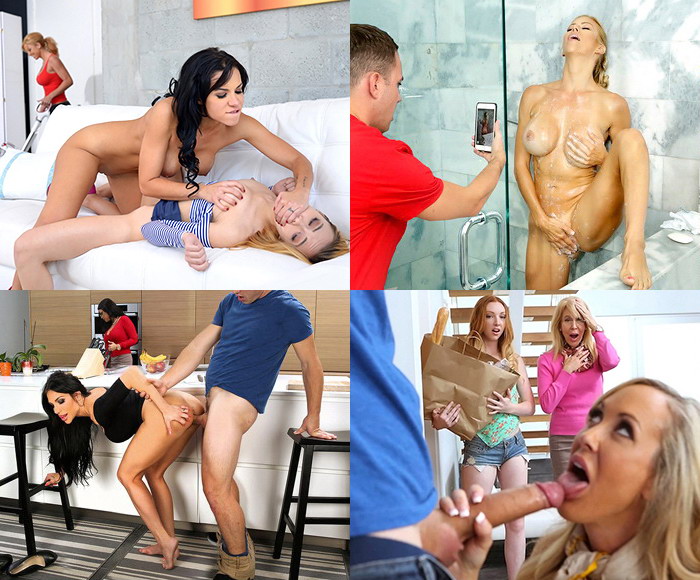 The young girl is writhing and moaning in complete ecstasy, on the verge of climax. The girls switch positions, now she wants to see her boyfriend fucking his stepmom so bad she can taste it! The MILF wants to do more than just look and watch so without any hesitation she gets on her knees and spreads her juicy ass. The girl spreads her legs in front of her so the cougar can eat her out while she's down on her hands and knees, getting her pussy fucked doggie style from behind! It's the kinkiest shit she's ever seen or participated in and she absolutely loves that! After an intense threesome fuck, he blows his creamy load into their mouths and the naughty girls spitball it back and forth! Two of my favorite performers in the same scene makes this a happy new year! Stunning girls! Jamie is a DOLL! I love seeing her go both ways. Don't miss the full video!