When this guy gets called up to the boss's office, he thinks he's in trouble or maybe he's getting fired, but as it turns out, he's been chosen to show the boss's daughter around, since she's going to be working in the company. She's a hot brunette with long sexy legs and he's more than happy to show her around the office and introduced her to the other employees. He's pretty excited, but as it turns out, she's not. She hates working in her dad's company, thinks her job is boring and has decided to fuck every single male employee on the payroll, starting with him! He thinks she's just kidding, but then she pushes him against the file cabinet, drops to her knees and starts massaging his balls over his slacks! The boss's daughter is a nymphomaniac! He is in shook, tries to stop her but she just pulls his cock out with her tiny hands. He tries hard to keep a straight face while his coworkers passed by the other side of the cubicle, unable to see that the boss's daughter is sucking and stroking his juicy cock while they shoot the breeze. She deep throats his cock all the way down to his balls! She is a really cock hungry slut. All she can think about is cock and she easily swallowes eight inches. Then she says that her pussy gushes with her juices and she needs to have some sex or she will go nuts. He bends this crazy slut over by the water cooler, hiking up her skirt and pulling her thong aside, ramming his throbbing member deep inside her wet cunt and fucking her hard from behind. The boss's daughter has a beautiful bubble shaped ass and is wearing sexy stockings and garter belt and she loves getting fucked from behind by an employee in the middle of the office knowing that she could get caught any moment by one of his coworkers or even her dad! Matter of fact, the boss passes by and reminds him of the important meeting they have, not realizing that behind the cubicle wall, his beautiful daughter is getting fucked by his employee! She moans and whispers "fuck! fuck me harder! Make my fucking pussy explode. Fuck me with that fat fucking cock!" They almost got caught several times! This is amazing scene for all who love sneaky, risky and almost caught sex scenes. I'm sure everyone wishes that would happen at his work. Well, the guy wants to keep fucking her brains out, but he has to get to that meeting! Once there, he thinks he'll catch a break, he has managed to get away from the little nympho, but he's so wrong! The boss's daughter sneaks into the meeting, crawling on her hands and knees and grabbing his hard cock underneath the conference table! Once the meeting is over, she locks the conference room door and hops on top of the table so the employee can eat her out while she sits on his face. She squats over the edge of the table and he nails her cunt from behind, drilling her muff as she pushes her body up and down. I hope one day one of my co-workers will ride my dick like Aubrey, cause I'd surely fuck her brain out! He fucks her beautiful big tits with pierced nipples and bends her over the conference table, fucking her very hard from behind.

THE HOTTEST TEENS CAUGHT FUCKING IN SNEAKY, RISKY AND CHEATING SCENES: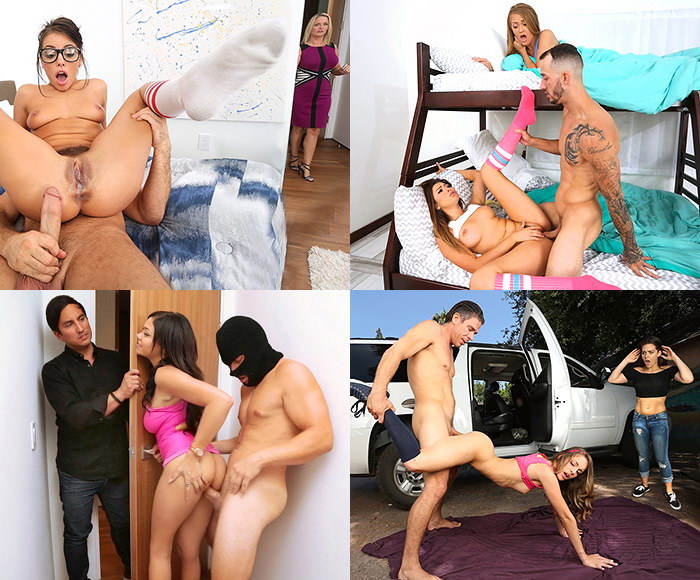 The table-fucking is a very nice touch! This babe is insanely hot! Her cunt is so tight and wet. He loves how it feels wrapped around his cock. Her breaths and moans filling the room. He sits her on his lap and makes that young slut ride on his cock in reverse cowgirl, pounding her so hard, fast and deep that his balls are balls slamming into her making a fast slapping sound. That is enough to send this young nympho over the edge! He flips her over, groping her juicy ass cheeks while she pushes her big tits against his face, stripped down to her stockings and garter belt, begging him to blow his load all over her slutty face and big tits! She puts his hot throbbing cock in her mouth and sucks it like crazy, swallowing every last drop of it as it fills her mouth, continuing to suck as though she wants more. Dont miss this hot hot office fucking action!