My girl's best friend is finally getting married and she decided to host her bachelorette party in the rooftop of the building where we live together! Her friends are a sexy brunette and a gorgeous blond and I was more than happy to let her host a party for her friends and hope it wouldn't get out of hand! This was going to be a bachelorette party to remember! My girlfriend started making out with her friends on the rooftop where they were hosting the party. The girls pulled her big tits over her top and gave her this big dildo to suck, placing it between her juicy boobs and making her fucking with them. They put a blindfold over her eyes and made her suck on the toy and in that exact moment I wandered into the rooftop I realized all the mayhem that was going on! This wasn't the kind of party I had in mind, and I must confess that I was a bit upset and angry at my girlfriend, but all that vanished when she told me that she wanted me to fuck her slutty friends at her bachelorette party! Not that's the kind of party that I can get into it, LOL! While she watched, her friends pulled down my pants and took a hold of my throbbing member, popping it into their mouths and taking turns sucking and stroking it with dirty looks on their faces. While the brunette drooled all over my shaft, the blonde was sucking my balls dry! Man, what a fantastic experience! These two sluts sucked my cock and my balls greedily as they moaned and shivered in delight. They moaned and stroked my cock faster. I thought I would cum in a second. But he stopped, just as I was ready. "I want to see you fuck my friends"! Fuck, my girlfriend wanted to see her slutty friends being fucked by me! The bride spread her legs wide open and I rammed my hard sausage deep inside her dripping wet cunt and plowed her hard while making out with the hot brunette slut, who was sitting on her face so she could get her twat licked and sucked by her. Her pussy started to gush with her juices. I began to fuck her harder faster, giving my girlfriend and that bitch just what they wanted. The slut began to buck her hips harder and faster and I could tell she was going to cum, she bit her lip, closed her eyes. Bucked her hips up and held it there, "I am cumming, Fuck… Me…HARDER!!….. Oh…yes.. yes…yesss…." She wanted me to really feel her. I was balls deep in the hot, wet pussy. I straddled the next slut on top and impaled her wet cunt on my rock hard cock, banging her hard while the bride kissed and groped her. I lay motionless, letting this bitch ride my cock. I was enjoying the feel of her pussy around my cock. Her muscles were going crazy. Squeezing my dick, I wondered how long I was going to last. The girls spread her legs wide open and while I fucked the dirty brunette doggy style from behind, my girlfriend masturbated the blonde with the big rubber cock, making her cum over and over like a bitch in heat! The brunette rubbed her muff and even made her squirt, gushing pussy juices all over the place. She screamed in ecstasy. When her orgasm subsided, she got of my cock and announced: "girls, he is all yours." Their pussies couldn't stop squirting while I took turns banging each one of them in many different positions. I hadn't known that women could cum so hard, shooting out of their pussies.

HOT GIRLS IN THE BEST POV, RISKY, SNEAKY, CHEATING AND ALMOST CAUGHT SEX: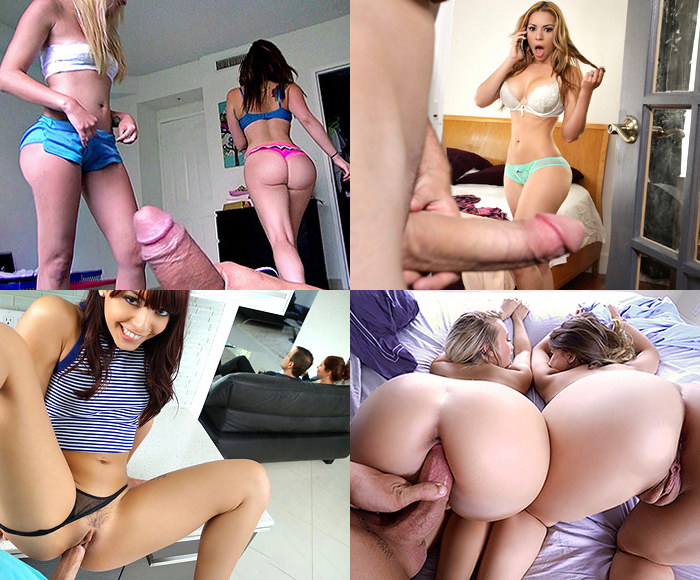 The feeling of being inside of three pussies, the feeling of their mouthes on my cock, seeing naked women squirted was too much to handle. I was so fucking turned on that I knew I would not be able to hold my cum in my balls much longer and the dirty sluts got down on their knees, surrounding me as I let go, blowing wads of hot and sticky cum all over their sexy faces and her open mouths. It was an amazing foursome! Well, the girls had the bachelorette party they had dreamed of and at the same time they made one of my dirtiest sex fantasies come through too! Like most men, I have always fantasized about having sex with more than one woman. So, when I ended up having sex with my girlfriend and two of her slutty friends, I thought I had died and gone to heaven.