I can't believe the foul mouth on my stepdaughter. I know she's the teen and she's going to one of those rebellious phases, but that doesn't give her the privilege of talking this way to her mom, my wife. When I confronted her about this, she started acting like a spoiled brat, just like she does with her mom, but you see, I'm not her mom. I'm not even her dad, so I grabbed that foul mouthed slut and taught her good manners! I put her on my lap, pulled down on her skirt and red thong and spanked her naked ass until it was beet red. With her panties pulled down she was screaming loud trying to free herself. I spread her ass cheeks and I could see her puckered asshole and her dripping wet pussy. She still resisted when I started fingering her slit, so I told her that if she didn't stop, I was going to cum in her mouth. Looks like this spanking and the idea of me cumming in her had turned this bitch on! I thought she learned her lesson, but that very night she had a wild party while I was away, so the next day I had to punish her. She was sleeping on the couch, with no panties, and her legs were open. My eyes fixed on my sleeping step daughter's pussy. I could see her hairy pussy mound and her clean shaven smooth pussy lips. I pulled her dress off her and made her wake up. Sorry for throwing a party daddy. I know I didnt follow the rules. Do I really have to clean up the mess I made? Maybe if I help you drain your penis of cum you can give me a free pass on the cleaning? I made her get down on her knees, sucking and stroking my throbbing cock. The head of my cock was deep as it could be in her little mouth. She pulled my cock out when I was about to cum, but I had to teach her good manners, so I rammed it down her throat, cumming in her mouth and making her swallow my load. When I pulled out so much cum came out that she couldnt help but swallow, more cum ran down her chin, she began licking it off. I guess she liked this, because she begged me to fuck her after this. She lied on her back on the couch and spread her legs and I shoved my throbbing erection deep inside that young wet pussy, pounding my stepdaughter hard in missionary position. I groped and squeezed her titties while I fucked her hard and she even took out her smart phone so she could film us banging. I lied on my back straddle herself on top, inserting my fat dick inside her tight cunt and riding me cowgirl style. As it turns out, this little bitch just had a daddy crush on me and that's why she was acting out so much. Now that she was getting dicked, she promised me that she would be a good girl as long as they kept fucking her on a daily basis. I made her flip over and ride me in reverse cowgirl, filming that juicy bubble butt bouncing up and down my rod. Her ass looked perfect, round and well shaped. I filmed her with her phone as she spread her cheeks with both hands giving me a view of her anus. I fucked this naughty teen girl in all positions, from top, from behind in doggie style and even in standing position. "Cum in me, Daddy. Please cum in me!" She wanted that hot cum in her! I began to shoot rope after rope of my sticky juice deep inside her tight pussy and filmed it leaking out of her gapped cunt!

NAUGHTY DAUGHTERS GETTING INTO HARDCORE TROUBLE: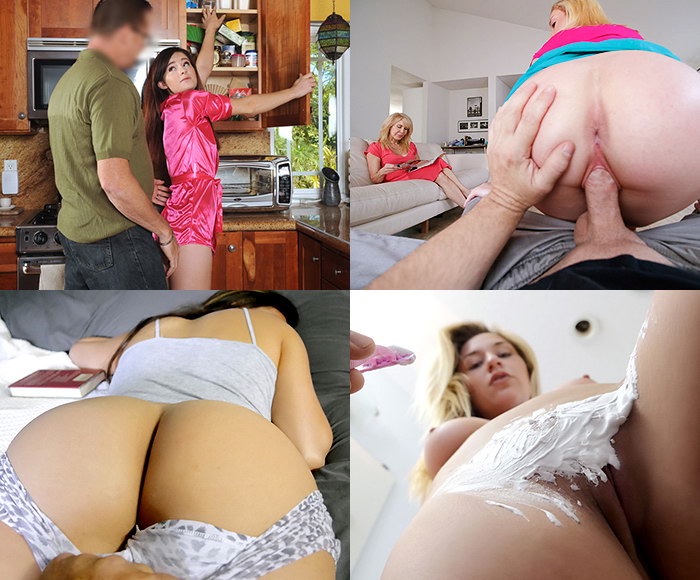 When forming a sexual identity, a young girls quest for mature sexual experiences is the start of the DADCRUSH – Daughters doing whatever they can to compete for step-dads everlasting love. These teen sluts will go above and beyond what it takes to show their fathers how much they adore them, sacrificing their virgin pussies for a sweet taste of papas pecker. If mommy ever finds out, these girls are grounded for life! Not to mention daddy will be sleeping on the couch for a long long time. So for the sake of secrecy, lets keep this between us!