Whenever my boyfriend is not home, I invite my best friend over so we can sun bathe in the patio. She always tells me that she would like to sun bathe topless, and since my boyfriend was not around, I finally convinced her to do it. After all, her tits her beautiful, big, meaty, firm yet tender. I couldn't resist pouring baby oil all over them, massaging the with my hands, feeling her nipples getting so hard as my fingers grazed them. My pussy was getting wet, and I could tell that she was getting pretty excited too so I leaned over and softly kissed her on her lips. She kissed me back and we started making out in the middle of the patio, it was so fucking hot! I softly cupped her breasts in my hands as I felt her warm, slick tongue parting my lips and exploring my mouth as her hands caressed my thighs and went all over my body. With baited breath, she told me she wanted us to trib. I did not know what she was talking about, so she showed me. We stripped naked, spread our legs, crisscrossing them so our dripping wet pussies could rub one against the other, our clits against each other, almost as if we were fucking her dry humping. Feeling her pink clam massaging my tender cunt sent electrifying waves of intense pleasure up and down my body, almost making me orgasm on the spot. The way she kissed my knees, caressed my legs and gazed into my eyes was so exciting and sensual. I love my boyfriend very much, but this was a totally different type of turn on! Being with girl is so much different than being with a guy and the fact that this was my best friend made everything even more intense, kinky and naughty. She reached over, pulling my head towards her, kissing me passionately, her slippery tongue burrowing down my throat. We tribbed even faster, rubbing our cunts like dirty lesbian sluts, unaware that my boyfriend has returned from work and was watching us through the kitchen window! He was pretty pissed off at first, but I talked some sense into him… well, probably the fact that I jerked his hard cock also helped! After I sucked his hard cock, he was ready to take her back, so we could have an amazing threesome together! That made us even hornier. I couldn't believe it. It felt so good. Sucking my boyfriend's cock with my best friend was the most amazing experience ever and I know my boyfriend was totally blown away… literally! We all were naked, he laid on the bed, with his dick standing straight up and we took turns riding on top of his throbbing member. Fucking two hot naked girls together was the best thing any guy could wish. I wanted to fuck him, my boyfriend wanted to fuck me, he wanted me to lick my friend's cunt and wanted my friend to suck his cock and balls, we were so horny! I masturbated watching my friend riding my boyfriend. I love watching our beautiful bodies fucking. She started to moan and tell my boyfriend to fuck her harder and faster. She came twice but we were not sastified my boyfriend had to eat each one of our pussies. He sucked our tits, fingered both of us at the same time, kissing each of their pussies.

NAKED GIRLS IN THE BEST POV, RISKY, SNEAKY, CHEATING AND ALMOST CAUGHT SEX: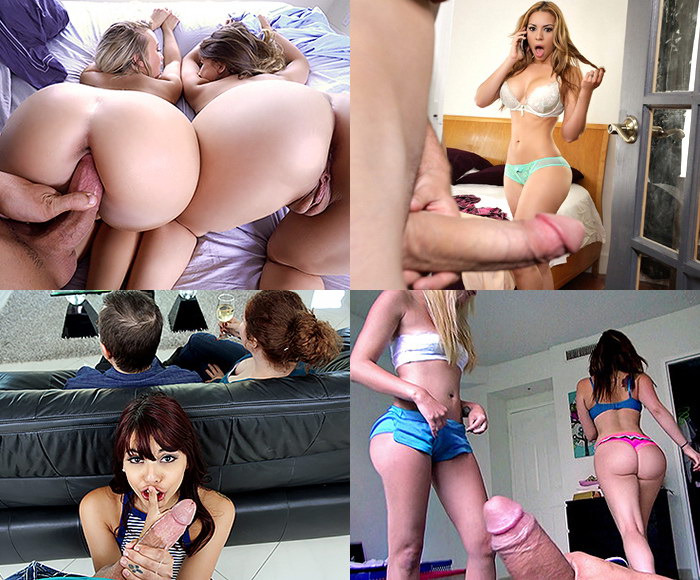 Our pussies were dripping with love juice! Then he told us to line up on the bed with our naked asses pointing toward him. He fucked his way down the line of our fresh cunts. I thought he would come in our pussies right there. We kept sucking each other's breasts and rubbing each other's pussies. We sucked and licked his dick and balls until juice came all over our faces. He blew his creamy load all over our faces, a delicious experience indeed! My slutty friend kissed me and gave me some of his cum. I could taste his warm cum on her tongue and it was exciting. Mofos is the best porn website today and this is the reason I love porn! The hottest naked girls in the best sex scenes.