My GF decided to try a threesome with me and her best friend! While I was taking a nap, my hot black girlfriend got a visit from her best friend, who was feeling down because her boyfriend dumped her. In order to make her feel better, my girl invited her for a dip in our pool, getting her spirits up with some hot lesbian action! She knew her friend needed more than pussy to lift her spirits up and get her groove back, she needed to loosen up and do something crazy, and that's where I come into this story! She decided a threesome would do the trick and as the girls watched me sleep, my girlfriend masturbated her best friend! Her moans and grunts woke me up and I was amazed with what I saw! Her best friend was a bit embarrassed and flushed, but my girl reassured her everything would be just fine and we would have a great time together! My gf asked her if she wanted to see my huge cock. Fuck, was I a happy boyfriend! Naked girls sat at my sides and my girl started stroking my throbbing cock, reaching out to grab her friend's hand and put it over my dick! The girls wrapped their hands around my cock together and rubbed them up and down. I couldnt belive two girls were stroaking my cock. Then the gf's friend leaned over, opened her mouth and my girl took my cock in both hands and guided it to her mouth! She and began sucking my rod along with my girl, giving me a fabulous double blowjob! While she sucked my dick, my girl licked and sucked my balls. This girl was an awesome cocksucker and she did the best she could to swallow my big dick. I didn't get how her boyfriend could dump a hot bitch like this! I didn't care either, more pussy for me, yay! I lied flat on my back and she straddled herself on top, my girl guiding my hard cock deep inside her friend's dripping wet pussy. You could tell how bad she needed a big dick inside her, she was dripping wet and so fucking hot! I grabbed her waist and slid her up and down on my long cock. Her tits bounced up and down as she rode on my cock, I loved having my girl watching me fuck her best friend and playing with her friend's tits! She caressed her tits and thighs while I banged her cunt, pressing her hot black body against mine. We bounced up and down in rythm with other as she cryed and moaned. I pumped her hard and fast and I could hear my balls slapping against her asshole, my girlfriend watched as my huge cock slid fast in and out of the pussy, she played with my balls and her friend's asshole, making her moan louder. "Fuck my pussy big boy, fuck me til I can't stand it!" she screamed at me as she thrust her ass up against my plunging cock. Sweaty and exhausted she fell down from my cock and my girlfriend grabbed my hot throbbing cock and started licking her juice fast and sucking on it. Naked girls sucked my cock some more and my girl straddled herself on my dick. I mounted her, shoving my hard manhood into her waiting cunt with one swift shove. She rode me while her friend stood over my face, letting me eat her out! She sat on my face rubbing her pussy all over my face. I kissed and licked her hot wet lips and her clit until she came on my face. Two young girls riding your face and your dick together, it was the most awesome feeling I had ever experienced! Then I fucked my girlfriend's friend missionary style. I grabbed her by her ankles and pulled her legs straight up in the air, spreading them as wide as possible and shoved my huge prick deep into her young extremely wet cunt. I pumped into her as fast and hard as I could while my girl played with her tits, best experience ever, man!

YOUNG TEENS GET THEIR LITTLE PUSSIES DESTROYED BY HUGE COCKS: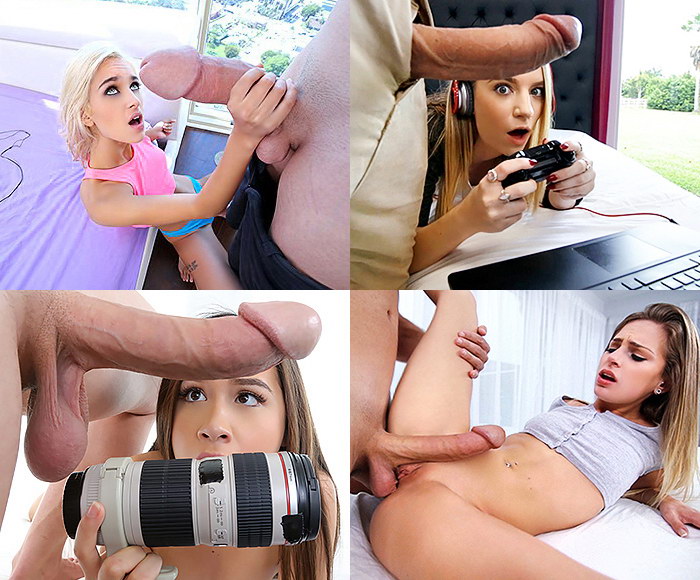 Two sexy teens, two sets of big natural tits, and two dripping wet pussies! What more could a guy ask for? My dick is like a hose when I ejaculate; I cum long, far, and hard. Both girls sat next to each other on the couch, opened their mouths wide sticking their tongues out, waiting to receive my huge cum load. I thought I'd never stop cumming, the cum splashing onto their faces and covering the tiny girls with sperm from top to toe! You wont to miss the full video at Dont Break Me! Never get tired of looking at these young naked girls and their perfect pussies getting destroyed by huge cocks in POV! Yes! It´s amazing! Keep it up!