My best friend is definitely a nymphomaniac, she's always horny, watches loads of porn and masturbates nonstop, even as I'm playing video games. I can see her on the couch spread legged and rubbing her dripping wet pussy while I play. It's kind of weird sometimes, but I don't mind, I enjoyed the fact that she can be so open minded and comfortable with her sexuality. It didn't get weird when she got behind me, pulling down on my yoga pants and thong and darting her tongue inside my asshole! WTF!?! She spread my ass cheeks with both hands and began to lick my ass crack, down to my pussy lips then I felt the tip of her tongue slip inside my pussy. It felt so good! I have never done anything like this before. It felt weird at first, but at the same time, having my best friend's tongue wriggling inside my asshole felt so fucking hot and sexy! I looked around for my mom but she was in her bedroom. My crazy friend moved me to the couch, put me on my back and kept tossing my salad as I tried to finish the game as best I could. She took off my pants and thong that were already wet with my juice and continued licking me, kissing my pussy more deeply, sucking a little on my clit. I knew she could tell how turned on I was by how fucking wet I was, but I didn't care, I was enjoying all the dirty since she was doing to me and I didn't want her to stop. I was half naked, she spread my legs and finger fucked my cunt. I couldnt take it anymore so i guided her head to my pussy, she began licking me, nibbling on my tender pink pussy lips, kissing me between my legs, moving her hands all over my naked body. I was so wet and so excited i couldnt handle it anymore. I wanted to eat her out too, I wanted to know what that pussy tasted like, spreading her legs and diving into her muff, finger and tongue fucking her clam. Her pussy was beautiful! I leaned into her crotch and began licking her clit and her pussy lips as she did to me. It tasted so good and her pussy smell was delicious! I stuck my tongue into her vagina and her juices rushed into my mouth. It was warm an just dripping with hot tasty cum. Her pussy tasted fantastic! I was going mad with her pussy in my mouth, the first time I tasted a pussy made me go mad as i lick up her juices. She was grinding her pussy, making me tongue fuck her virgin pussy so deep, moaning quietly trying not to attract the attention of my mom. I was so fucking turned on eating her out that I totally forgot that my stepmom was in the house, until I heard her footsteps coming down the stairway. Fortunately she didn't see us, but almost getting caught got us both so fucking turned on, we strip totally naked and continued making out feverishly. We rubbed our pussy one against the other, tribbing like dirty little Dykes. She fingered me as she tribbed me. I moved my body as my pussy and her pussy rubbed against each other. It was the best orgasm i have ever had! I lied on my back and my naked girlfriend sat on my face, my tongue exploring every nook and cranny of her pussy. I told her to turn around so I could lick her ass and pussy doggy style. My stepmom walked in on us and caught me with my tongue deep down my best friend's asshole, awkward! I was always thinking about boys and cocks when masturbated but my friend turned me into a lesbian!

YOUNG TEEN LESBIANS CAUGHT FUCKING IN THE BEST GIRL-GIRL VIDEOS: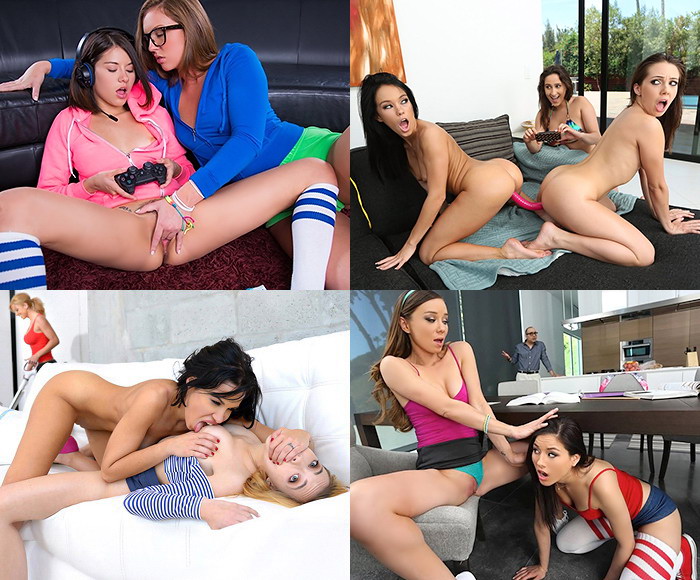 One of the best girl-girl scenes in months. Two young gamer girls doing it for the first time with tribbing, mutual masturbation, face sitting. As much as I enjoy the lesbian pussy eating in a scene, this video had some awesome ass licking too. These teen lesbians were smoking hot and the possibility of getting caught was the thrill! Now we need a follow up threesome, with the stepmom joining in. The only thing better than 2 hot girls with trimmed pussies is 3 hot girls with trimmed pussies. We Live Together takes you into the lives of beautiful teen girls living together and enjoying the hottest lesbian sex with each other! Now you can have an exclusive look at the hardcore, uncensored girl on girl fucking action that goes on when these young lesbians leave behind all their inhibitions to take part of sordid lesbian sex parties and orgies! Look at these girls sucking and licking pussy and ass in the best way possible!