I live with my dad, his new wife and her daughter, a beautiful blond that just so happens to be my new step sister. Our bedrooms are next to each other, so every time my girlfriend comes over she can hear us fucking. I was surprised when she confessed listening to us fuck last night and being so turned on and jealous that she wanted me to make her scream like I did my girlfriend! She told me she heard girl scream like that in porn movies, but never in real life. Man, I was discovering a totally new side to my stepsister! She was telling me all the stuff she liked to have done to her. My step sister said she wanted me to fuck the shit out of her! She told me she loved being fucked hard, sucking cocks and swallowing cum at the end. As she recounted last night's events, her hand slipped between her legs and she started rubbing herself over her shorts. I decided to indulge her, especially after she lifted her top and gave me a look at her marvelous big juicy tits, so much bigger and plumper than my girlfriend's. She wanted me to turn her into my girl toy, and be her boy toy too! She stripped naked in front of me, spanking her tight ass to show me how firm her butt cheeks were. Fuck, if my girlfriend a 10, my stepsister is definitely a 20! She lied on the couch with her legs wide open, spreading her dripping wet pink pussy lips with her fingers. I stood there a moment to look at her gorgeous body. it was perfect, pink pussy, juicy tits, sexy legs. I could see her clit was large, wet, and throbbing… she wanted it bad. As my hard penis was against my sister's pussy slit, I inserted my throbbing member deep inside her and begins fucking her. I will always remember the feeling when I finally got the length of myself all the way into her vagina. Being inside of her felt so hot on my cock. She was dripping wet. Dirty little bitch was so turned on, she placed her hand around her neck and pressed on it, looks like a rough sex is something that really turns her on! She begged me to please treat her like a dirty little whore and to be rough with her, I had no problem with that, LOL! She felt a powerful orgasm coming on, her legs wrapped tightly around me and she began to squeeze my body with them, pushing her body up against me. I could feel her vagina begin contracting around my dick. She was looking into my eyes while my hard cock was making her cum, so hot. Then my naked slutty step sister got down on all fours, pushing her juicy little bubble butt back against my cock, and I fucked her doggie style. I knew none of my friends would believe me if I told them about this, so I took out my smart phone and film her as she sucked my cock and let me blow my creamy load all over her dirty face and her open mouth, she loved being my girl toy! Next day she couldn't sleep and I allowed her to come into my bed to nap, but she had other things on her mind, she made me fuck her and cum in her!!! She cried don't stop cumming in me!!! She loves feeling her bf's cum running down her legs and it turns her on IMMENSELY to think of someone else cumming in her too. She couldnt have been more happy and promised not to tell mom and dad. One more day I was shooting seman like a machine gun into her mouth and she was swallowed it, drank it and ate it! She's crazy! She's officially a slut now!

THEY FUCK THEIR SEXY STEP SISTERS, CUM INTO THEM AND FILM IT: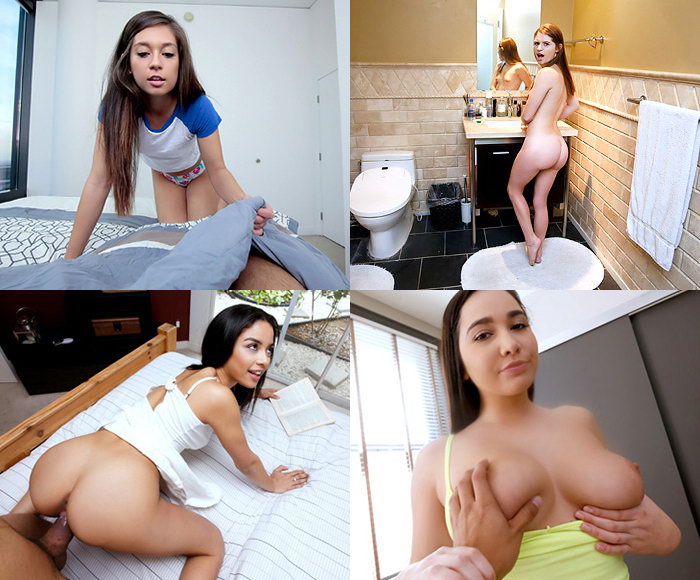 Sis Loves Me gives you all exclusive and uncensored access to the best selection of stepsibling sex videos featuring naughty young girls doing it all with their horny step brothers' hard cocks! These cock craving, cum loving sisters get caught on film while stripping in front of their step brothers, jerking them off in the shower, masturbating with their step brothers while their parents are not around, sucking their cocks for the first time, getting bent over and popped their cherry, letting them cum inside or swallowing all the hot cum! Don't miss all these sneaky sex scenes with these girls getting fucked in the middle of the night when everybody is sleeping and waking up in the puddle of cum in the morning!