Hi guys, we start our XMAS PORN marathon with the best sex orgies and the hottest naked girls! Don't miss out on our Christmas gift of a sultry foursome scene just for you. Ever wonder what groups of girlfriends really talk about when they are alone? Sucking, fucking, and cumming! This chick is really proud about her boyfriend and she loves talking about their sex life and his hard cock! While cooking a holiday dinner with her two best friends she keeps blabbing about how big and hard and thick and delicious her boyfriend's dick is and how he makes her cum every time they fuck! With all this information, what did she expect her BFFs to do? The girls go grab her boyfriend and pounce on him without wasting any time! They're both single and haven't had dick in such a long time, the girls decide to give themselves a holiday treat and remind their friend that BFFs share it all, boyfriend's cocks included! She doesn't mind, it's kinda hot to share his dick with her girlfriends, sucking his cock while they lick his balls and seeing how much they, and him, are enjoying this! Naked girls take turns playing with his cock, sucking and stroking it, deepthroating it in turn. This is the best double blowjob I've seen lately! Then his naked girlfriend climbs on top of the kitchen counter and spreads her legs while another BFF spreads some sweet and sticky stuff all over her twat! After doing so, her boyfriend finger fucks her a bit and replaces his finger with his hard cock, fucking her over the kitchen counter while the girls watch! She loves the fact that her girlfriends can finally see how good he fucks her and how he makes her cum hard. Her best friend asks him to stop so she can kneel down and suck his hard cock, tasting his girlfriend's pussy mixed with his precum and the sweet stuff they rubbed all over her before! She leans over the kitchen counter and the boyfriend gets behind her. His girlfriend sucks his dick and pops it inside her BFF's tight, wet pussy, so she can also feel how good her boyfriend's cock feels inside her! They change positions and he lies flat on his back on the kitchen floor as his girlfriend squats over his hard cock and impales her twat on it, bouncing up and down his throbbing erection while the naked girls are getting all the hot action caught on a video camera! The second girl hopes she also gets a chance to suck his big dick and get fucked hard before these three make him blow his creamy load! Meanwhile his hot girlfriend is experiencing mind blowing orgasms one after the other! She cums like crazy on his hard dick. Her boyfriend wants to show her best friends how he fucks gf's mouth and I must say that this mouth-fucking is something amazing!

NAKED GIRLS IN A THREESOME, FOURSOME AND MORE-SOME SEX: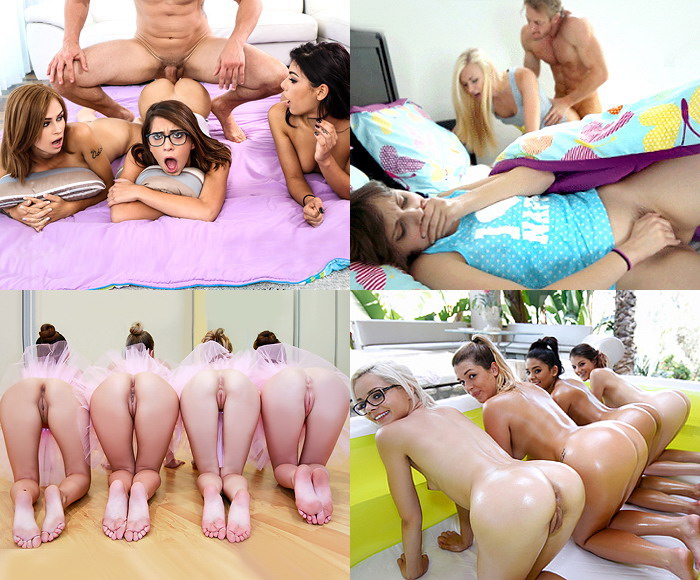 These naughty teen girls discovered that sex and fucking just wasn't the same without their Best Friends Forever, that's why BFFs brings you the hottest teen porn featuring sexy teen girls stripping naked, friends who fuck together, stay together forever! Jealousy and selfishness knows no place in the world of BFFs, so these girls enjoy sharing their sex toys and their boyfriends' hard cocks with their BFFs! With new videos and new naked girls added all the time, these BFFs' friendships will last as long as you need to bust a nut, man! Sleepovers, bachelorette parties, music festivals, prom! Its all here!