How many times have you thought about sex in public places with your GF? When use a public restroom, take an elevator, visit the cinema… If you have that kind of dirty and kinky mind, if you are so into sex in public places, I know you will love this amateur sex tape! This guy and his sexy college girlfriend make a hot exhibitionist couple! They love hitting the movies and sitting on the last rows so they can get frisky while everybody else is fixated on the screen! As usual after hand jobs through popcorn buckets the girlfriend spreads her legs and he reaches under her unzipped denim shorts and panties, playing with her dripping wet pussy! She slides her clothes down her thighs, all the way down to her ankles and lets her guys masturbate her while they enjoy the movie. He is caressing her pussy right there in the dark, not forgetting to record it all with his camera. Lol, just check out the dude sitting in front of them, munching on his popcorn with no idea that the action behind him is much better than whatever he's watching in front! The dirty college slut gets between her guy's knees and starts sucking on his rock hard pole and licking his balls. They are already so far into it, they just can't stop and start having sex right there in the dark theater. His hot crazy girlfriend pulls up her dress, spreads her ass with two hands slowly impaling herself on his dick. Her titties are dangling over her loosened top as she sits on his lap and feels that big throbbing cock sinking between her parted pussy lips and into her cunt. He grabs her chunky ass cheeks while she rides his erection and they try to keep it down so they don't disturb the people watching the flick! Sometimes he has to hold his hand over her mouth to keep her from moaning out loudly. Half naked girl grinds her juicy bubble butt against his crotch and arches her beautiful body back as she takes that big boner deep inside her pussy. They made sure to pick a crappy movie, so the theatre is kinda empty and they have more space to move around and fuck at their leisure! Now he has her spread across several seats and he's drilling her cunt in missionary position while groping her sexy tits and watching that slutty face of hers, she looks so damn hot whenever he's pounding her in public! There is really nothing like the thrill of public sex, especially if your girlfriend is a crazy college babe. These guys were quiet enough that no one in the theater noticed as he pounded his girlfriend. Well, at least until the usher caught them right while he was cumming right in her open mouth! Watch THE FULL video:

CRAZY COLLEGE GIRLFRIENDS GETTING FUCKED IN PUBLIC PLACES: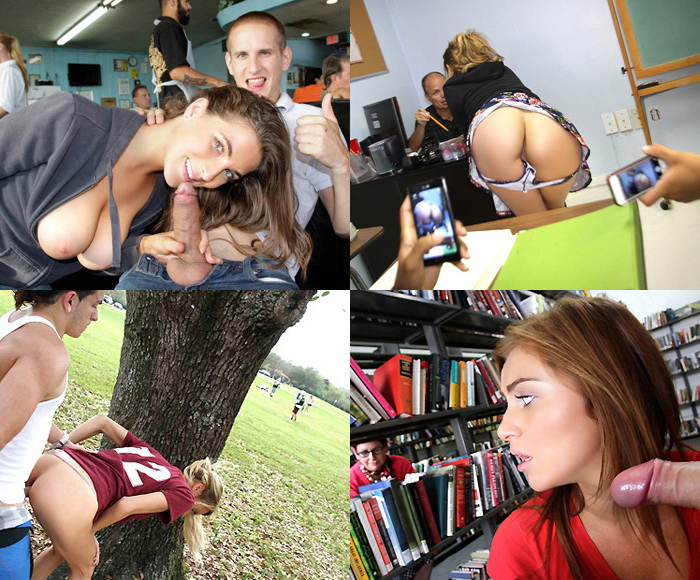 At Crazy College GFs, shit gets fucking crazy, man! You see, these cute and innocent teens just turned 18 and they are off to College, where they will discover the dirtiest and naughtiest side to their sexuality as they indulge in the wildest college sex parties, getting it on with guys and gals in hot, uncensored, amateur fun! Intense lesbian, hot masturbation, college exhibitionism, public sex, hardcore fucking, sex toys, threesomes, group sex, amazing cumshots and sticky facials with some of the sexiest, hottest and sluttiest college co-eds from all over Campus! Naked girls giving head and getting fucked rigth in the college library, college diner, on the college classroom floor, at the park, any place is suitable for spontaneous sex. New videos and college girlfriends added all the time!