Sexy college coeds undergo sensual hazing experiences! When you are a college coed and you don't wanna be a fucking loner, it's only natural that you join a sisterhood. You want to be popular, you want the other girls to like you, to really like you. With that in mind, these eager college babes are doing their best to get accepted into the sisterhood. Right now the girls are just pledges, but if they survive their hazing rituals, they will be sisters! The pledges are totally naked and lined up in front of their soon to be sisters and they are commanded to sit down on huge rubber dicks placed over a long bench. The compliant girls sit and accommodate the dildos into their tight pussies, making sure they go all the way in. Naked girls bounce up and down on the dildo bench while the sisters watch and enjoy the show. I like the view of this group of young naked women taking a ride on the bench of dildos together. Still bouncing on the rubber dicks, the sisters command them to shift positions so they face another pledge and they can touch and play with each other. After all, being a dirty dyke is part of the whole sisterhood experience! Eight naked girls ride on the bench together and then one by one while the other girls watching. Every girl should try every dildo on line, loudly chanting the slogan of the sisterhood. Lying on the floor three naked girls fuck their pussies with dildos. Two girls licking their wet pussies on the couch in 69 position. These teens are at the edge of orgasm! The girls get maximum satisfaction and cum together! Hot! Hot! Hot!

DOWNLOAD MORE VIDEOS WITH COLLEGE SEX ORGIES: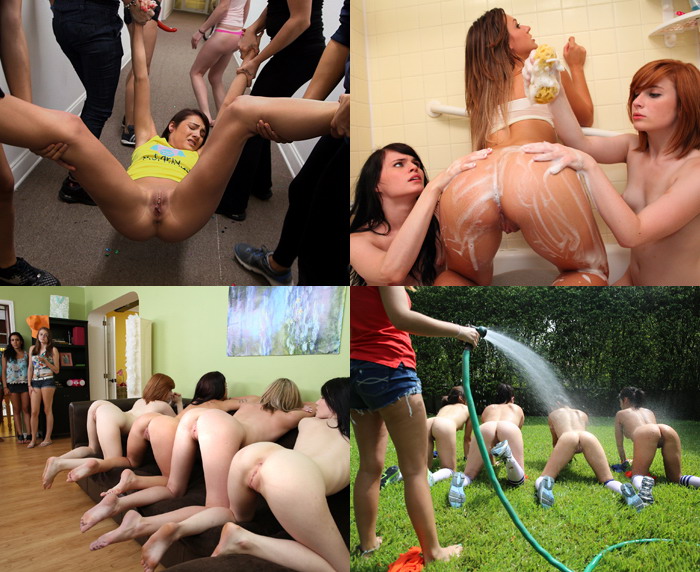 Once these girls get accepted into the fold, there is going to be lots of wild and kinky sex! Don't forget to download more videos with college sex orgies! 1080p FULL HD!!! Haze Her takes you inside the whole process of becoming a sister and you won't believe all the wild, crazy and kinky shit these young girls will do just to be accepted by the sisterhood! Girls on girls stripping naked, rimming ass, licking pussy, sucking cock, getting fucked with toys, getting shaved, hosed and paddled or covered in cum, it's all part of their initiation hazing and the pledges enjoy it just as much as the sisters! Don't miss out on this awesome site!