Check out these three college girls on girls! When you are in college, you wanna fit in, and these three sexy coeds wanna fit in so bad, they are willing to do anything to get accepted into their local sorority. Their initiation commences with them getting naked in the parking lot on an undisclosed location. This will surely test their mettle and see if the girls really are sorority material sluts. The sisters place hoods over the pledges' faces and lead sexy coeds into their safe house. The girls crawl up stairs in the nude and display their talents in a series of challenges. The most fun comes when they get to suck on the puffy nipples of the head sister, a sexy blonde college doll. Fresh college naked girls are doing a good job, so they get taken to the dorm rooms and have their pussies teased with a big vibrating wand. The rest of the pledges step back and watch, they just can't wait for their turn to get their pussy and ass stimulated by the sex toy. Knowing they passed their initiation and still naked, the sexy new sorority members embrace, kiss and make out for the cameras! If you liked this video, don't forget to download the whole movie in Full HD with these coeds doing very naughty things on camera:

WATCH THE NEWGIRLS DO VERY NAUGHTY THINGS: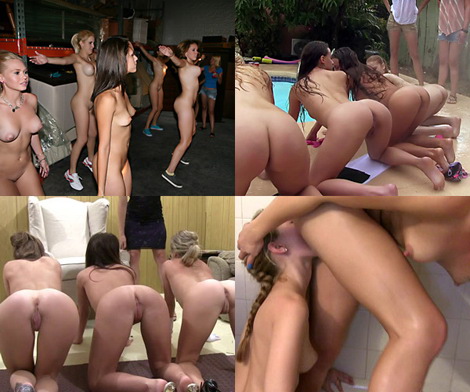 College is an important part of life, and sometimes, coeds will do whatever it takes to fit in and become part of their local sorority! Haze Her takes you inside the whole process of becoming a sister and you won't believe all the wild, crazy and kinky shit these pledges will do just to be accepted by the sisterhood! Girls on girls stripping naked, rimming ass, licking pussy, sucking cock, getting fucked with toys, getting shaved, hosed and paddled or covered in cum, it's all part of their initiation hazing and the pledges enjoy it just as much as the sisters! New videos and new coeds get added all the time, so don't miss out on this awesome site!