My head was about to explode from studying, since I didn't understand a word in my textbook. It's finals week and I have been sitting at the kitchen table all day, and not one word has stuck inside of my brain. That's when my little stepsister walked into the kitchen to grab a drink. Before today, I had never looked at her properly. She was skinny, and she had the juiciest lips. I bet she could milk my cock like a pro with those. But I needed her help, and when I asked her, she made fun of me. Sure I wasn't always nice to her, and I love to tease her. But I can't help it, she is such a nerd. I begged and begged and she still didn't want to help me pass my exams, so I grabbed her glasses, and held them way over her head. She looks so cute trying to reach them. At last, I had the best idea ever, a thing that would surely make her help me with my studies. I lowered her glasses a little, and I told her that if she gave me a blowjog right there in the kitchen, then I would leave her alone. Turns out, she's not as prude as I thought she was. Soon she was on her knees with my thick cock inside of her mouth. I couldn't believe my shy and nerdy stepsis had my cock in her mouth and was blowing me! She started out slow, and she built her pace up. But when her dirty little mouth started working hard on sucking her hard and deep, I came in her mouth.

SEXY SISTERS CAN'T CONTROL THEIR TEENAGE SEX DRIVE: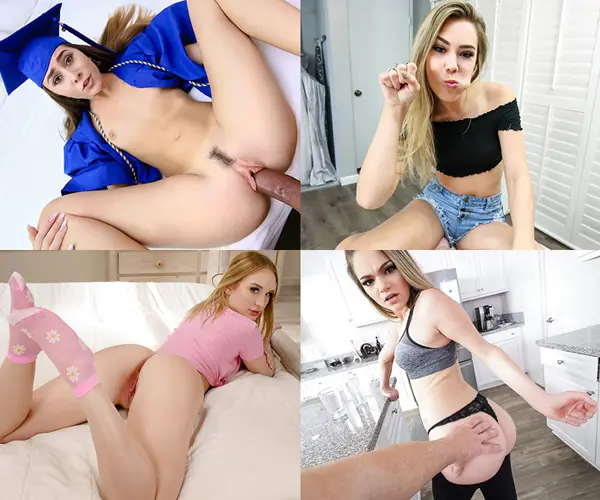 I exploded hard in her mouth, cum was oozing from both sides of her mouth and dripping from her lips. After a couple of days, I caught her reading an erotic book and rubbing her pussy! My sister was masturbating, right in front of me! But now, she was looking at me differently. She wanted my cock again, and not just in her mouth. My stepsisterbent over, stuck her ass out at me while arching her back. Her soaking wet and shaved pussy was staring back at me. I squeezed her pussy making a thick pussy lip sandwich. Someone might come home and see us fucking hard so I couldn't waste time. She wrapped her lips around my cock, and before I knew it, she was sliding her wet pussy down my cock. This naughty girl blossomed from a shy nerd to a smoking hot vixen. I pounded her hard, as she was riding me. I met her thrusts and that made her moan louder than ever. She's been waiting for me all day, and now she is getting what she's been craving all day. My cock was going in and out of my sister's tight cunt. So I flipped her over, and laid her down on her back. I pushed her legs open and I drilled her naughty little pussy until she was begging for me to creampie her hard.